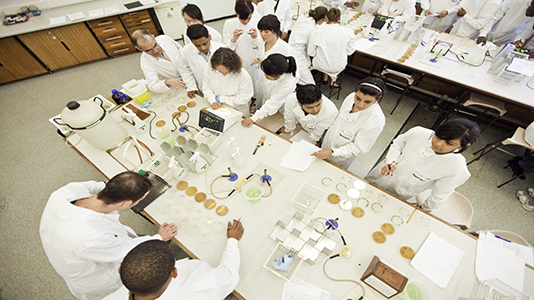 Our vision is to be an internationally recognised centre of academic excellence, making a positive impact in the real world.
The School has a thriving community of scholars and students, who are supported by a rich educational environment and committed to academic excellence. Our academics don't just teach the facts, but pass on their knowledge, enthusiasm and experience. A large number of them are recognised as Fellows of the Higher Education Academy, and have won prestigious educational awards, including the National Teaching Fellowship. A significant amount of our research work has been recognised by the 2014 Research Excellent Framework (REF) as being world leading or internationally excellent. Our involvement in research and enterprise work means that our students are taught by leading authorities who deliver the most up-to-date and intellectually challenging curricula. Our academics play leading roles in learned societies and professional bodies, edit leading academic journals and disseminate their research in scholarly conferences around the world. They also work extensively with partners in the industry and the local community, ensuring that our work is meeting the needs and challenges of the real world.
Our courses nurture scientific creativity, intellectual rigour and employability skills. This will allow our students to pursue a broad range of careers, and will develop them to become tomorrow's leaders who can truly make a difference to the world. The School has a Student Voice and Engagement Committee, and students actively contribute to the academic development of our courses. Our students are strongly encouraged and supported to seek external prizes and travel bursaries, and to take part in student societies and extra-curricular activities. The School also offers academic awards to recognise excellence and celebrate student achievements.
I hope you will find the School not just a great place to study or get involved, but also a fantastic experience, whether you are a potential student wanting a first-rated degree course, or a business looking for consultancy or collaborative research. This website is a good place to start to learn about what we do. We hope you will come for a visit to see for yourself why we are all so excited to be here.
Professor Ian Albery
Professor of Psychology; Director of Research and Enterprise
School of Applied Sciences
Top of page