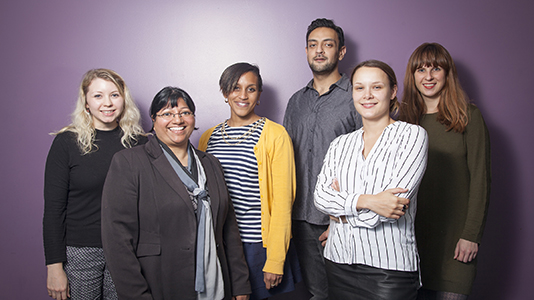 Meet the staff of LSBU, and find out more about what it's like to work at the University.
Testimonials
Lynne Bradley, PA to the Chief Operating Officer and the Executive Director of Human Resources
"I did my undergraduate degree at Roehampton as a mature student. I then started work at LSBU in August 2008, originally in the Appeals and Academic Integrity team. I have recently moved from Appeals and into a PA role in the Executive Office. People have asked me why I have stayed so long... Well, I think LSBU is a pretty special place! It's the friendliest place I have ever worked. I have been lucky enough to work in some great teams, both immediate and extended. You can get involved as much as you like (or not); I am involved in some of the networks, in Athena SWAN and in trying to launch other LSBU initiatives. Doing these additional things has extended my skill set, and allowed me to come into contact with colleagues who, in my day job, I wouldn't get to meet! I think it's true to say that LSBU can get under your skin (in a good way); it's certainly under mine!"
Profiles
Professor Janet Jones is Dean of the School of Arts and Creative Industries. An authority on the media industry, Janet spent 15 years at the BBC as series editor for 'BBC for Business'. Janet's research and publications span digital journalism, journalism and democracy, and more recently the potential of news games and playable documentary to change the way users interact with the news agenda.

Dr Safia Barikzai has taught on and led a number of different teaching modules, and was recently appointed the post of Business IT Pathway Leader. She was a PRECIOUS Awards 2016 finalist in the 'Outstanding Woman in STEM' category. Safia serves as the Informatics Placement coordinator and is actively looking for placement links with potential employers.
---
Top of page