Food
As our relationship to food becomes more complex and diverse, from hot topics such as the rise in diabetes to the success of The Great British Bake Off, more people than ever are thinking about what they eat and drink. Our range of courses combine the theoretical and practical and covers issues such as sustainability, product development, sensory analysis and public health.
Our academics have expertise in areas from baking health and safety to food microbiology, meaning you benefit from an interdisciplinary learning environment. This, combined with the work carried out in product development labs, sensory evaluation suite, compositional and analytical suite and National Bakery School, allows you to gain the skills needed for your future career.
To really complete your experience you'll also attend talks by professionals - with recent guests from the Institute of Food Research and the Food Standards Agency - and benefit from links to organisations such as the Association For Nutrition and the British Society of Bakers.
2nd
in London for research quality in Food Science (Complete University Guide 2019).
Students prepare for real world situations by gaining practical skills and knowledge in our food labs and National Bakery School.
Ensuring students learn skills that prepare them for professional life, our Nutrition courses are accredited by the Association for Nutrition.
Open Day
Visit us on our Open Days and discuss your study options with our academics, talk to current students about their experience of LSBU, take a tour of our vibrant central London campus and experience our industry-standard facilities and student residences.
Open Day 9 November - Book Now
Open Evening 27 November - Book Now
Courses
Facilities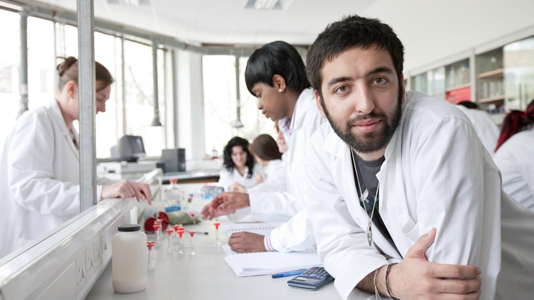 You'll be using a wide array of software and facilities specific to the food industry and mirroring the actual workplace.
LSBU Stories
Dee's bakery scooped top honours at the 2015 Farm Shop & Deli Show Awards and was recently named the Best Bakery in Balham and Tooting.

Personal circumstances led Amy to rethink her career; now she's found something she's truly passionate about and looking forward to a rewarding role as a dietitian.
Top of page