Unistats
What is Unistats?
Key Information Set (KIS) Data is only gathered for undergraduate full-time courses. There are a number of reasons why this course does not have KIS data associated with it. For example, it may be a franchise course run at a partner college or a course designed for continuing professional development.
Overview
The BA (Hons) Urban and Environmental Planning enhances students' employability in planning, property development and research roles in the public and private sectors.
6 reasons to study Planning here
Student satisfaction: No.1 London Modern Uni for course satisfaction and satisfaction with assessment in Town and Country Planning - Guardian League Tables 2016

Achieving excellence: Ranked No.5 UK wide for overall satisfaction and learning opportunities in Planning (National Student Survey 2017) .

Heritage: LSBU has been delivering professionally accredited planning courses for over 40 years.

Professional accreditation: Accredited by the Royal Town Planning Institute.

Inspiring location: Studying planning in the heart of one of the most dynamic global cities on the planet with plenty of opportunities to participate in ongoing projects.

Field trips: You'll participate in two one-week long residential field study visits which currently include a trip to Cornwall and a trip to Manchester.
This degree course covers...
You will learn about the social, economic, environmental and political forces involved in shaping the future of urban and rural areas in the UK and in Europe more generally. This course covers:
Planning history
Sustainability
Urban design
The processes shaping society
Geographical technologies
Transport and mobilities
Urban regeneration
Development process
Law and policy evaluation
Environmental management and climate change
Strategic spatial planning and governance.
Accreditations
Key course information - ordered by mode
Mode
Duration
Start date
Location

Mode

Full-time

Duration

3 years

Start Date

September

Location

Southwark Campus

Mode

Part-time

Duration

4 years

Start Date

September

Location

Southwark Campus
Case studies
Alumni and staff of LSBU share their views on the housing crisis currently affecting the UK.

LSBU research investigates how to minimise building costs without compromising on quality.
Modules
Modules are assessed by coursework, projects, presentations, essays and exams. Methods of assessment for course overall: 85% coursework
Year 1
Planning history and principles
You'll be introduced to the UK planning combining a historical approach with a critical consideration of the key features of the planning system as it emerged and developed after the Town and Country Planning Act 1947. You'll also examine changing planning principles and theories that have informed the development of the current planning system and planning practice.
Making sustainable places (includes UK field trip)
A module which examines the challenges faced when spatial planning policies seek to achieve sustainable forms of development. A residential field study visit is integral to the module and provides the opportunity to meet with professionals engaged in planning practice.
Law and development management This module introduces the structure and operation of the English legal system and the basic framework, principles and processes of development management that operate within it. This module aims: to provide a general awareness and understanding of the governmental, legal and other institutional structures of the UK and European Union, to provide an introductory knowledge of the principles and policies which sustain these institutions, to provide an introductory knowledge of how their operation affects both the individual and the UK systems of planning and environmental control, to provide an introduction to the operation of development management focusing on the institutional and legal frameworks and the process of decision-making.
Town planning as an art
On this module you'll be introduced to the artistic and creative aspects of 'spatial planning' that are at the heart of the current belief that 'good planning and good design' are inseparable. You'll carry out detailed studies of places, their character and what makes a place unique and the way that this is created and managed.
Society, space and place
One of the central aims of planning is the making of place and mediation of space. This module examines what this involves. You'll be introduced to the structures, networks and relationships that underpin contemporary society, and how these are reflected and mediated geographically.
Geographical investigations
Geographical Information Systems (GIS) involve a range of techniques for the collection, manipulation, storage, analysis, and display of spatial information. The presentation and communication of planning and environmental information through cartographic and other means (such as the Internet) are important skills for planners, professionals and researchers. In addition to providing you with basic GIS skills, the module will in due course enable you to employ GIS in the course of their research projects within the remainder of the course.
Year 2
Strategies, visions and design
By studying on this module you'll learn how to relate the proposal for a master plan of a specific area to the broader local issues, putting into practice the notion of survey-analysis-plan. The module is delivered in two parts. The first part deals with the analysis of a broad area and the development of a 'strategic spatial option'. The second part is concerned with the development of the strategic option into a 'vision' and a more detailed 'design proposal' for a smaller area.
Transport and mobilities
On this module you'll focus on the importance of modes of transport for patterns of land-use and the construction of a sustainable future. You'll also examine how issues of power and equality underpin mobility: who can move, how and in what ways.
Geographies of regeneration (includes UK field trip)
You'll explore regeneration issues from the point of view of the local scale. Local planning is a crucial element in the planning system, for both protecting the environment and stimulating development and economic activity. A vision for local areas is as vital now as it was when local plans first emerged in the 1960s and people will always need housing, schools, shops, places of work, leisure and worship. These vital components of everyday life will be the focus of the Module, which also includes a one week residential field study visit.
Development process and finance
You'll examine the process of development, from inception of a scheme to construction and into use. You'll also explore the economic rationale for development, financial appraisal of development projects, betterment and the mechanisms for providing community benefits.
Policy evaluation and research
This module introduces you to the fields of policy and research and has a strong emphasis on the development of practical skills. The increased focus by both Government and academics on evidence based policy will be explored leading to an examination of the relationship between research and policy and the processes of policy development and policy evaluation. You'll develop an understanding of the research process and have the opportunity to develop the skills and techniques required to undertake and evaluate research. The module will require you to elaborate and apply an appropriate methodology to address an agreed research aim in relation to a relevant planning or regeneration related policy.
Environmental management and climate change
You'll be introduced to the background of current environmental issues, including climate change, and will be provided with basic subject knowledge of contemporary environmental problems and resource issues. You'll explore different environmental policy and management regimes operate in an international, European, national and local context. You'll also be introduced to environmental planning and to related policy issues and to the different perspectives on sustainability.
Year 3
Dissertation
On this module you'll engage with a substantial piece of research and writing which is self-initiated and supported by a specified academic supervisor. This is a double-weighted module that runs over two semesters and is an intensive piece of student-devised learning which normally includes empirical research. You'll choose your own research topic, which must be in the field of your chosen specialism. You can expect this to be a most rewarding experience and the academic high-point of your degree.
Planning specialism project
This module provides you with an introduction to your chosen specialist area of planning: urban regeneration, urban design or environmental planning. You'll gain both a theoretical and practical knowledge of your chosen specialist area, which will allow a greater depth of study at Level 7 within the specialisms.
Strategic spatial planning
On this module you'll explore spatial planning at the strategic level. In practice this can refer to planning activities at the regional, national and international levels. The module also analyses the responses to the problems of economic, social, territorial disparities by examining contemporary processes and mechanisms of governance, government, policy and planning. The focus will be on the strategic spatial planning agenda at both the UK level and in the wider European context.
Cities and representations
You'll explore the ways that cities have been conceptualised and represented across a range of written and visual media through history. You'll focus on the implications of such representations for planning theory and practice.
Planning law and policy
In this module you will examine the legal framework for planning control and the development of land in England and Wales.
Employability
Planning is at the heart of how our urban and rural areas are shaped and a degree in planning provides numerous options for a varied career in the built environment professions. There is a strong focus on practical skills throughout the course and this will significantly enhance your employability. Within planning and regeneration there are numerous potential career paths within a local authority, the private sector and for government agencies.
Role and responsibilities
General activities for town planners range from developing creative and original planning solutions to contemporary challenges, negotiating between different stakeholders, writing reports and guiding others through the planning system, organising community engagement initiatives, working on policy documents and proposals for individual sites and making representations to politicians, businesses and community groups. There are also opportunities for a career in academia and planning research.
Most jobs will be largely office-based, but site visits and meetings with clients are common. There are opportunities available throughout the UK and overseas.
Salary
Typical starting salaries for graduate town planners can be around £16,000-£28,000. With career progression, and reaching the rank of team leader or principal planner, salaries of £45,000 are possible and higher salaries are possible particularly in the private sector.
LSBU Employability Service
We are University of the Year for Graduate Employment - The Times and Sunday Times Good University Guide 2018
LSBU is committed to supporting you develop your employability and succeed in getting a job after you have graduated. Your qualification will certainly help, but in a competitive market you also need to work on your employability, and on your career search.
As an LSBU student you have access to the Employability Service and its resources during your time here and for two years after you graduate.
Our Employability Service will support you in developing your skills, finding a job, interview techniques, work experience or a placement/internship, and will help you assess what you need to do to get the career you want at the end of your course. LSBU offers a comprehensive Employability Service, with a range of initiatives to complement your studies, including:
Direct engagement from employers who come in to network with students
Job Shop – daily drop in service to help with, tailoring CVs, cover letters and applications, sourcing online resource, mock interviews and general job searching. One to one appointments for further support also available
Mentoring and work shadowing schemes
Higher education achievement report - The HEAR is designed to encourage a more sophisticated approach to recording student achievement, which acknowledges fully the range of opportunities that LSBU offers to our students.
It pulls into one certificate: Module grades, Course descriptions, Placements, LSBU verified extra-curricular activities
Employability workshops - delivered free to students all year round on a variety of related topics
Careers fairs throughout the year to really focus your thoughts on a career after university
Find out about any of these services by visiting our student employability page
Professional links
The BA (Hons) Urban and Environmental Planning and the PgDip Town Planning are accredited by the Royal Town Planning Institute. Both awards are currently required if you wish to become a full member of the Institute. We have very strong links with both the RTPI and a number of employers, and you'll have the opportunity to benefit from regular sessions with practising planners in various modules throughout the Course. A number of our staff are also involved in research activities in the UK and internationally.
If you are interested in the world around you, and the processes that influence the ways it changes, then this is the course for you.
---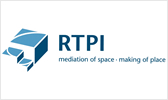 With 23,000 members the Royal Town Planning Institute is the largest planning institute for spatial, sustainable and inclusive planning in Europe. 2014 marks its centenary.
---
Facilities
Teaching and learning
You'll be taught by experienced academics with wide-ranging research interests, including:
Regeneration and restructuring of post-industrial Cities and economies
Comparative urban regeneration
The creation of urban public space
City marketing
Planning cultures and practices in post-socialist countries
Social, economic and territorial cohesion in Europe
Urban Agriculture
Development along the Thames corridor
Mobilising design
Sustainability of the Utility Furniture Movement
Sustainability education for Housing managers.
Most recently, Dr Michael Leary-Owhin, was interviewed as an expert in urban spaces by Global News in response to the London attacks. You can watch and read the news story here.
I enjoyed lecture content, the organisation and coordination of modules, staff support, field trips and study visits. The library facilities such as electronic journals and the availability of core reading material in the library. I found LSBU to be better in all of these areas .

Fred Raphael
We offer a diversity of approaches to teaching and methods of assessment that help our students to develop the communication and other skills that they will need to be able to operate effectively as professional planners. You will undertake individual and group work, participate in interactive workshops, discussions and seminars and also prepare essays and written reports and give oral presentations.
Percentage of time spent in different learning activities

| | Lectures and seminars | Self-directed study |
| --- | --- | --- |
| Year 1 | 23% | 77% |
| Year 2 | 23% | 77% |
| Year 3 | 16% | 84% |
Entry requirements
2018 Entry
A Level BCC or:
BTEC National Diploma MMM or:
Access to HE qualifications with 9 Distinctions and 36 Merits or:
Equivalent Level 3 qualifications worth 106 UCAS points
Applicants must hold 5 GCSEs A-C including Maths and English, or equivalent (reformed GCSEs grade 4 or above).
We welcome qualifications from around the world. English language qualifications for international students: IELTS score of 6.0 or Cambridge Proficiency or Advanced Grade C.
Visit UCAS for guidance on the 2018 tariff.
Fees and funding
Fees are shown for new entrants to courses, for each individual year of a course, together with the total fee for all the years of a course. Continuing LSBU students should refer to the Finance section of our student portal, MyLSBU. Queries regarding fees should be directed to the Fees and Bursary Team on: +44 (0)20 7815 6181.
UK/EU fee:

£9250

International fee:

£13125

AOS/LSBU code:

1232

Session code:

1FS00
Total course fee:
UK/EU
£27750
International
£39375
UK/EU fee:

£6935

International fee:

£9843.75

AOS/LSBU code:

1233

Session code:

1PS00
Total course fee:
UK/EU
£27740
International
£39375
For more information, including how and when to pay, see our fees and funding section for undergraduate students.
Possible fee changes
Current regulatory proposals suggest that institutions will be permitted to increase fee levels in line with inflation up to a specified fee cap. Specifically, LSBU may be permitted to increase its fees for new and existing Home and EU undergraduate students from 2017/18 onwards. The University reserves the right to increase its fees in line with changes to legislation, regulation and any governmental guidance or decisions.
The fees for international students are reviewed annually, and additionally the University reserves the right to increase tuition fees in line with inflation up to 4 per cent.
Scholarships
We offer students considerable financial help through scholarships, bursaries, charitable funds, loans and other financial support. Many of our scholarships are given as direct tuition fee discounts and we encourage all eligible students to apply for our Access Bursary. New home full-time undergraduate students meeting eligibility criteria could receive a £1,000 cash bursary by joining us in the 2017/18 academic year. Find out more about all our scholarships and fee discounts for undergraduate students.
International students
As well as being potentially eligible for our undergraduate scholarships, International students can also benefit from a range of specialist scholarships. Find out more about International scholarships.
Please check your fee status and whether you are considered a home, EU or international student for fee-paying purposes by reading the UKCISA regulations.
Case studies
Select a case study and read about practical project work, students' placement experiences, research projects, alumni career achievements and what it's really like to study here from the student perspective.
Alumni and staff of LSBU share their views on the housing crisis currently affecting the UK.

LSBU research investigates how to minimise building costs without compromising on quality.
Prepare to start
We help our students prepare for university even before the semester starts. To find out when you should apply for your LSBU accommodation or student finance read the How to apply tab for this course.
Applicant Open Days
To help you and your family feel confident about your university choice we run Applicant Open Days. These are held at subject level so students start getting to know each other and the academic staff who will be teaching them. These events are for applicants only and as an applicant you would receive an email invitation to attend the relevant event for your subject.
Enrolment and Induction
Enrolment takes place before you start your course. On completing the process, new students formally join the University. Enrolment consists of two stages: online, and your face-to-face enrolment meeting. The online process is an online data gathering exercise that you will complete yourself, then you will be invited to your face-to-face enrolment meeting.
In September, applicants who have accepted an unconditional offer to study at LSBU will be sent details of induction, which is when they are welcomed to the University and their School. Induction helps you get the best out of your university experience, and makes sure you have all the tools to succeed in your studies.
Top of page

Course Enquiries - UK/EU
Tel: 0800 923 8888
Tel: +44 (0) 20 7815 6100
Get in touch
Course Enquiries - International
Tel: +44 (0) 20 7815 6189
Get in touch
Top of page