Overview
You can open the door to sport for everyone.
Improve your ability to coach sport for disabled people by becoming a more inclusive coach. Attend this workshop and gain the knowledge and skills that will enhance your current coaching skills so your practice can be more inclusive.
The course includes a practical session to help you put your learning into practice.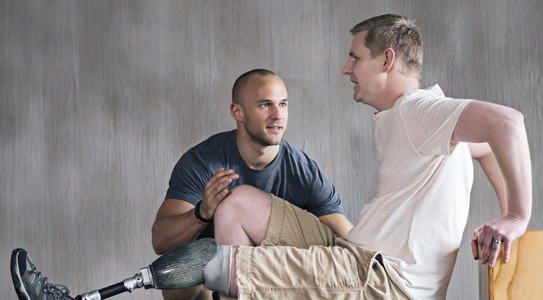 You will cover:
The basic elements of classifications of disability in sport
The participant pathways available for disabled people
A review of you own and other attendee's past experiences to gain additional knowledge
This course is held at the Academy of Sport facilities at London South Bank University and taught by exceptional tutors with years of industry experience.
Employability
LSBU Employability Services
LSBU is committed to supporting you develop your employability and succeed in getting a job after you have graduated. Your qualification will certainly help, but in a competitive market you also need to work on your employability, and on your career search. Our Employability Service will support you in developing your skills, finding a job, interview techniques, work experience or an internship, and will help you assess what you need to do to get the job you want at the end of your course. LSBU offers a comprehensive Employability Service, with a range of initiatives to complement your studies, including:
direct engagement from employers who come in to interview and talk to students
Job Shop and on-campus recruitment agencies to help your job search
mentoring and work shadowing schemes.
Facilities
How to apply
To book your place on the course, download and complete the booking form and return by email to coachingcourses@lsbu.ac.uk.
Applications will be accepted on a first come first served basis, your place will only be confirmed on receipt of full payment and completion of the application form.
Once you have returned the booking form, you can pay by card at our
online store
or come into the LSBU Sports Centre to pay in person.
The course runs for three hours 18.30-21.30 on SE1 Active Day in November (date to be confirmed).
Fees and funding
The price of the course is £55.
Case studies
Select a case study and read about practical project work, students' placement experiences, research projects, alumni career achievements and what it's really like to study here from the student perspective.
Prepare to start
All participants will be given details about the course prior to attending, including; the time, location and course structure of the day.
Top of page

Course Enquiries - UK/EU
Tel: 0800 923 8888
Tel: +44 (0) 20 7815 6100
Get in touch
Top of page