Overview
At the centre of towns and cities regeneration, it is the duty of planners to take into account the views of business and local communities. It is a broad area of work that can require many different skills and others the option of specialisation – be it protecting the historical environment or urban design.
Top reasons to study this course
Achieving excellence:: Ranked No.5 UK wide for overall satisfaction and learning opportunities in Planning (National Student Survey 2017).

Heritage: LSBU has been delivering professionally accredited planning courses for over 40 years.

Professional accreditation: Accredited by the Royal Town Planning Institute.

Inspiring location: Studying planning in the heart of one of the most dynamic global cities on the planet with plenty of opportunities to participate in ongoing projects, complimenting the practical focus with theoretical understanding.

Taught by experienced academics and practitioners: Taught by staff with track records in research and relevant publications. Guest and visiting lecturers from professional practice supplement teaching throughout the course.

Develop your interests: Choice of specialism module provides flexibility and depth to explore issues relating to a particular aspect of planning.

National and international perspective: Be part of an academic community dedicated to social justice and global responsibility - with inspiring schedule of guest speakers, events, volunteering opportunities and exchange of ideas.
PgDip/MA Town Planning programmes are accredited by the Royal Town Planning Institute. The courses enhance student's employability in planning, property development and research roles in the public and private sectors. This is through focusing not only on the planning system but on broader themes that influence the economic, environmental and social contexts in which we live. The course enables you to study an area of spatial planning in some depth as many of modules are within a specialist area (urban design, urban regeneration or environmental planning).
Residential
It includes a compulsory one week residential European field study visit, recent destinations have been Venice and Germany. For all new entrants field study visit fees are included in the tuition fees.
Town Planning PgDip
You can also choose to study the PgDip for six modules; Full-time (10 months) or part-time (15 months).
Accreditations
Key course information - ordered by mode
Mode
Duration
Start date
Location

Mode

Part-time PgDip

Duration

2 years

Start Date

September

Location

Southwark Campus

Mode

5156 - Full-time PgDip

Duration

1 year

Start Date

September

Location

Southwark Campus

Mode

Part-time MA

Duration

2 years + dissertation

Start Date

September

Location

Southwark Campus

Mode

Full-time MA

Duration

1 year

Start Date

September

Location

Southwark Campus
Case studies
Fred Raphael, BA (Hons) Urban & Environmental Planning, was so impressed with the level of support at LSBU that he went on to study the MA Town Planning at LSBU.
Modules
Year 1
Planning history and theory
This module examines the history of planning and the evolution of the theories and ideas that have underpinned the various attempts to intervene in the natural and built environment through the institution of state-led planning systems. It stresses the concept of theory as understanding, the interlinked nature of history and theory and the importance for the development of planning practice.
Sustainable places (with EU field study visit)
This module examines sustainability issues and challenges and the initiatives and responses from spatial planning and related agencies, institutions and organisations in the context of a European field study visit. The module will provide you with a detailed knowledge and understanding of the different forces at work within a region or city context. You'll develop your understanding of sustainability issues and the impact of climate change; recognise the processes of change and identify issues and mechanisms that allow an area to develop to fulfil its potential as well as respond to environmental and related challenges.
Planning in London
You'll examine the planning context of London as a World City, as a centre for financial industries and as a home to millions of people. You'll find it particularly useful as an introduction to town planning in the UK and for understanding how a major city functions.
Planning practice project
You'll have the opportunity to develop an individual project based on your chosen specialist area of study. The project must link together both theoretical and practice debates within the area of specialism (where required) and must be practice focused. You'll be able to relate the subject content contained in the specialist area of study to practical problems that may be encountered in a work situation. You'll be encouraged to explore the links between planning education and practice through a particular practice relevant project. In addition, the module will prepare you for your Assessment of Professional Competence (APC).
Elective
Students are required to take an elective module, on offer from the Masters Level modules within the Department. This may be an additional specialism module if desired.
Plus one specialist option from:
Urban design project (urban design specialism)
This project based module provides you with the opportunity to extend and develop your urban design skills in a practical context in relation to the planning process and the urban context for design. You'll also review theories and approaches to urban design in the context of real projects and places in use as well as your own work. Whenever possible the module will be linked to 'live' projects and areas and cases of current interest.
Urban regeneration strategies and projects (urban regeneration specialism)
The module focuses on contemporary regeneration practice, which in recent years has taken place within an increasingly competitive context including declining public finance. This will be explored in the context of a specific 'major' project and the regeneration strategy that provides a framework for development in the wider area.
Environment and resource management, or, Transport, society and planning (environment specialism)
You'll focus on a number of key themes in the context of environmental management and planning, and explore them in the context of current policy, law and practice. You'll also be introduced to environmental assessment, sustainability appraisal and environmental management techniques and processes.
Plus the Dissertation (MA only)
Part-time taught one day per week, with one or two modules being taught in each semester.
Award
X6 modules = PgDip
X6 modules + dissertation = Masters
Employability
Town Planner as a career
Currently there is a national shortage of qualified town and environmental planners in the UK so the demand for our postgraduate courses is particularly high.
The natural career path for graduates is to work as a town planner – this can be for a local authority, as private consultants or for planning government agencies.
Role and responsibilities
General activities for town planners range from developing creative and original planning solutions to satisfy all parties, to writing often complex reports which make recommendations or explain detailed regulations, to conducting research and analysis to help determine strategic developments.
Most jobs will be largely office-based, but visits to meet clients and attend external meetings are not uncommon. There are opportunities available throughout the country, as every local authority employs planners.
Salary
Typical starting salaries for graduate town planners can be around £16,000-£28,000. With career progression, and reaching the rank of team leader or principal planner, salaries of up to £45,000 are possible. (Prospects)
Career progression
Graduates from the programme will emerge with a range of knowledge and skills of value to potential employers and to career progression opportunities. Employment prospects are excellent with demand exceeding supply. Successful planning students are likely to find jobs with local authorities, private consultants in property and planning government agencies.
See our graduate case studies for some specific examples of career development.
LSBU Employability Service
We are University of the Year for Graduate Employment - The Times and Sunday Times Good University Guide 2018
LSBU is committed to supporting you develop your employability and succeed in getting a job after you have graduated. Your qualification will certainly help, but in a competitive market you also need to work on your employability, and on your career search.
As an LSBU student you have access to the Employability Service and its resources during your time here and for two years after you graduate.
Our Employability Service will support you in developing your skills, finding a job, interview techniques, work experience or a placement/internship, and will help you assess what you need to do to get the career you want at the end of your course. LSBU offers a comprehensive Employability Service, with a range of initiatives to complement your studies, including:
Direct engagement from employers who come in to network with students
Job Shop – daily drop in service to help with, tailoring CVs, cover letters and applications, sourcing online resource, mock interviews and general job searching. One to one appointments for further support also available
Mentoring and work shadowing schemes
Higher education achievement report - The HEAR is designed to encourage a more sophisticated approach to recording student achievement, which acknowledges fully the range of opportunities that LSBU offers to our students.
It pulls into one certificate: Module grades, Course descriptions, Placements, LSBU verified extra-curricular activities
Employability workshops - delivered free to students all year round on a variety of related topics
Careers fairs throughout the year to really focus your thoughts on a career after university
Find out about any of these services by visiting our student employability page
Professional links
Recent guest lecturers:
Louise Waring, Department for Communities and Local Government;
John Grantham, Land Use Consultants;
Adam Barnett, Renaisi Regeneration Agency.
---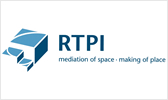 With 23,000 members the Royal Town Planning Institute is the the largest planning institute for spatial, sustainable and inclusive planning in Europe. 2014 marks its centenary.
---
Facilities
Teaching and learning
Study hours
Year one class contact time for full-time students is typically 9 hours per week supplemented by study visits, tutorials and independent study.
Brief assessment outline
Modules are assessed by a range of coursework, design and practice-based projects, presentations and a dissertation. There are no exams on this programme.
Entry requirements
All students must have 2:2/Bachelor degree equivalent to UK Second Class Honours Lower Division or above in a planning degree accredited by the Royal Town Planning Institute. Applicants with other degrees are not eligible to study this course but could consider the MA Planning Policy and Practice.
The PgDip Town Planning is the final year of the Royal Town Planning Institute accredited undergraduate entry course, and therefore is only available to students who have already studied an accredited planning degree. Students from other universities may have to study a special programme of modules and transfers between universities are possible but will need to be agreed in advance.
How to apply
International (non Home/EU) applicants should follow our international how to apply guide.
Instructions for Home/EU applicants
Mode
Duration
Start date
Application code
Application method

Mode

Part-time PgDip

Duration

2 years

Start date

September

Application code

5154

Application method

Mode

5156 - Full-time PgDip

Duration

1 year

Start date

September

Application code

5156

Application method

Mode

Part-time MA

Duration

2 years + dissertation

Start date

September

Application code

5155

Application method

Mode

Full-time MA

Duration

1 year

Start date

September

Application code

5157

Application method
Full-time/part-time postgraduate students and research students apply through the UK Postgraduate and Statistical Service (UKPASS). Full details of how to do this are supplied on our How to apply section for postgraduate students and our How to apply section for research students.
Postgraduate applicants are required to provide up to two references as part of their application.
Accommodation
Students should apply for accommodation at London South Bank University (LSBU) as soon as possible, once we have made an offer of a place on one of our academic courses. Read more about applying for accommodation at LSBU.
Finance
It's a good idea to think about how you'll pay university tuition and maintenance costs while you're still applying for a place to study. Remember – you don't need to wait for a confirmed place on a course to start applying for student finance. Read how to pay your fees as a postgraduate student.
Postgraduate Application Service
Book a session with one of our specialist Postgraduate Advisors. Over a one on one Advice Session they'll advise you on postgraduate degrees at LSBU that match your interests and experience. Book an Advice Session.
Fees and funding
Fees are shown for new entrants to courses, for each individual year of a course, together with the total fee for all the years of a course. Continuing LSBU students should refer to the Finance section of our student portal, MyLSBU. Queries regarding fees should be directed to the Fees and Bursary Team on: +44 (0)20 7815 6181.
For more information, including how and when to pay, see our fees and funding section for postgraduate students.
Possible fee changes
Current regulatory proposals suggest that institutions will be permitted to increase fee levels in line with inflation up to a specified fee cap. Specifically, LSBU may be permitted to increase its fees for new and existing Home and EU students from 2017/18 onwards. The University reserves the right to increase its fees in line with changes to legislation, regulation and any governmental guidance or decisions.
The fees for international students are reviewed annually, and additionally the University reserves the right to increase tuition fees in line with inflation up to 4 per cent.
Postgraduate loan (PGL) for Masters study
If you are starting a postgraduate course, studying for a Masters-level qualification either full- or part-time from 1 August, you may be entitled to apply for a £10,280 postgraduate study loan. Find out more at our postgraduate fees and funding section.
Postgraduate Advice Service
You are invited to book a one-to-one appointment with one of our Postgraduate Advisors. They offer a 30 minute face-to-face session where you can get tailored advice on fees and funding. Book a 1-2-1 Advice Session.
Scholarships
We offer students considerable financial help through scholarships, bursaries, charitable funds, loans and other financial support. Many of our scholarships are given as direct Tuition Fee discounts.
Overview of scholarships and fee discounts for postgraduate students. Key scholarships and discounts below.
Vice-Chancellor Scholarships
Students holding an offer of a place on a postgraduate course will be invited to apply for a Vice-Chancellor Scholarships.
LSBU Graduate Loyalty Scheme
This scheme gives eligible undergraduate students and alumni a discount of their taught postgraduate tuition fees when they enrol on one of our postgraduate taught courses starting this year. Read more about the Graduate Loyalty Scheme.
International students
As well as being potentially eligible for our undergraduate scholarships, International students can also benefit from a range of specialist scholarships. Find out more about International scholarships.
Please check your fee status and whether you are considered a home, EU or international student for fee-paying purposes by reading the UKCISA regulations.
Case studies
Select a case study and read about practical project work, students' placement experiences, research projects, alumni career achievements and what it's really like to study here from the student perspective.
Fred Raphael, BA (Hons) Urban & Environmental Planning, was so impressed with the level of support at LSBU that he went on to study the MA Town Planning at LSBU.
Prepare to start
We help our students prepare for university even before the semester starts. To find out when you should apply for your LSBU accommodation or student finance read How to apply tab for this course.
Enrolment and Induction
Enrolment takes place before you start your course. On completing the process, new students formally join the University. Enrolment consists of two stages: online, and your face-to-face enrolment meeting. The online process is an online data gathering exercise that you will complete yourself, then you will be invited to your face-to-face enrolment meeting.
In September, applicants who have accepted an unconditional offer to study at LSBU will be sent details of induction, which is when they are welcomed to the University and their School. Induction helps you get the best out of your university experience, and makes sure you have all the tools to succeed in your studies.
Top of page

Course Enquiries - UK/EU
Tel: 0800 923 8888
Tel: +44 (0) 20 7815 6100
Get in touch
Course Enquiries - International
Tel: +44 (0) 20 7815 6189
Get in touch
Top of page