Overview
This course is for engineers who wish to develop their skills and knowledge in energy systems that will meet future energy needs. Such energy systems will need to be designed and implemented in accordance with principles of sustainability.
The course content is designed to be relevant to international, national and local government energy policies and strategies, and will be of value to anyone working in an energy related engineering discipline. The primary focus of the course is for graduates in building services, mechanical, electrical and chemical engineering.
The aims of the course are to:
Present and take forward arguments for sustainability in the design and implementation of energy delivery systems
Provide you with a broad basis of advanced understanding in the technologies that deliver high quality energy services with minimum environmental impact
Design appropriate decentralised energy delivery systems, based on a range of criteria including environment, cost and engineering potential
Develop your understanding of policy, market and institutional factors that promote or constrain innovation.
Excellent scholarship opportunity
Students who have accepted an offer for a full-time place on this course are encouraged to apply for LSBU's Kevin Herriott scholarship. Find out more about the Kevin Herriott scholarship.
Students on this course are also eligible to apply for a bursary from the Panasonic Trust fellowship scheme, worth £8,000.
Accreditations
Key course information - ordered by mode
Mode
Duration
Start date
Location

Mode

Full-time

Duration

13 months

Start Date

January; September

Location

Southwark Campus

Mode

Part-time

Duration

28 months

Start Date

September

Location

Southwark Campus

Mode

Full-time

Duration

2 years

Start Date

September

Location

Southwark Campus
Case studies
Frederick Okang is a recipient of the Kevin Herriot Scholarship and is now studying the MSc Sustainable Energy Systems course at London South Bank University

Urban Engineering research by Dr Ina Colombo, exploring the potential use of carbon dioxide as a natural refrigerant in supermarket freezers, instead of relying on global warming chlorofluorocarbons banned under the Kyoto climate change treaty. Colombo claims this will result in 40% lower emissions and greater efficiency.
Modules
An indicative list of topics covered on this course are:
Renewable energy technologies 1
This module provides the necessary knowledge and skills to analyse the technical performance, environmental impact and economic feasibility of a variety of solar and wind powered systems. The module provides a systematic understanding of current knowledge, and a critical awareness of current problems and new insights at the forefront of professional practice; train students to evaluate critically current research and advanced scholarship in the field of solar and wind power; enables students to evaluate solar and wind power technologies, develop critiques of them and, where appropriate, to propose novel solutions.
Renewable energy technologies 2
The module provides the necessary knowledge and skills to analyse the technical performance, environmental impact and economic feasibility of a number renewable energy technologies such as fuel cells, biofuels, geothermal, and micro-hydropower systems.
Energy resource and use analysis
This module is designed to develop strategic and operational management skills in the fields of infrastructure asset management and project appraisal. It covers design life extensions, risk and asset management techniques for infrastructure, and techniques for physical appraisal of infrastructure, and their economic, environmental and social impacts.
Electrical power
The module covers electrical power engineering as applied to the design of systems in buildings. In particular, this includes the connection of, and the effects of, small-scale embedded generation as might be employed to exploit renewable energy sources. The module aims to provide appreciation and understanding of electrical services design in buildings with particular reference to safety requirements and the effects of embedded generation on the supplier and the consumer.
Sustainable refrigeration
The module introduces the principles of thermodynamics, and applies them to the study and design of energy efficient refrigeration systems. Vapour compression, absorption and other novel cycles are analysed and modelled Practical applications of sustainable refrigeration are investigated through case studies.
Environmental management
The module is designed to develop understanding of the way in which human social and economic activities impact on the environment. The emphasis is on how managers can assess and influence the environmental impact of their particular organisation, with reference to key technologies and the political and legal constraints within which organisations must operate.
Energy engineering project
Methods of assessment by module
Module descriptions
Assessment
Renewable Energy Technologies 1
50% Examination
50% Design Study
Electrical Power
70% Examination
30% Coursework
Sustainable Refrigeration
100% Coursework
Renewable Energy Technologies 2
50% Examination
50% Design Study
Energy Resource and Use Analysis
40% Report
60% Feasibility study
Environmental Management
100% Coursework
Employability
The emergence of sustainable energy technologies, together with targets for implementation, mean that specialist engineers will increasingly be in demand to specify, design and install these systems. Many engineering consultancies and energy service companies are developing specialist sustainability teams, and already there is a shortage of skilled personnel.
Professional accreditation
The course provides the Masters level academic requirements leading to Chartered Engineer status when following on from an appropriate accredited BEng degree.
The course is accredited on behalf of the Engineering Council as meeting the requirements for Further Learning for registration as a Chartered Engineer. Candidates must hold a CEng accredited BEng/BSc (Hons) undergraduate first degree to comply with full CEng registration requirements.
LSBU Employability Service
We are University of the Year for Graduate Employment - The Times and Sunday Times Good University Guide 2018
LSBU is committed to supporting you develop your employability and succeed in getting a job after you have graduated. Your qualification will certainly help, but in a competitive market you also need to work on your employability, and on your career search.
As an LSBU student you have access to the Employability Service and its resources during your time here and for two years after you graduate.
Our Employability Service will support you in developing your skills, finding a job, interview techniques, work experience or a placement/internship, and will help you assess what you need to do to get the career you want at the end of your course. LSBU offers a comprehensive Employability Service, with a range of initiatives to complement your studies, including:
Direct engagement from employers who come in to network with students
Job Shop – daily drop in service to help with, tailoring CVs, cover letters and applications, sourcing online resource, mock interviews and general job searching. One to one appointments for further support also available
Mentoring and work shadowing schemes
Higher education achievement report - The HEAR is designed to encourage a more sophisticated approach to recording student achievement, which acknowledges fully the range of opportunities that LSBU offers to our students.
It pulls into one certificate: Module grades, Course descriptions, Placements, LSBU verified extra-curricular activities
Employability workshops - delivered free to students all year round on a variety of related topics
Careers fairs throughout the year to really focus your thoughts on a career after university
Find out about any of these services by visiting our student employability page
Professional links
Accreditation
This course is accredited by the Chartered Institution of Building Services Engineers (CISBE) and the Energy Institute as masters further learning to meet the academic requirements of becoming a Chartered Engineer (with a suitable first degree).
The course is accredited on behalf of the Engineering Council as meeting the requirements for Further Learning for registration as a Chartered Engineer. Candidates must hold a CEng accredited BEng/BSc (Hons) undergraduate first degree to comply with full CEng registration requirements.
---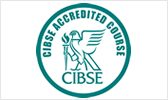 The Chartered Institution of Building Services Engineers (CIBSE) is the standard setter and authority on building services engineering in the UK and overseas. It speaks for the profession and supports career development.
---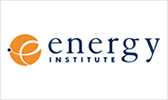 The Energy Institute is the professional members' body for the energy industry, delivering good practice and professionalism across the sector. Its purpose is to develop and disseminate knowledge, skills and good practice towards a safer, more secure and sustainable energy system.
---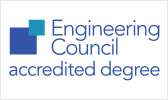 The Engineering Council is the UK regulatory body for the engineering profession. It sets and maintains the internationally recognised standards of professional competence and ethics that govern the award and retention of Engineering titles.
---
Recent guest lecturers
Dr Guy Hundy, President, Institute of Refrigeration
David Hughes, President, CIBSE
Professor Martin Fry, energy consultant
Jonathan Evans, Norton Rose
Facilities
Entry requirements
The course is designed for students with undergraduate degrees in mechanical, electrical or chemical engineering, or other relevant engineering disciplines, and seek to develop specialised skills in building services engineering to enter this industry.
A BEng (Hons) degree in an appropriate discipline. Normally upper second class would be considered a minimum, but lower class may be acceptable depending on experience.
Cognate degrees in appropriate disciplines (e.g. physics, chemistry or mathematics) will be accepted provided the candidate demonstrates some knowledge of building services engineering.
Other qualifications may be accepted depending on age and experience. This category would normally be reserved for mature candidates who have had several years experience in the building services industry.
For applicants whose first language is not English, an IELTS score of 6.5 or equivalent is required.
How to apply
International (non Home/EU) applicants should follow our international how to apply guide.
Instructions for Home/EU applicants
Mode
Duration
Start date
Application code
Application method

Mode

Full-time

Duration

13 months

Start date

January; September

Application code

5231

Application method

Mode

Part-time

Duration

28 months

Start date

September

Application code

5233

Application method

Mode

Full-time

Duration

2 years

Start date

September

Application code

5232

Application method
Full-time/part-time postgraduate students and research students apply through the UK Postgraduate and Statistical Service (UKPASS). Full details of how to do this are supplied on our How to apply section for postgraduate students and our How to apply section for research students.
Postgraduate applicants are required to provide up to two references as part of their application.
Accommodation
Students should apply for accommodation at London South Bank University (LSBU) as soon as possible, once we have made an offer of a place on one of our academic courses. Read more about applying for accommodation at LSBU.
Finance
It's a good idea to think about how you'll pay university tuition and maintenance costs while you're still applying for a place to study. Remember – you don't need to wait for a confirmed place on a course to start applying for student finance. Read how to pay your fees as a postgraduate student.
Postgraduate Application Service
Book a session with one of our specialist Postgraduate Advisors. Over a one on one Advice Session they'll advise you on postgraduate degrees at LSBU that match your interests and experience. Book an Advice Session.
Fees and funding
For more information, including how and when to pay, see our fees and funding section for postgraduate students.
Possible fee changes
Current regulatory proposals suggest that institutions will be permitted to increase fee levels in line with inflation up to a specified fee cap. Specifically, LSBU may be permitted to increase its fees for new and existing Home and EU students from 2017/18 onwards. The University reserves the right to increase its fees in line with changes to legislation, regulation and any governmental guidance or decisions.
The fees for international students are reviewed annually, and additionally the University reserves the right to increase tuition fees in line with inflation up to 4 per cent.
Postgraduate loan (PGL) for Masters study
At the current time, no details have been published regarding the Postgraduate Loan Scheme for 2017/18. The arrangements for 2016/17 are shown as a guide, but should not be relied upon. Details will be updated as soon as they are published by Student Finance England.
If you are starting a postgraduate course, studying for a Masters-level qualification either full or part-time from 1 August, you may be entitled to apply for a £10,000 postgraduate study loan. Find out more at our postgraduate fees and funding section.
Scholarships
We offer students considerable financial help through scholarships, bursaries, charitable funds, loans and other financial support. Many of our scholarships are given as direct Tuition Fee discounts. Read more about postgraduate scholarships and discounts.
Vice-Chancellor Scholarships
Students holding an offer of a place on a postgraduate course will be invited to apply for a Vice-Chancellor Scholarships.
LSBU Graduate Loyalty Scheme
This scheme gives eligible undergraduate students and alumni a discount of their taught postgraduate tuition fees when they enrol on one of our postgraduate taught courses starting this year. Read more about the Graduate Loyalty Scheme.
International students
As well as being potentially eligible for our undergraduate scholarships, International students can also benefit from a range of specialist scholarships. Find out more about International scholarships.
Please check your fee status and whether you are considered a home, EU or international student for fee-paying purposes by reading the UKCISA regulations.
Kevin Herriott scholarship
We are able to offer a subject scholarship from generous donations from alumnus Kevin Herriott. Read more about the Kevin Herriott scholarship.
Case studies
Select a case study and read about practical project work, students' placement experiences, research projects, alumni career achievements and what it's really like to study here from the student perspective.
Prepare to start
We help our students prepare for university even before the semester starts. To find out when you should apply for your LSBU accommodation or student finance read How to apply tab for this course.
Enrolment and Induction
Enrolment takes place before you start your course. On completing the process, new students formally join the University. Enrolment consists of two stages: online, and your face-to-face enrolment meeting. The online process is an online data gathering exercise that you will complete yourself, then you will be invited to your face-to-face enrolment meeting.
In September, applicants who have accepted an unconditional offer to study at LSBU will be sent details of induction, which is when they are welcomed to the University and their School. Induction helps you get the best out of your university experience, and makes sure you have all the tools to succeed in your studies.
Top of page

Course Enquiries - UK/EU
Tel: 0800 923 8888
Tel: +44 (0) 20 7815 6100
Get in touch
Course Enquiries - International
Tel: +44 (0) 20 7815 6189
Get in touch
Top of page