Unistats
What is Unistats?
Key Information Set (KIS) Data is only gathered for undergraduate full-time courses. There are a number of reasons why this course does not have KIS data associated with it. For example, it may be a franchise course run at a partner college or a course designed for continuing professional development.
Overview
The BSc (Hons) Sport and Exercise Science is clearly focused on developing professionally qualified and accredited graduates who are at the forefront of laboratory-based performance evaluation. Graduates are proficient in the application of recent scientific methods and knowledge to the evaluation and improvement of people and programs.
6 reasons to study here
Student satisfaction: No.1 University in London for personal development (National Students Survey 2016).

Ranked highly: No.2 London modern university for research quality, overall score and graduate prospects in Sports Science (Complete University Guide league table, 2018).

Professional accreditation: Accredited by the Register of Exercise Professionals.

Professional links: Mapped to the national occupational L2 Gym Instructor by Skills Active - at the end of level 4 you can be a qualified Gym instructor.

Customer satisfaction: LSBU's Academy of Sport has a customer satisfaction rate of 84.5%, UKCSI Business Benchmark Survey.

Dedicated facilities: The Sport and Exercise Science Research Centre has access to sophisticated equipment which enhances research activities, and is where some of your classes will take place.
This degree course covers...
Our students gain expertise in human movement science and are able to contribute to areas of athletic performance, rehabilitation and injury prevention, and training evaluation, in a range of different populations. This course is structured around five main subjects:
physiology
nutrition
biomechanics
perceptual-motor control
psychology
Accreditations
Key course information - ordered by mode
Mode
Duration
Start date
Location

Mode

Full-time

Duration

3 years

Start Date

September

Location

Southwark Campus
Case studies
Coming to university through Clearing gave Daniel Walters a second chance to pursue his passion for sports and science – while winning silver at the Commonwealth Games.
Modules
We assess all the modules with a range of methods including: essays, group work, reports, spoken exams and presentations, and exams (58% assessed by coursework).
Year 1
Anatomy and physiology
This module will develop your knowledge and understanding in anatomical language and human anatomy of the musculoskeletal system, as well as the physical and chemical principles that underlie physiological functions and metabolic processes. The concept of integration and control in physiology will be developed, beginning with the study of cell membrane function and leading to an appreciation of human physiology through an understanding of systems. Assessment method: 100% coursework.
Perception and action 1
This module is intended to introduce you to the main topic areas in perceptual-motor control, development, learning and performance. It will provide you with the opportunity to gain practical experience in exercise, sport coaching and exercise settings, and gain an understanding of how the sport sciences can be applied to practical activities. This module also aims to introduce you to effective reflective practice techniques. Assessment method: 100% coursework.
Scientific skills
This module will provide you with a foundation for the study of science at undergraduate level. The basis for the module will be the context, planning and execution of experimental work, along with analysis and presentation of experimental data. A substantial component of study will involve activities in effective written communication and the writing of laboratory reports in particular. Assessment method: 100% coursework.
Sport psychology 1
This module will introduce different approaches of psychology and the study of the psychological aspects in exercise and performance. It will cover some theoretical approaches and methods of scientific enquiry. It will also include the application of psychological methods in the development and optimisation of sports performance and exercise participation. This module will provide you with many examples of sport and exercise psychology in action. Assessment method: 100% exam.
Nutrition, health and disease
This module will familiarise you with the fundamental principles of human nutrition as a multidisciplinary perspective relating to human health and well-being. You'll explore key concepts of nutritional requirements, food chemistry, macro and micro-nutrient functions. You'll also explore the relationship of diet to health, with special reference to over and under nutrition states. You'll examine dietary recommendations for the maintenance of health and well-being, and you'll consider the assessment of food intake in this context. You'll review the factors determining food choice, and you'll explore the role of nutrition in the context of physical activity. Assessment method: 100% coursework.
Biomechanics
This module will extend your knowledge of human anatomy and the musculoskeletal system, whilst introducing the basic biomechanical concepts and terminology required to analyse skilled and common movement patterns. This module will provide a clear understanding of the internal and external forces that act on the body, which you use to develop a comprehensive understanding of performance determinants. Assessment method: 100% coursework.
Year 2
Perception and action 2
This module is designed to develop your application of interdisciplinary scientific principles and evidence-based practice associated with perceptual-motor skill development and performance. Specifically, you'll become proficient at evaluating practice with systematic procedures and engaging in reflective practice to recommend improvements in the development of perceptual-motor skills. You'll also learn to analyse the interdisciplinary performance demands associated with perceptual-motor skills and devise innovations to improve its development or performance. Assessment method: 100% coursework.
Sport psychology 2
This module is intended to develop your understanding of sport and exercise psychology. The module has been designed to advance your knowledge of theory and practice in the psychological preparation of sport performers, and as such will integrate the notions of research informing practice and practical experience informing research. Assessment method: 100% coursework.
Biomechanics 2
This module has been designed so you can apply your knowledge of biomechanics to the practical element of analysing human movement. You'll develop awareness of the available equipment, techniques, and methodological considerations involved with biomechanical analyses. At the end of this module, you'll be able to conduct a biomechanical investigation and link your understanding of Newtonian principles to sporting performance. Assessment methods: 50% coursework, 50% exam.
Sport and exercise nutrition
This module will develop your knowledge and understanding of the nutritional requirements of athletes and the metabolic responses and adaptations to acute and chronic exercise. In particular, it will focus on fuel utilisation during endurance, and explore the nutritional requirements of different 'athlete types'. The module will also reference evidence supporting the use of nutritional strategies in optimising performance and training. Assessment method: 100% coursework.
Research methods
This module is intended to develop your understanding of the research process in the area of applied human sciences. It will provide you with knowledge about main research principles and methodologies for data collection and analysis. You'll gain practical experience in developing a research proposal and analysing data with parametric and non-parametric statistical methods, using both MS Excel and IBM Statistical Package for the Social Sciences (SPSS). Assessment method: 100% coursework.
Exercise physiology and laboratory testing
This module will develop your knowledge of exercise physiology and a range of the laboratory procedures and skills used in the assessment of athletic populations. Building on the physiological knowledge developed at Level 4, the module will cover the acute and chronic responses to both high and low intensity exercise. It will also develop your ability to explain the fundamental factors that determine muscle strength and power as well as agility and quickness. The module will focus on the responses of the key physiological systems that support exercise performance and the design of training programmes to optimise improvement and minimise or delay fatigue. Assessment methods: 50% coursework, 50% exam.
Year 3
Clinical and applied biomechanics
This unit will develop your ability to have a clear understanding of the functional mechanics of the body and the biomechanical underpinning of injury mechanisms. It will provide an opportunity to gain in-depth knowledge of the functional properties of a dynamic musculoskeletal system and subsequent mechanisms of injury. These include muscles, bones and soft tissue behaviour. You'll critically evaluate the concepts, theories and applications underpinning soft tissue, tissue damage, muscle mechanics and mechanical models, bone, cartilage and load bearing capacity, and clinical gait analysis. Assessment methods: 60% coursework, 40% exam.
Research project
This module will provide you with an opportunity to plan, carry out and report an extended piece of research in sport or exercise science. You'll be assigned a research topic from a list supplied by members of academic staff, according to preferences that you specify. The topic list will cover the major disciplines in sport and exercise science. You may also have the chance to carry out a project that you'll propose yourself, subject to appropriate forward planning and supervisory support. Assessment method: 100% coursework.
Applied sport psychology
This module will help extending theory and research into the field to apply sport psychology into practice. You'll learn to facilitate optimal involvement, performance, and enjoyment in sport and exercise. It will enable you to apply psychological principles of human performance in helping athletes consistently perform in the upper range of their capabilities and more thoroughly enjoy the sport performance process.
Environmental exercise physiology
This module is designed to develop your understanding of the role of nutrition and technological aids in optimising performance in different environments. You'll critically evaluate the use of nutritional supplements and new technologies to support athletes in optimising their training and performance.
Clinical perception and action
This module is designed to develop critical evaluation of the scientific literature and applications underpinning the interdisciplinary nature of human performance with particular focus on neurophysiological and perceptual-motor aspects, as well as the construction and evaluation of rehabilitation and management programs. You'll cover a range of clinical conditions that affect human performance, for instance: stroke; diabetes; heart conditions; pulmonary disease; cancer; osteoporosis; Alzheimer's; developmental disorders; musculoskeletal injuries; etc
Employability
Sports and Exercise Science uses scientific principles and techniques to enable people, from Premier League footballers to those using the gym once a week to perform to their optimum performance level.
Our course curriculum highlights the development of vocational skills and professionalism, as well as the opportunity to take vocational training courses through Sports Coach UK and national sport governing bodies. Sports therapist, teacher, sports coach and fitness centre manager – these are all popular routes that Sport and Exercise Science graduates pursue on graduation.
Graduate success stories
Recent graduates from this course have gone onto jobs such as, Cardiac Rehabilitation Physiologist, Exercise Therapist, Sport Science Consultant, Childhood Obesity Programme Coordinator, Technical representative for physiological/mechanical analysis equipment, and International sales manager for exercise science equipment.
Others have taken postgraduate teacher training qualifications, or have developed their own business using the entrepreneurial skills they developed during their studies.
What to expect from your career
The following examples are there to give you a bit more information about the direction your career could take, the list is not intended to be exhaustive.
Sports Therapist
Sports therapists are focused on injury prevention, as well as rehabilitation for those returning from injury. Sports therapists need to have excellent communication skills, including the ability to motivate people at difficult times, and a positive attitude. They assess an athlete's readiness to perform, ensure injuries are treated as speedily and effectively as possible and can treat injuries and alleviate pain through sports massage. Starting salaries are around £16,000-£18,000, although with experience this can rise to £25,000-£28,000. (Prospects)
Sports Coach
A sports coach can expect to spend much of their time dealing directly with people: assessing strengths and weaknesses, providing feedback and motivational comments, and developing personal safety. The other major part of the role designs plans and programmes to optimise physical performance. Most coaches work part-time, or on a voluntary basis. However there are still around 40,000 full-time sports coaches in the UK, earning an hourly rate of around £15-£60. (Prospects)
Fitness Centre Manager
A Sport and Exercise Science background gives you an advantage on other graduates if you are interested in fitness centre management. Fitness Centre Managers are usually responsible for the overall profitability of the centre. They are focussed on customer retention and recruitment, as well as day-to-day operations. Marketing and business skills will be particularly relevant in this kind of role, as will a customer-focussed mind-set. The work can require unsocial working hours, including during weekends and holidays. Starting salaries are usually around £15,000-£25,000. (Prospects)
Continuing to postgraduate studies
Graduates will be eligible to apply for further study at postgraduate level. There are number of active related research areas at LSBU including, biomechanics, physiology, neuro mechanics, neurophysiology and nutrition.
LSBU Employability Service
We are University of the Year for Graduate Employment - The Times and Sunday Times Good University Guide 2018
LSBU is committed to supporting you develop your employability and succeed in getting a job after you have graduated. Your qualification will certainly help, but in a competitive market you also need to work on your employability, and on your career search.
As an LSBU student you have access to the Employability Service and its resources during your time here and for two years after you graduate.
Our Employability Service will support you in developing your skills, finding a job, interview techniques, work experience or a placement/internship, and will help you assess what you need to do to get the career you want at the end of your course. LSBU offers a comprehensive Employability Service, with a range of initiatives to complement your studies, including:
Direct engagement from employers who come in to network with students
Job Shop – daily drop in service to help with, tailoring CVs, cover letters and applications, sourcing online resource, mock interviews and general job searching. One to one appointments for further support also available
Mentoring and work shadowing schemes
Higher education achievement report - The HEAR is designed to encourage a more sophisticated approach to recording student achievement, which acknowledges fully the range of opportunities that LSBU offers to our students.
It pulls into one certificate: Module grades, Course descriptions, Placements, LSBU verified extra-curricular activities
Employability workshops - delivered free to students all year round on a variety of related topics
Careers fairs throughout the year to really focus your thoughts on a career after university
Find out about any of these services by visiting our student employability page
Professional links
Professional links
The degree relies on the numerous professional links through the Academy of Sport, our Sport and Exercise Science alumni, and the careers office. Every year a professional panel is invited to speak with the students about the career paths they took following their graduation and are invited to make internships and placements available to our students.
Partners
We work with leading partners including:
Accreditation
Our undergraduate degrees are endorsed by the Register of Exercise Professionals. Upon completion of the first year plus one assessment you'll be awarded an LSBU gym instructor qualification that provides access to the Register of Exercise Professionals at Level 2.
---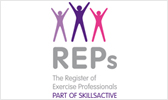 The Register of Exercise Professionals (REPs) is an independent public Register which recognises the qualifications and expertise of health-enhancing exercise instructors in the UK.
---
Placements
We encourage our students to gain relevant employment whilst they study and our partners are able to help with this.We are able to offer students a range of options via our placement partners shown below:
Give it a try
Handball projects (Lambeth)
Facilities
Sport and Exercise Science Research Centre (SESRC)
The Sport and Exercise Science Research Centre (SESRC) has access to sophisticated equipment which enhances research activities, and is where some of your classes will take place. You can take a virtual tour below.
Academy of Sport
You'll have access to a range of facilities and equipment within the Academy of Sport at LSBU, including a fully equipped fitness suite with SMART Centre Technology, a Functional Training Zone, Free Weights Room and Sports Hall.
The Academy of Sport has been recognised nationally for its high standards of excellence, receiving a customer satisfaction rate of 84.5%, from the UKCSI Business Benchmark Survey.
You can take a virtual tour below, or visit our Academy of Sport pages for more information.
Teaching and learning
Study hours
Year 1 class contact time is typically 15 hours per week plus individual tutorials and independent study.
Percentage of time spent in different learning activities

| | Time spent in lectures and seminars | Self-directed learning |
| --- | --- | --- |
| Year 1 | 29% | 71% |
| Year 2 | 26% | 74% |
| Year 3 | 24% | 76% |
Research
Our impressive research record means that teaching is informed by current, cutting-edge research, and because we have a focus on applied research, you can apply your learning to real world settings. Over 90% of our publications were rated at the 'international' level in the last national Research Assessment Exercise in 2008. Students have the opportunity to participate in the research that the staff are doing and to read their findings as part of the degree.
Support
We aim to support you throughout your studies in many ways. The University provides all students access to the virtual learning environment Moodle, so materials and online support are available when you need them. We provide one-to-one support via our professional tutoring system. Your tutor will help you understand coursework feedback, offer guidance as you plan your career, and advise you on work experience to ensure you get the most out of the course. Teaching is also supported through seminars, online learning environments and specialist advice sessions for topics such as statistics and research methods. In addition to the facilities provided by the university, our laboratories have dedicated computing and experimental equipment.
Entry requirements
2018 Entry
A Level CCD or;
BTEC National Diploma MMM or;
Access to HE qualifications with 39 Merits and 6 Passes or;
Equivalent level 3 qualifications worth 96 UCAS points
Level 3 qualifications must include Maths, Science or Sport
Applicants must hold 5 GCSEs A-C including Maths and English or equivalent (reformed GCSEs grade 4 or above).
We welcome qualifications from around the world. English language qualifications for international students: IELTS score of 6.0 or Cambridge Proficiency or Advanced Grade C.
Fees and funding
Fees are shown for new entrants to courses, for each individual year of a course, together with the total fee for all the years of a course. Continuing LSBU students should refer to the Finance section of our student portal, MyLSBU. Queries regarding fees should be directed to the Fees and Bursary Team on: +44 (0)20 7815 6181.
UK/EU fee:

£9250

International fee:

£12500

AOS/LSBU code:

836

Session code:

1FS00
Total course fee:
UK/EU
£27750
International
£37500
For more information, including how and when to pay, see our fees and funding section for undergraduate students.
Possible fee changes
Current regulatory proposals suggest that institutions will be permitted to increase fee levels in line with inflation up to a specified fee cap. Specifically, LSBU may be permitted to increase its fees for new and existing Home and EU undergraduate students from 2017/18 onwards. The University reserves the right to increase its fees in line with changes to legislation, regulation and any governmental guidance or decisions.
The fees for international students are reviewed annually, and additionally the University reserves the right to increase tuition fees in line with inflation up to 4 per cent.
Scholarships
We offer students considerable financial help through scholarships, bursaries, charitable funds, loans and other financial support. Many of our scholarships are given as direct tuition fee discounts and we encourage all eligible students to apply for our Access Bursary. New home full-time undergraduate students meeting eligibility criteria could receive a £1,000 cash bursary by joining us in the 2017/18 academic year. Find out more about all our scholarships and fee discounts for undergraduate students.
International students
As well as being potentially eligible for our undergraduate scholarships, International students can also benefit from a range of specialist scholarships. Find out more about International scholarships.
Please check your fee status and whether you are considered a home, EU or international student for fee-paying purposes by reading the UKCISA regulations.
Case studies
Select a case study and read about practical project work, student's placement experiences, research projects, alumni career achievements and what it's really like to study here from the student perspective.
Coming to university through Clearing gave Daniel Walters a second chance to pursue his passion for sports and science – while winning silver at the Commonwealth Games.
Prepare to start
We help our students prepare for university even before the semester starts. To find out when you should apply for your LSBU accommodation or student finance read the How to apply tab for this course.
Applicant Open Days
To help you and your family feel confident about your university choice we run Applicant Open Days. These are held at subject level so students start getting to know each other and the academic staff who will be teaching them. These events are for applicants only and as an applicant you would receive an email invitation to attend the relevant event for your subject.
Enrolment and Induction
Enrolment takes place before you start your course. On completing the process, new students formally join the University. Enrolment consists of two stages: online, and your face-to-face enrolment meeting. The online process is an online data gathering exercise that you will complete yourself, then you will be invited to your face-to-face enrolment meeting.
In September, applicants who have accepted an unconditional offer to study at LSBU will be sent details of induction, which is when they are welcomed to the University and their School. Induction helps you get the best out of your university experience, and makes sure you have all the tools to succeed in your studies.
Top of page

Course Enquiries - UK/EU
Tel: 0800 923 8888
Tel: +44 (0) 20 7815 6100
Get in touch
Course Enquiries - International
Tel: +44 (0) 20 7815 6189
Get in touch
Top of page