Section Menu
National Award for Special Educational Needs Coordinator (SENCO) PgCert
Overview
The National Award for Special Educational Needs Coordination addresses the specific development needs of staff who have recently been appointed to the role of SENCo (or who aspire to that role), usually experienced teachers. Participants come from a range of settings including primary, special and secondary schools.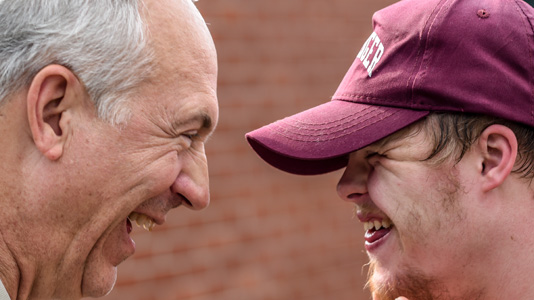 Photo credit: Alisa Herr
8 top reasons to study SENCO here...
Professional links: Sessions on the module will be taken by teachers and senior leaders from outstanding-rated partnership SEND schools.

Grow personally and professionally: Develop and demonstrate the personal and professional qualities and leadership you need to shape an ethos and culture based upon person-centred and inclusive practice.

Work-based placements: You'll already be working in a school – and applying your course learning to your role. However, there may be the possibility of additional visits to SEND schools to broaden your teaching experience.

Academic progression: Graduates of the PgCert SENCO can progress on to the MA in Education (Special Education Needs and Disability).

Flexible teaching: The course is taught through lectures, discussions, workshops, video presentations and blended learning methods.

Experienced teachers: all academics are ex-teachers and have years of experience in the education industry

Global perspective: Be part of an academic community dedicated to social justice and global responsibility – with inspiring schedule of guest speakers, events, volunteering opportunities and exchange of ideas.

Evening classes: Suitable for people already in work and looking to enhance their CV and expertise, this course is offered through evening classes.
This course covers...
The course enables you to demonstrate the necessary skills, knowledge and understanding to meet National College for Teaching and Leadership's (NCTL) learning outcomes for the National Award for Special Educational Needs Coordination. The NCTL stipulate particular outcomes in terms of:
Professional skills, knowledge and understanding: including an in-depth knowledge and understanding of the legislative context for SEN and theoretical concepts that underpin effective leadership and practice. To be informed by current practice, scholarship and research, and a critical awareness of current issues and developments in the subject and the profession;
Professional development: including the expertise and capabilities that SENCOs need to lead and coordinate provision effectively.
Professional values: including the personal and professional qualities that SENCOs need to make a positive impact on the ethos and culture in schools and other settings.
And, you'll you'll also be expected to engage critically and reflectively with the research and theory in the area of inclusion and SEND.
*This course is subject to validation
Key course information - ordered by mode
Mode
Duration
Start date
Location

Mode

Part-time

Duration

1 year

Start Date

September

Location

Southwark Campus
Modules
Improving learning outcomes for children and young people with SEND
Providing students with the skills, knowledge and understanding to enable SEND learners to successfully achieve in their learning. Focusing on the teaching and learning strategies needed to improve learning outcomes for children and Young People with SEND.
Leadership and management of provision for children and young people with SEND
This module builds on the previous module, developing the content explored previously in the context of becoming a leader and manager of SEND provision in an educational setting. Enabling students to develop and demonstrate the personal and professional qualities and leadership they need to shape an ethos and culture based upon person-centred, inclusive, practice in which the interests and needs of children and young people pupils with SEN and/or disabilities are at the heart of all that takes place.
Assessment
All modules are assessed by portfolio and case study / essay.
Session plan
Course content and topics are mapped out below over the 12 sessions:
Understanding the history of and current practice and theory in inclusion, SEN, Disability, underachievement and facilitating access to learning for SEND learners.
Being a child with SEND, identity, voice, learning, behaviour and the future.
The Children and Families Act 2014 and improving learning outcomes.
Case study and other preparation and research considerations needed in preparing for the module assignment.
Early childhood development, learning theory and the 'typical' learner and how this relates learners with neurodiverse learner.
Strategies for improving outcomes for learners with Autistic Spectrum Conditions.
Planning teaching and learning strategies to improve outcomes for and young people with SEND.
Ensuring the learning environment supports improved learning outcomes for SEND learners, including: friendship, play, challenging peer relationships and promoting a learning environment that successfully accommodates difference.
Promoting the role and value of families and carers of pupils with SEN and/or disabilities. Including working with learners and their families to consider the range of provision available to learners with SEND.
Assessing learning progression of learners with SEND, assessment and evaluation tools and monitoring achievement.
Student presentations of case studies for peer review and feedback
Assignment tutorials.
Employability
LSBU Employability Service
We are University of the Year for Graduate Employment - The Times and Sunday Times Good University Guide 2018
LSBU is committed to supporting you develop your employability and succeed in getting a job after you have graduated. Your qualification will certainly help, but in a competitive market you also need to work on your employability, and on your career search.
As an LSBU student you have access to the Employability Service and its resources during your time here and for two years after you graduate.
Our Employability Service will support you in developing your skills, finding a job, interview techniques, work experience or a placement/internship, and will help you assess what you need to do to get the career you want at the end of your course. LSBU offers a comprehensive Employability Service, with a range of initiatives to complement your studies, including:
Direct engagement from employers who come in to network with students
Job Shop – daily drop in service to help with, tailoring CVs, cover letters and applications, sourcing online resource, mock interviews and general job searching. One to one appointments for further support also available
Mentoring and work shadowing schemes
Higher education achievement report - The HEAR is designed to encourage a more sophisticated approach to recording student achievement, which acknowledges fully the range of opportunities that LSBU offers to our students.
It pulls into one certificate: Module grades, Course descriptions, Placements, LSBU verified extra-curricular activities
Employability workshops - delivered free to students all year round on a variety of related topics
Careers fairs throughout the year to really focus your thoughts on a career after university
Find out about any of these services by visiting our student employability page
Professional links
The course enables you to demonstrate the necessary skills, knowledge and understanding to meet National College for Teaching and Leadership's (NCTL) learning outcomes for the National Award for Special Educational Needs Coordination.
Sessions on the module will be taken by teachers and senior leaders in outstanding partnership SEND schools.
Students will already be working in schools. However, there may be the possibility of visits to SEND schools.
Staff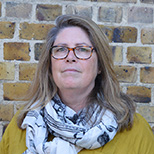 School/Division:
Law and Social Sciences / Centre for Education and School Partnerships
Job title:
Head of Partnership (ITE)
Gianna Knowles is a Principle Lecturer and Head of Partnership (Initial Teacher Education). She began her career in education working in North London primary schools. She has also taught in schools in the Midlands and has worked in Leicestershire's Local Authority educational advisory services. More recently she has been working in universities, lecturing in Educational Studies and Initial Teacher Education, which has included teaching at the Högskolan i Jönköping, the University of Jönköping in Sweden.
Gianna's research interest is in the area of diversity, inclusion and social justice. She has published a number of books aimed at teachers in training and those already working in education to help them understand and explore these issues.
---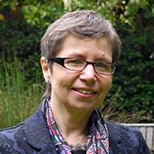 School/Division:
Law and Social Sciences / Centre for Education and School Partnerships
Job title:
Head of Research, Higher Degrees and Student Experience
Nicola has a PhD focussing on inclusive practice with autistic university students. She has 35 years' experience in education working with disabled pupils and students from nursery age to adults in FE and HE and an international research profile in the field.
---
Facilities
Teaching and learning
This course is taught through a combination of lecture sessions and workshops. You'll be supervised through a tutorial system and online materials with be available through Moodle (the University's Virtual Learning Environment).
The positive thing about this course is that it's taught during the School term so ensures teachers do not need to do anything extra during holidays, and it's also offered in the evening, so provides further flexibility for people already in work.
Entry requirements
Minimum BA/BSc and Qualified Teaching Status
All applicants must be serving teachers and have the support of their head teacher.
How to apply
Instructions for Home/EU applicants
Mode
Duration
Start date
Application code
Application method

Mode

Part-time

Duration

1 year

Start date

September

Application code

P060507

Application method
Full-time/part-time postgraduate students and research students apply through the UK Postgraduate and Statistical Service (UKPASS). Full details of how to do this are supplied on our How to apply section for postgraduate students and our How to apply section for research students.
Postgraduate applicants are required to provide up to two references as part of their application.
Accommodation
Students should apply for accommodation at London South Bank University (LSBU) as soon as possible, once we have made an offer of a place on one of our academic courses. Read more about applying for accommodation at LSBU.
Finance
It's a good idea to think about how you'll pay university tuition and maintenance costs while you're still applying for a place to study. Remember – you don't need to wait for a confirmed place on a course to start applying for student finance. Read how to pay your fees as a postgraduate student.
Postgraduate Application Service
Book a session with one of our specialist Postgraduate Advisors. Over a one on one Advice Session they'll advise you on postgraduate degrees at LSBU that match your interests and experience. Book an Advice Session.
Fees and funding
For more information, including how and when to pay, see our fees and funding section for postgraduate students.
Possible fee changes
Current regulatory proposals suggest that institutions will be permitted to increase fee levels in line with inflation up to a specified fee cap. Specifically, LSBU may be permitted to increase its fees for new and existing Home and EU students from 2017/18 onwards. The University reserves the right to increase its fees in line with changes to legislation, regulation and any governmental guidance or decisions.
The fees for international students are reviewed annually, and additionally the University reserves the right to increase tuition fees in line with inflation up to 4 per cent.
Postgraduate loan (PGL) for Masters study
If you are starting a postgraduate course, studying for a Masters-level qualification either full- or part-time from 1 August, you may be entitled to apply for a £10,280 postgraduate study loan. Find out more at our postgraduate fees and funding section.
Postgraduate Advice Service
You are invited to book a one-to-one appointment with one of our Postgraduate Advisors. They offer a 30 minute face-to-face session where you can get tailored advice on fees and funding. Book a 1-2-1 Advice Session.
Scholarships
We offer students considerable financial help through scholarships, bursaries, charitable funds, loans and other financial support. Many of our scholarships are given as direct Tuition Fee discounts.
Overview of scholarships and fee discounts for postgraduate students. Key scholarships and discounts below.
Vice-Chancellor Scholarships
Students holding an offer of a place on a postgraduate course will be invited to apply for a Vice-Chancellor Scholarships.
LSBU Graduate Loyalty Scheme
This scheme gives eligible undergraduate students and alumni a discount of their taught postgraduate tuition fees when they enrol on one of our postgraduate taught courses starting this year. Read more about the Graduate Loyalty Scheme.
International students
As well as being potentially eligible for our undergraduate scholarships, International students can also benefit from a range of specialist scholarships. Find out more about International scholarships.
Please check your fee status and whether you are considered a home, EU or international student for fee-paying purposes by reading the UKCISA regulations.
New course: fees are not yet published
This is a new programme and we are yet to release the fees for this course. Please check back shortly, this is where we will publish fees as soon as they are available.
Case studies
Select a case study and read about practical project work, students' placement experiences, research projects, alumni career achievements and what it's really like to study here from the student perspective.
Prepare to start
We help our students prepare for university even before the semester starts. To find out when you should apply for your LSBU accommodation or student finance read How to apply tab for this course.
Enrolment and Induction
Enrolment takes place before you start your course. On completing the process, new students formally join the University. Enrolment consists of two stages: online, and your face-to-face enrolment meeting. The online process is an online data gathering exercise that you will complete yourself, then you will be invited to your face-to-face enrolment meeting.
In September, applicants who have accepted an unconditional offer to study at LSBU will be sent details of induction, which is when they are welcomed to the University and their School. Induction helps you get the best out of your university experience, and makes sure you have all the tools to succeed in your studies.
Top of page

Course Enquiries - UK/EU
Tel: 0800 923 8888
Tel: +44 (0) 20 7815 6100
Get in touch
Top of page