Overview
Focus on the interactions between society, economy, space and land use. Explore how opportunities, tensions and conflicts are managed by planners in the public interest.
We explore the role of planning as a set of regulatory mechanisms but more importantly as a means of identifying opportunities and assisting developers (be they in the private, public or not-for-profit sectors).
6 reasons to study here...
Located in the heart of central London: We use our distinctive location to investigate the societal challenges and opportunities facing planning in the 21st century.

Taught by experienced academics and practitioners: Taught by staff with track records in research and relevant publications. Guest and visiting lecturers from professional practice supplement teaching throughout the course.

Site visits and live projects: One day and half-day site visits to exciting live projects - the practical focus is complimented by theoretical understanding.

Residential field study visit: Opportunity to participate in residential field study trips and site visits in Europe – at no additional charge to you.

Set the direction: Choice of specialism module provides flexibility and depth to explore issues relating to a particular aspect of planning

National and international perspective: Be part of an academic community dedicated to social justice and global responsibility - with inspiring schedule of guest speakers, events, volunteering opportunities and exchange of ideas.
We have been running professionally accredited planning education courses at LSBU successfully for over 40 years (50 in 2018).
This MA is aimed at graduates from a variety of disciplines who are looking to pursue a worthwhile and challenging course that can lead to an exciting and stable career in spatial planning and related fields.
The qualification is fully accredited by the Royal Town Planning Institute, which means you can become a licentiate member on graduation. With two years' relevant work experience (in some cases one year) you can apply to take the RTPI Assessment of Professional Competence and become a full member. Students will get free RTPI membership and RTPI bursaries (subject to availability).
The qualification includes a compulsory one week residential European field study visit. In recent years students have visited Barcelona. Venice or Dortmund. For all new entrants, field study visit fees are included in the tuition fees. Our one-day and week-long residential visits include presentations and Q&A with practitioners in London, the UK and beyond.
The course director Dr Michael Leary-Owhin is the co-editor (with Dr John McCarthy) of a major internationally-orientated book 'The Routledge Companion to Urban Regeneration' (2013).
Accreditations
Key course information - ordered by mode
Mode
Duration
Start date
Location

Mode

Full-time

Duration

12 months

Start Date

September

Location

Southwark Campus

Mode

Part-time

Duration

24 months

Start Date

September

Location

Southwark Campus
Modules
Year 1
Planning history and theory
This module examines the history of planning and the evolution of the theories and ideas that have underpinned the various attempts to intervene in the natural and built environment through the institution of state-led planning systems. It stresses the concept of theory as understanding, the interlinked nature of history and theory and the importance for the development of planning practice.
Planning law and practice
This module deals in depth with the legal framework for planning control and development of land in England and Wales. The module aims to provide students with a detailed knowledge and understanding of relevant legislation and case law relating to spatial planning and with the skills to find and interpret the law and apply it in practice. The module also aims to develop students' understanding of key issues for planners in the decision-making process: the interrelationship of law with policy implementation and practice, the nature and extent of decision-makers' accountability.
Sustainable places (with EU field study visit)
This module examines sustainability issues and challenges and the initiatives and responses from spatial planning and related agencies, institutions and organisations in the context of a European field study visit. The module aims to provide students with a detailed knowledge and understanding of the different forces at work within a region or city context. It will develop the students' understanding of sustainability issues and the impact of climate change; recognise the processes of change and identify issues and mechanisms that allow an area to develop to fulfil its potential as well as respond to environmental and related challenges.
Development and regeneration
This module provides an advanced introduction to urban regeneration and development. The focus will be on understanding the nature of development, the economic and social drivers, financial appraisal of schemes and the development process. The reasons for, and nature of, urban regeneration interventions will be critically examined, exploring both property-led and community-led schemes and the links between property development and social/community benefits derived from planning gain.
Urban design - the heart of planning
The module will focus on the future of an area of London that has undergone radical change in recent years and is the subject of complex and intense pressures for development. The area will have a number of constraints such as being in a Conservation Area and including listed buildings and part of the work will be to assess the balance to be struck between the parts that are of historic value, the parts that are to change and the form of new development, in an area that is complex culturally, socially and economically. The underlying theme to the module is the belief that planners must be able to visualise possible futures for sites in such a way that is positive.
Dissertation (For MA award)
On this module you'll engage with a substantial piece of research and writing which is self-initiated and supported by a specified academic supervisor. This is a double-weighted module that runs over two semesters and is an intensive piece of student-devised learning which normally includes empirical research. You'll choose your own research topic, which must be in the field of your chosen specialism. You can expect this to be a most rewarding experience and the academic high-point of your degree.
One specialist module from:
Urban design project (urban design specialism)
This project-based module provides you with the opportunity to extend and develop your urban design skills in a practical context in relation to the planning process and the urban context for design. It also reviews theories and approaches to urban design and explores and tests them against real projects and places in use and the student's own work. By engaging with the approaches of leading urban designers and current urban design advice you'll come to understand and review your own methods in urban design. This module develops themes and approaches from earlier parts of the planning course and leads to you producing design proposals which are expected to be of a professional standard. Whenever possible the module will be linked to 'live' projects and areas and cases of current interest.
Regeneration strategies and projects (urban regeneration specialism)
This module focuses on contemporary regeneration practice, which in recent years has taken place within an increasingly competitive context including declining public finance. We'll explore elements of regeneration theory in the context of a specific 'major' project and the regeneration strategy that provides a framework for development in the wider area. The main aim of the module is to allow you to explore the links between theory and practice in contemporary approaches to regeneration and to explore the link between individual 'flagship' projects and the wider regeneration strategy or framework within which they are situated. You are required to identify a recent flagship project and to discuss the extent to which the project forms part of a coherent strategy for the wider area. The module focuses on contemporary regeneration practice, which in recent years has taken place within an increasingly competitive context including declining public finance. This will be explored in the context of a specific 'major' project and the regeneration strategy that provides a framework for development in the wider area.
Environment and resource management (environmental policy specialism)
This module focuses on a number of key themes in the context of environmental management and planning, and explores them in the context of policy directions, law and practice. We'll consider pollution control, environmental protection and remediation, corporate and individual rights, responsibility and liability within the UK and European context, with particular reference to England and Wales. Where appropriate the wider international context will be considered. This module also introduces you to environmental assessment, sustainability appraisal and environmental management techniques and processes. In this module we'll explore detailed aspects of environmental management, policy and law in order to develop areas of particular relevance to professionals. We'll consider the law, policy and practice relating to pollution control and environmental protection within the UK and European context, with particular reference to England and Wales.
Global planning challenges (international planning specialism)
This module compares and contrasts key challenges facing spatial planners across a range of global settings and the extent to which both the challenges and the policy responses are mobile across international borders. In this module we'll explore the nature and purpose of planning via cross-national comparisons and to draw out lessons for the mobility of policy and practice. We'll examine convergences and divergences in planning approaches and their underlying design concepts in selected countries drawn from the global south and north. The module will enable you to develop creative and credible thinking over the kinds of responses spatial planning can produce within different geographical contexts.

Part-time mode is taught one-day-per-week, with one or two modules being taught in each semester; plus the dissertation being completed by the end of January in the third year.
Assessment
Modules are assessed by a range of coursework including: essays, professional reports, design and practice based projects seen exams, presentations and a dissertation.
Employability
Currently there is a national shortage of qualified town and environmental planners in the UK so the demand for our postgraduate courses is particularly high.
Employment prospects are excellent especially in London and the South East of England. Successful planning students may find jobs in central government, local government, non-governmental organisations, housing associations and quangos. Given our extensive links with public, private and voluntary sector employers we often find that employers often approach us first seeking suitably qualified and motivated applicants.
A significant proportion of our graduates are employed by public sector bodies and private consultancies in planning, property, utilities companies, the transport sector, and in the property sections of large PLCs, such as the major retailers.
Employability Service
We are University of the Year for Graduate Employment for the second year in a row - The Times and Sunday Times Good University Guide 2018, 2019.
At LSBU, we want to set you up for a successful career. During your studies – and for two years after you graduate – you'll have access to our Employability Service, which includes:
An online board where you can see a wide range of placements: part-time, full-time or voluntary. You can also drop in to see our Job Shop advisers, who are always available to help you take the next step in your search.
Our Careers Gym offering group workshops on CVs, interview techniques and finding work experience, as well as regular presentations from employers across a range of sectors.
Our Student Enterprise team can also help you start your own business and develop valuable entrepreneurial skills.
Professional links
The MA is fully accredited by the Royal Town Planning Institute. This means that after graduation you can become licentiate members of the RTPI. With two years relevant work experience (in some cases one year) graduates can apply to take the RTPI Assessment of Professional Competence exam and become full members of the RTPI.
We have extensive links with planning and private sectors with visiting speakers delivering presentations at LSBU and during field study visits and project visits. Practitioners also provide valuable inputs through a short lecture series.
Recent guest lecturers:
David Waterhouse, Department of Communities and Local Government;
Brian O'Callaghan, Royal Town Planning Institute;
Micheal Pyner, Shoreditch Trust;
Matthew Townend St James Homes;
Catherine Croft 20th Century Society:
Jon Grantham, Land Use Consultants.
---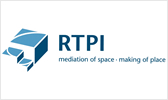 With 23,000 members the Royal Town Planning Institute is the largest planning institute for spatial, sustainable and inclusive planning in Europe. 2014 marks its centenary.
---
Facilities
Teaching and learning
You'll be taught by experienced academics with wide-ranging research interests, including:
Regeneration and restructuring of post-industrial Cities and economies
Comparative urban regeneration
The creation of urban public space
City marketing
Planning cultures and practices in post-socialist countries
Social, economic and territorial cohesion in Europe
Urban Agriculture
Development along the Thames corridor
Mobilising design
Sustainability of the Utility Furniture Movement
Sustainability education for Housing managers.
Most recently, Dr Michael Leary-Owhin, was interviewed as an expert in urban spaces by Global News in response to the London attacks. You can watch and read the news story here.
Entry requirements
A large proportion of applicants have a geography or social science first degree (minimum 2:2/Bachelor degree equivalent to UK Second Class Honours Lower Division). But in line with Royal Town Planning Institute policy we will consider candidates from a broad range of first degree disciplinary backgrounds in the arts, humanities and sciences.
Fees and funding
For more information, including how and when to pay, see our fees and funding section for postgraduate students.
See our Tuition Fees Regulations (PDF File 149 KB) and Refund Policy (PDF File 102 KB).
Possible fee changes
The University reserves the right to increase its fees in line with changes to legislation, regulation and any government guidance or decisions.
The fees for international students are reviewed annually and the University reserves the right to increase the tuition fees in line with the RPIX measure of inflation up to 4 per cent.
Postgraduate loan (PGL) for Masters study
If you are starting a Masters course, studying either full- or part-time, you may be entitled to apply for a postgraduate study loan. Find out more at our postgraduate fees and funding section.
Scholarships
We offer several types of fee reduction through our scholarships and bursaries. Find the full list and other useful information on funding your studies on the scholarships and fee discounts page.
Fee status
Please check your fee status and whether you are considered a Home, EU or International student for fee-paying purposes and for our regulatory returns, by reading the UKCISA regulations.
Stories
Select a story and read about practical project work, students' placement experiences, research projects, alumni career achievements and what it's really like to study here from the student perspective.
Prepare to start
We help our students prepare for university even before the semester starts. To find out when you should apply for your LSBU accommodation or student finance read How to apply tab for this course.
Enrolment and Induction
Enrolment takes place before you start your course. On completing the process, new students formally join the University. Enrolment consists of two stages: online, and your face-to-face enrolment meeting. The online process is an online data gathering exercise that you will complete yourself, then you will be invited to your face-to-face enrolment meeting.
In September, applicants who have accepted an unconditional offer to study at LSBU will be sent details of induction, which is when they are welcomed to the University and their School. Induction helps you get the best out of your university experience, and makes sure you have all the tools to succeed in your studies.
Read more about Enrolment and Induction.
Getting started
Applicants should try to:
Attend a planning committee meeting of their local council
Become familiar with basic information about the planning system and a professional planning career that can be found on the Planning Portal website and the Royal Town Planning Institute website
Read the local newspaper for insights into journalistic opinions about planning
Visit the National Gallery, Tate Britain and Tate Modern – all for free!
Suggested reading
It is valuable to do some background reading before starting the course, we suggest:
Cullingworth B et al 2015 (15th edition) "Town & Country Planning in Britain", London: Routledge
Top of page
Course Enquiries - UK/EU
Tel: 0800 923 8888
Tel: +44 (0) 20 7815 6100
Get in touch
Course Enquiries - International
Tel: +44 (0) 20 7815 6189
Get in touch
Top of page