Overview
MA Journalism with Development Studies is an interdisciplinary course offered jointly by LSBU's School of Arts and Creative Industries and School of Law and Social Sciences. It brings together our established expertise in Development Studies with our industry-accredited provision in journalism practice.
Development issues such as migration, poverty, the environment, aid and governance are increasingly relevant in journalism, and this course develops a theoretical understanding of these issues alongside practical journalism skills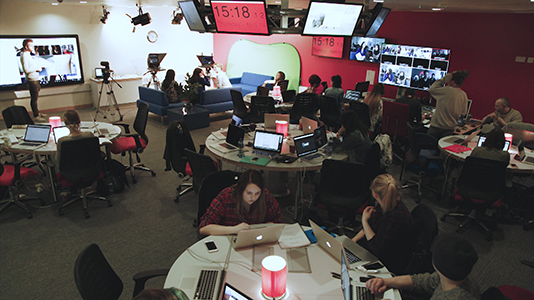 The course offers hands-on practical professional training in the production techniques relevant for a range of multi-media and multi-platform broadcast journalistic tasks. This includes creating and presenting content for the Global Campus Network while conforming to national and international ethical and legal frameworks. The course also provides a solid grounding in key theories, concepts and debates around development and contemporary development journalism.
You'll have access to our new media facilities in Elephant Studio at LSBU and will be offered a work placement option in semester 2.
Key course information - ordered by mode
Mode
Duration
Start date
Location

Mode

Full-time

Duration

1 Year

Start Date

September

Location

Southwark Campus

Mode

Part-time

Duration

2 Years

Start Date

September

Location

Southwark Campus
Modules
Contemporary issues in development
The module aims to provide a comprehensive and detailed introduction to the contemporary challenges facing developing countries. Topics typically include issues of poverty and poverty reduction; aid and its effectiveness; debt and debt servicing; governance and transparency; the environmental impact of development; patterns of inequality; the impact of urbanisation; and more generally, on changing economic relations within the world economy.
Research Methods for Journalism
This module provides an overview of the major theoretical perspectives that underpin academic media research and shows you how qualitative and quantitative methods are used to study media institutions, texts and policies. The module also explores the ethical and political issues that arise in doing media research and the role and responsibilities of the social researcher in the community. The module is designed to prepare you for the MA dissertation.
Development journalism
This module examines the history and current practices of development journalism in the context of globalisation. It explores different understandings of the role of the media in relation to politics and social movements at national, sub-national and supra-national levels, and critically engages with debates about 'mediatised' war and conflict, the role of cosmopolitan civil society in humanitarian and human rights emergencies, media campaigning around poverty and environmental issues, and contemporary ideas about capacity-building and resilience.
Practice for International Journalism
Working to an international editorial brief, this module will provide you with an introduction to the production techniques relevant for a range of multi-platform broadcast journalistic tasks. It will equip you with the essential technical skills needed for multimedia and multi-platform broadcasting. This will include creating and presenting content for the Global Campus Network (www.globalcampus.network) whilst conforming to national and international ethical and legal frameworks. In the Global Campus Network, each academic partner has its own Station for aggregating content related to its member's creations, including videos, shows, and communities. The module will give you a grounding in the broader areas of production processes, including file management and technical work flow; studio/location safety; and ethical and legal consequences of production work, such as, copywright, privacy, permissions and trespass plus relevant codes of practice. Finally, the module aims to introduce you to the essential skills that ho hand-in-hand with content production - editorial planning, time management and teamwork.
Interactive web journalism
As the strategies of multimedia storytelling found on the news organisations' digital platforms are becoming increasingly more sophisticated, and as mobile devices overtake desktops and laptops as the primary way of accessing news online, understanding cross platform news consumption will be key to the success of journalist in newsrooms of the next decade - newsrooms where technology and editorial are convergent. This module will emphases the fact that a platform can determine how a media consumer interacts with the news and will allow students through a number of methods including live blogging, apps, news games and more.
Dissertation
In the dissertation, the various elements of knowledge and the skills you have developed through your theoretical and professional practice project modules are developed further and may be integrated in a focused and in-depth study. The dissertation can take the conventional form of a piece of written academic research, or be a combination of academic written work and an independent development journalism project.
Plus one optional module from:
Work placement
You will identify and secure a journalism placement for 140 hours (approximately 20 days to be completed) that enables you to significantly develop your knowledge, skills and competencies. In addition to the placement, you will be required to reflect upon the culture, convention, practices, power hierarchies and representations of the organisation in which your work takes place. The focus will be on identifying what is happening in the chosen sector in terms of trends, issues, markets and your role in the organisation whilst on placement.
Economies in Transition: Strategies for Development
This module analyses and assesses the main development strategies implemented be developing countries in recent years, focusing on case studies from Africa, Latin America and Asia, outlining their key achievements and problem areas. This analysis then forms the basis for examining the possibilities for and outcomes of different types of industrialisation in the coming years, within a global context. The modules combines detailed case study example from particular types of industrialising economy, including examples from the rural services, and raw material extractive sectors.
Forced migration and human rights
This module examines the inter-relationship between international human rights standards and forced migration. It will familiarise you with internationally and regionally protected human rights standards (civil and political, economic social and cultural) the violation of which gives rise to forced migration, and with the human rights issues in the host states to which the forced migrants move. It will introduce you to the UN and regional systems governing these issues and to specific themes which bring human rights and forced migration together.
Forced migration and development
This module introduces the key concepts in forced migration and development and different categories of forced migrants – asylum-seekers, refugees, IDPs, oustees and disaster victims. It examines the multiple and complex nature of forced migration, evaluates international, inter-governmental, non-governmental and governmental responses to the short-medium and long-term needs of forced migrants and the poor sections of the host population. It critically analyses and evaluates the positive and negative impacts of forced migrants on host communities.
All modules are assessed by coursework.
Employability
MA Journalism with Development Studies will draw on existing links with development organisations and the news industry to provide expertise in areas important for employment in the professional journalism and development studies field. The course offers the option of a guaranteed work placement in semester two.
A humanities Masters opens up careers in a number of professions such as teaching, social work, administration and higher level education. Graduates have forged exciting careers in research-related work, public relations, advertising, retail, management and media-related work.
Our established MSc Development Studies course attracts many students from developing countries, with direct experience of working in the field or of working for development-oriented organisations in Europe and the UK.
LSBU Employability Service
We are University of the Year for Graduate Employment - The Times and Sunday Times Good University Guide 2018
LSBU is committed to supporting you develop your employability and succeed in getting a job after you have graduated. Your qualification will certainly help, but in a competitive market you also need to work on your employability, and on your career search.
As an LSBU student you have access to the Employability Service and its resources during your time here and for two years after you graduate.
Our Employability Service will support you in developing your skills, finding a job, interview techniques, work experience or a placement/internship, and will help you assess what you need to do to get the career you want at the end of your course. LSBU offers a comprehensive Employability Service, with a range of initiatives to complement your studies, including:
Direct engagement from employers who come in to network with students
Job Shop – daily drop in service to help with, tailoring CVs, cover letters and applications, sourcing online resource, mock interviews and general job searching. One to one appointments for further support also available
Mentoring and work shadowing schemes
Higher education achievement report - The HEAR is designed to encourage a more sophisticated approach to recording student achievement, which acknowledges fully the range of opportunities that LSBU offers to our students.
It pulls into one certificate: Module grades, Course descriptions, Placements, LSBU verified extra-curricular activities
Employability workshops - delivered free to students all year round on a variety of related topics
Careers fairs throughout the year to really focus your thoughts on a career after university
Find out about any of these services by visiting our student employability page
Professional links
The course offers state-of-the art news production facilities, access to the Global Campus Network, and masterclasses from professional journalists, for example training provided by One World Media.
Staff School/Division:
Arts and Creative Industries / Film and Media
Job title:
Course Director: Media and Cultural Studies
Dr Terry Daniels is a Senior Lecturer in the School of Arts & Creative Industries, specialising in visual culture, research methods, and mediated representations of gender and ethnicity. Her research interests include representations of ethnicity in British television, and historical research using documents and archives.
---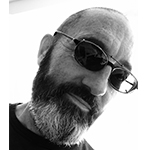 School/Division:
Arts and Creative Industries /
Job title:
Professor of Media & Communications
Prof. Philip Hammond is Director of Research for the School of Arts & Creative Industries. He has published widely on representations of war and conflict in news, film and video games; post-Cold War international relations; and the politics of environmentalism.
---
Facilities
The home of Journalism.London, our dedicated newsroom is fitted with 42" displays, an audio mixer, 8 line inputs and 80 channel mix, News Synergy Workstation and 15" Macbook laptops - all for student use.

Our Radio Studio is built for four people, each with their own Cardiod condernser microphone feeding into a Radio control room with a set of mixer decks for five channels of audio playback, live broadcasting tools and on-air indicators.

The Elephant Studios at LSBU Mac Lab is fitted with Quad-Core and Dual GPU MacPros, available for digital media workshops and unsupervised student work.
Teaching and learning
Class contact time is typically ten hours per week plus tutorials and independent study. You'll have access to LSBU's Moodle Virtual Learning Environment, where you can access electronic versions of core texts and other resources.
Entry requirements
A first degree (2:2 or higher) in a relevant subject; or
A Higher National Diploma in a relevant subject; or
A minimum three years' post-qualification experience in a relevant field.
How to apply
International (non Home/EU) applicants should follow our international how to apply guide.
Instructions for Home/EU applicants
Mode
Duration
Start date
Application code
Application method

Mode

Full-time

Duration

1 Year

Start date

September

Application code

4734

Application method

Mode

Part-time

Duration

2 Years

Start date

September

Application code

4810

Application method
Full-time/part-time postgraduate students and research students apply through the UK Postgraduate and Statistical Service (UKPASS). Full details of how to do this are supplied on our How to apply section for postgraduate students and our How to apply section for research students.
Postgraduate applicants are required to provide up to two references as part of their application.
Accommodation
Students should apply for accommodation at London South Bank University (LSBU) as soon as possible, once we have made an offer of a place on one of our academic courses. Read more about applying for accommodation at LSBU.
Finance
It's a good idea to think about how you'll pay university tuition and maintenance costs while you're still applying for a place to study. Remember – you don't need to wait for a confirmed place on a course to start applying for student finance. Read how to pay your fees as a postgraduate student.
Postgraduate Application Service
Book a session with one of our specialist Postgraduate Advisors. Over a one on one Advice Session they'll advise you on postgraduate degrees at LSBU that match your interests and experience. Book an Advice Session.
Fees and funding
Fees are shown for new entrants to courses, for each individual year of a course, together with the total fee for all the years of a course. Continuing LSBU students should refer to the Finance section of our student portal, MyLSBU. Queries regarding fees should be directed to the Fees and Bursary Team on: +44 (0)20 7815 6181.
UK/EU fee:

£7100

International fee:

£12500

AOS/LSBU code:

4734

Session code:

1FS00
UK/EU fee:

£3155.56

International fee:

£5555.56

AOS/LSBU code:

4810

Session code:

1PS00
Total course fee:
UK/EU
£7100
International
£12500
For more information, including how and when to pay, see our fees and funding section for postgraduate students.
Possible fee changes
Current regulatory proposals suggest that institutions will be permitted to increase fee levels in line with inflation up to a specified fee cap. Specifically, LSBU may be permitted to increase its fees for new and existing Home and EU students from 2017/18 onwards. The University reserves the right to increase its fees in line with changes to legislation, regulation and any governmental guidance or decisions.
The fees for international students are reviewed annually, and additionally the University reserves the right to increase tuition fees in line with inflation up to 4 per cent.
Postgraduate loan (PGL) for Masters study
If you are starting a postgraduate course, studying for a Masters-level qualification either full- or part-time from 1 August, you may be entitled to apply for a £10,280 postgraduate study loan. Find out more at our postgraduate fees and funding section.
Postgraduate Advice Service
You are invited to book a one-to-one appointment with one of our Postgraduate Advisors. They offer a 30 minute face-to-face session where you can get tailored advice on fees and funding. Book a 1-2-1 Advice Session.
Scholarships
We offer students considerable financial help through scholarships, bursaries, charitable funds, loans and other financial support. Many of our scholarships are given as direct Tuition Fee discounts.
Overview of scholarships and fee discounts for postgraduate students. Key scholarships and discounts below.
Vice-Chancellor Scholarships
Students holding an offer of a place on a postgraduate course will be invited to apply for a Vice-Chancellor Scholarships.
LSBU Graduate Loyalty Scheme
This scheme gives eligible undergraduate students and alumni a discount of their taught postgraduate tuition fees when they enrol on one of our postgraduate taught courses starting this year. Read more about the Graduate Loyalty Scheme.
International students
As well as being potentially eligible for our undergraduate scholarships, International students can also benefit from a range of specialist scholarships. Find out more about International scholarships.
Please check your fee status and whether you are considered a home, EU or international student for fee-paying purposes by reading the UKCISA regulations.
Case studies
Select a case study and read about practical project work, students' placement experiences, research projects, alumni career achievements and what it's really like to study here from the student perspective.
Prepare to start
We help our students prepare for university even before the semester starts. To find out when you should apply for your LSBU accommodation or student finance read How to apply tab for this course.
Enrolment and Induction
Enrolment takes place before you start your course. On completing the process, new students formally join the University. Enrolment consists of two stages: online, and your face-to-face enrolment meeting. The online process is an online data gathering exercise that you will complete yourself, then you will be invited to your face-to-face enrolment meeting.
In September, applicants who have accepted an unconditional offer to study at LSBU will be sent details of induction, which is when they are welcomed to the University and their School. Induction helps you get the best out of your university experience, and makes sure you have all the tools to succeed in your studies.
Top of page

Course Enquiries - UK/EU
Tel: 0800 923 8888
Tel: +44 (0) 20 7815 6100
Get in touch
Course Enquiries - International
Tel: +44 (0) 20 7815 6189
Get in touch
Top of page