Section Menu
International Relations with Criminology BA (Hons)
Unistats
What is Unistats?
Key Information Set (KIS) Data is only gathered for undergraduate full-time courses. There are a number of reasons why this course does not have KIS data associated with it. For example, it may be a franchise course run at a partner college or a course designed for continuing professional development.
Overview
Immersive approach
This fascinating interdisciplinary degree will help you to become an active agent of change in the international system. You'll explore development and under development, conflict and conflict resolution, war and terrorism, and globalisation and activism.
You'll consider these topics for their impact on crime, at-risk populations, the international criminal justice, and international human rights. Our interactive seminars and workshop encourage exciting, free and open debate.
We offer the opportunity for all undergraduate Home/EU students to undertake a work placement, internship or work experience while studying a full-time course starting in September 2018.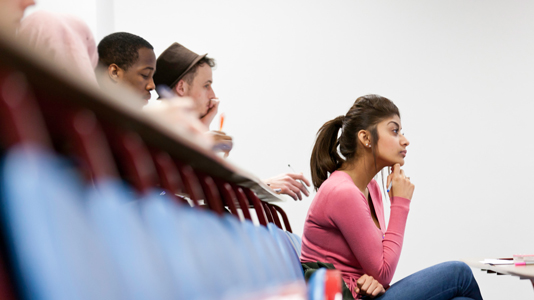 Why International Relations with Politics at LSBU?
Wide ranging research interests: global political economy, international human rights, sexualities and society, global sport, human trafficking, sustainability and climate change.

Our interactive seminars and workshops encourage free and open debate - for you to share ideas and learn from each other.

Global alumni network: Become part of an 80,000-strong alumni network.

No. 1 in UK for teaching in Politics (National Student Survey 2018).

Enhance your employability by taking part in our volunteering programme - and take advantage of optional 'work placement' module.

Be part of an academic community dedicated to social justice and global responsibility - with inspiring schedule of guest speakers, events, volunteering opportunities and exchange of ideas.
Key course information - ordered by mode
Mode
Duration
Start date
Location

Mode

Full-time

Duration

3 years

Start Date

September

Location
Case studies
Olivia chose Criminology at London South Bank University (LSBU) because she had a strong desire to help people with her degree and later career.
Modules
Modules cover an array of enticing topics. You'll deconstruct the problem of crime in the context of globalisation and development. Other topics include national identity, and how to forge a more socially just and safe global future.
Year 1
Introduction to international relations
This module introduces key issues in International Relations. We'll focus on major contemporary global events and processes and explore perspectives and concepts that inform international analysis. The content will respond to real-world controversies and events for the year, such as climate change, humanitarian intervention, the Syrian conflict and the Olympic Games. Assessment: group presentation (30%), blog (30%) and foreign policy briefing paper (40%).
Revolutions, wars and the making of the modern world
This module introduces some of the major themes and events in modern world history. It begins with an examination of the Enlightenment and the French Revolution. It moves on to look at the Industrial Revolution, national unification movements in Italy and Germany in the nineteenth century, Empire, the First World War and the ideologies of Fascism, Nazism and Soviet Communism. It looks at the impact of key historical figures such as Lenin, Stalin, Mussolini and Hitler and their impact on the shape of the modern world. Taught through: weekly lectures, seminars and group debates. Assessment: group work and presentation (40%) and 1,500-word essay (60%).
Deconstructing the crime problem
What is crime? How and to what extent is the crime problem dispersed throughout contemporary British society? What do we know about current levels of crime in the UK and how do these compare historically? These are some of the key questions addressed in this module which aims to introduce you to the basic anatomy of the crime problem. In addition to addressing specific questions concerning trends in different types of crime and social distribution of crime across society, you'll be encouraged to think about these issues in terms of broader social trends and relations.
Introduction to international relations theory
This module introduces key perspectives in international relations theory, both classical and modern. We'll explore classical thinkers, including Hobbes, Kant and Marx, but our emphasis is on twentieth century International Relations' thinking. The Realist tradition will be a central concern, but critiques and alternatives will also be analysed. Throughout the module, we'll apply IR theory to real-world developments such as: war and peace, global justice, human rights, foreign policy and diplomacy, nationalism, and revolution. Assessment: logbook (20%), 1,500-word essay (50%) and 1-hr exam (30%).
War and social change in the 20th century
This module introduces the major themes and events in twentieth century world history from the Second World War onward. It examines contemporary historical events that have impacted society, including the Cold War, decolonisation, Mao Zedong and the Chinese Communist revolution, the effect of New Right ideologies in the 1980's, the fall of the Soviet Union and its consequences, globalisation, as well as moves towards European integration and the development of the European Union. You'll analyse the impact of these key events on the shaping of the modern and contemporary world. Taught through: weekly lectures and seminars. Assessment 2,000-word essay (100%).
Introduction to criminological theory
This module introduces you to key criminological theories. You'll examine the principal conceptual differences between these theories and how such concepts have been applied in the form of substantive research and policy.
Year 2
Global governance, religionalism and the nation-state
This module explores the complex, dialectical (non-linear) economic, social and political relations between nation-states, regionalisation and globalisation. Regionalisation has emerged across the world, but is most developed in Europe. You'll also explore the role of international organizations in the global system, with particular emphasis on the United Nations system, including International Financial Institutions. You'll critically reflect on state power and global inter-dependence in the 21st Century. Taught through: lectures, seminars and workshops. Assessment: an international news journal diary (50%) and a two-hour exam (50%).
Social research skills 1
In the first half of this module students are introduced to basic issues in research design and methodology. Topics covered include experimental design and random assignment, formulating research questions sampling and measurement. In the second half of the module they learn the basics of statistical analysis and how to use SPSS.
Issues in contemporary policing
This module offers an insight into key issues in contemporary policing. The module develops the student's understanding of the concepts of 'policing' and 'the police'. It explores a number of issues including: the historical origins of contemporary policing; the legitimacy of policing; police culture(s); the policing of private and public order; the privatisation of policing functions; the growth of transnational policing, together with an analysis of the significance of a human rights agenda for twenty-first century policing. It also considers the implications of globalisation for policing both on an organisational and conceptual level. Underlying such discussions is a critical focus on protection through a critical appreciation of the police function and role.
The environment, sustainability and climate change
This module provides a grounding in the study of the politics of environmental sustainability. The module focuses firstly on the debate on environmental sustainability which includes the challenge by environmentalists that it is a contradiction. Alternative approaches will also be examined including: green theory, the free market and Marxist approaches. The second part of the module looks at increasing global competition for water, food, energy and oil. The politics of climate change and deforestation; transport and tourism; global security and justice will also be covered. The third part of the course focuses on case studies of organisations and movements involved in environmental sustainability. We'll look into the IPCC; Copenhagen Climate Council; the Fair Trade Movement; Ethical Consumerism and the Environmental Movement.
Globalisation and development
This module introduces key concepts, issues and theoretical debates in development studies. The module focuses on the developing societies of Africa, Asia, and Latin America and seeks to develop a comparative analysis of the divergent developmental experiences of Africa and the BRIC economies. The module locates the debates and issues that it explores within both an historical and global context and encourages students to explore the inter-dependence of the developed and developing world.
Penal theory, policy and practice
This module examines penal theory and practice in a theoretical, comparative and historical way, and engages critically with the theoretical justifications and policy proposals for punishment. The first part of this module examines the philosophical and historical bases of punishment in general and the prison in particular. The module focuses strongly on how the term crisis has been used to describe almost every aspect of the penal system. In particular it examines the background and current contexts of the crisis. The course also reflects on the concepts of 'place', 'space' and 'time' as sources of suffering and emphasises the significance of vulnerability and imprisonment. The course critically evaluates the future promise of the penal system through an examination of the issue of the privatisation of punishment and its role in future penal policy.
Year 3
Contemporary dynamics of the world system
This module explores the structures, dynamics and transformations of world orders and provides students with an understanding of international relations since the demise of the nineteenth-century Pax Britannica. We'll explore successive world orders, analysing the period of rivalry between the major powers (1875-1945), and the era of Cold War bi-polarity and Pax Americana (1945-1990). We'll focus on post-Cold War developments, including the rise of China, the debate on US empire and hegemony, and processes of globalization and transnationalisation. We'll also explore contemporary patterns of international disorder, including the developing multi-polarity and the rise of transnational Islamic activism. Assessment: seminar presentation (20%), 1,000-word book review (30%) and 2-hr exam (50%).
Crimes of the powerful: states, corporations and human rights
This module explores the phenomena of state crime, corporate crime and the involvement of powerful social forces in human rights abuses. We'll examine the problems involved in conceptualising state crimes and human rights and looks at contemporary crimes against humanity, including in the area of environmental rights. We'll also explore the problems involved in regulating and controlling state crime and human rights atrocities in which states and state officials play a key role. The critical engagement with globalization provides a you with a framework to explore significant contemporary debates and developments. Assessment: 500-word annotated bibliography (20%) and 2,500-word case study (80%).
Crime, criminology and modernity
This module examines the emergence and development of criminology as an academic discipline in the context of the development of the human sciences and governmental needs of societies in the modern period. Whilst its main emphasis is on intellectual development It also explores how and in what ways such ideas come to be embodied in governmental policy, how this process transforms them and the conditions under which they decline both intellectually and in their application.
Gender, crime and justice
An understanding of both masculinities and femininities is central to this module. Drawing on feminist perspectives in criminological theory as well as more mainstream theoretical accounts, this module evaluates the evidence, which indicates that patterns of offending, victimisation and the workings of the main criminal justice agencies are gendered. The module also transgresses traditional debates in this area by considering a human rights perspective for the study of gender and crime.
Research project (double module)
This Level 6 double module covers two semesters and consists of the research for and completion of an academic project with a 10,000 word limit. You'll choose an IR subject relevant to the study of International Relations in which they wish to specialise, and then undertake and complete the project. During the whole process, from choice of subject to final submission, you'll have the support and guidance of an academic supervisor. Assessment: project proposal (15%) and 10,000-word project (80%).
Employability
Graduates are in demand for their skill-mix, including analysis, critical thinking, research, and strong communication skills.
As a graduate you'll be able to appreciate that problems are often multi-faceted and require thoughtful, creative and logical approaches. Such graduates are highly valuable (in both commercial and Not-for- Profit sectors) because of their ability to contribute to strategic decision making.
Typical careers are:
teaching
voluntary sector project management
work in NGOs, local and central government
general commercial businesses
national delegations at the United Nations
Employability Service
We are University of the Year for Graduate Employment - The Times and Sunday Times Good University Guide 2018.
At LSBU, we want to set you up for a successful career. During your studies – and for two years after you graduate – you'll have access to our Employability Service, which includes:
An online board where you can see a wide range of placements: part-time, full-time or voluntary. You can also drop in to see our Job Shop advisers, who are always available to help you take the next step in your search.
Our Careers Gym offering group workshops on CVs, interview techniques and finding work experience, as well as regular presentations from employers across a range of sectors.
Our Student Enterprise team can also help you start your own business and develop valuable entrepreneurial skills.
Professional links
Placements
A placement can not only help you place your studies into a context and apply your learning to practice, it's also a great opportunity to contribute to real world situations. Many former students have maintained a relationship with their placement organisation, and some have used it as the basis for their dissertation.
Recent successful placements have included working in MPs' constituency offices and the European Parliament in Brussels.
Facilities
Teaching and learning
You can expect to be taught through a mix of innovative and traditional teaching methods:
social media
blogs
presentations
group work
policy briefs
essay writing
dissertations
Our central London location means that our you can benefit from London's rich resources:
British Library
Imperial War Museum
Institute of Historical Research
Wiener Library
Women's Library @LSE
Black Cultural Archive
Personal Academic Tutoring
As an undergraduate Law and Social Science student, you will be allocated a named tutor during your first semester at LSBU. The role of your tutor is to be your primary contact for academic and professional development support.
Your tutor will support you to get the most of your time at LSBU, providing advice and signposting to other sources of support in the University. They should be the first person at the university that you speak to if you are having any difficulties that are affecting your work. These could be academic, financial, health-related or another type of problem.
You will have appointments with your personal academic tutor at least three times a year for 15 minutes throughout your course. You can contact your tutor for additional support by email or sign up for an appointment slots advertised outside your tutor's office.
Entry requirements
2018 Entry
A Level BCC or:
BTEC National Diploma MMM or:
Access to HE qualifications with 9 Distinctions and 36 Merits or:
Equivalent Level 3 qualifications worth 106 UCAS points
Applicants must hold 5 GCSEs A-C including Maths and English, or equivalent (reformed GCSEs grade 4 or above).
Visit UCAS for guidance on the 2018 tariff.
How to apply
Apply now for a full-time course starting this September through Clearing.
Call 0800 923 8888 to speak to one of our dedicated Clearing advisors who'll take you through your application.
You can also speak to us in person at one of our clearing application sessions.
If you're applying for a health and social care course use our online application service.
For more information visit our Clearing page.
Part-time course
Please follow the instructions on the table below to apply for a part-time course.
International students
International (non Home/EU) applicants should follow our international how to apply guide.
2019 entry
International students
International (non Home/EU) applicants should follow our international how to apply guide.
Instructions for Home/EU applicants
Mode
Duration
Start date
Application code
Application method

Mode

Full-time

Duration

3 years

Start date

September

Application code

L2M9

Application method
For full-time courses, please send your applications through the Universities and Colleges Admissions Service (UCAS) using our code L75. UCAS is the organisation responsible for managing applications to higher education courses in the UK.
For part-time courses, you can apply directly to the University.
For more details on how to apply (full-time and part-time) see our how to apply page.
Accommodation
Once we have made you an offer, you can apply for accommodation. You can rent from LSBU and you'll deal directly with the university, not third party providers. That means we can guarantee you options to suit all budgets, with clear tenancy agreements and all-inclusive rents that include insurance for your personal belongings, internet access in each bedroom and on-site laundry facilities.
Or, if you'd rather rent privately, we can give you a list of landlords – just ask our Accommodation Service.
Read more about applying for accommodation at LSBU.
Finance
You don't need to wait for a confirmed place on a course to start applying for student finance. Read how to pay your fees as an undergraduate student.
Fees and funding
Fees are shown for new entrants to courses, for each individual year of a course, together with the total fee for all the years of a course. Continuing LSBU students should refer to the Finance section of our student portal, MyLSBU. Queries regarding fees should be directed to the Fees and Bursaries Team on: +44 (0)20 7815 6181.
UK/EU fee:

£9250

International fee:

£13125

AOS/LSBU code:

4823

Session code:

1FS00
Total course fee:
UK/EU
£27750
International
£39375
For more information, including how and when to pay, see our fees and funding section for undergraduate students.
Please check your fee status and whether you are considered a home, EU or international student for fee-paying purposes by reading the UKCISA regulations.
Possible fee changes
The University reserves the right to increase its fees in line with changes to legislation, regulation and any governmental guidance or decisions.
The fees for international students are reviewed annually, and additionally the University reserves the right to increase tuition fees in line with inflation up to 4%.
Scholarships
We offer several types of fee reduction through our scholarships and bursaries. Find the full list and other useful information on our scholarships page.
Case studies
Select a case study and read about practical project work, students' placement experiences, research projects, alumni career achievements and what it's really like to study here from the student perspective.
Olivia chose Criminology at London South Bank University (LSBU) because she had a strong desire to help people with her degree and later career.
Prepare to start
Applicant events
After you've received your offer we'll send you emails about events we run to help you prepare for your course.
Welcome Week
Before you start your course we'll send you information on what you'll need to do before you arrive and during your first few days on campus. You can read about the process on our Welcome Week pages.
Top of page
Top of page