Overview
Recognising equal needs
This course addresses the key issues of food control, from both the food producers and food law enforcement points of view, recognising the equally important needs of distributors, retailers and of course, consumers.
We cover the successful introduction and implementation of systems of control, including those based on the accepted principles of Good Manufacturing Practice (GMP), and other international quality management standards.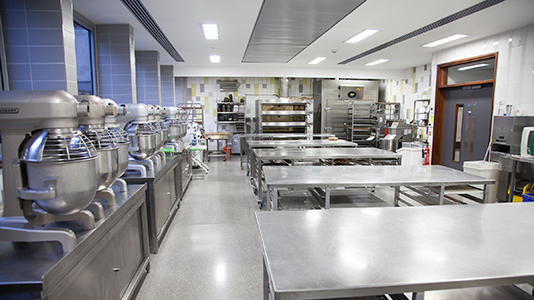 Why Food Safety and Control at LSBU?
Accredited by the Institute of Food Science and Technology.

We're No.1 London modern university for research quality in Food Science (Complete University Guide league table, 2018).

Students who have accepted an offer for this course are encouraged to apply for LSBU's Frank Brake scholarship.

EU study opportunities exist with the University of de Lorraine Nancy, France, and Universitat Politècnica de València (UPV), Valencia, Spain.

The course has also included sustainability to address food security, food waste, sustainable packaging.
Accreditations
Key course information - ordered by mode
Mode
Duration
Start date
Location

Mode

MSc Part-time (Sept)

Duration

30 months

Start Date

September

Location

Southwark Campus

Mode

MSc Part-time (Jan)

Duration

31 months

Start Date

January

Location

Southwark Campus

Mode

PgDip Part-time

Duration

2 years

Start Date

January; September

Location

Southwark Campus

Mode

MSc Full-time

Duration

16 months

Start Date

January; September

Location

Southwark Campus

Mode

PgDip Full-time

Duration

1 year

Start Date

January; September

Location

Southwark Campus
Stories
Frank Brake scholar and MSc Food Safety & Control student Mary Grace Domingo said she and Frank share the same values of quality and attention to detail.

Having established an impressive career in Cuba, Natacha Porter found her qualifications weren't recognised in England. Receiving a Frank Brake Scholarship from London South Bank University has helped her kickstart her career.
Modules
The course has been developed to provide:
A thorough understanding of the scientific principles on which both the safe handling of food and food control procedures are based
An appreciation of the importance of the proper control of manufacture, storage and distribution, and the means by which it is achieved in the production and sale of safe food
An understanding of the food industry's responsibilities to the interests and welfare of the consumer
Opportunities to consider the social and economic contexts in which the industry operates
An intellectually stimulating and coherent programme relevant to both your needs and those of the food industry
A detailed understanding of the philosophy and methodology of research
The best possible opportunity to develop personally and professionally
The knowledge and skills necessary to enhance your career prospects.
Year 1
All modules are assessed through a mix of formal examination and coursework. Each module represents 200 hours of learning time with up to 40 hours of class contact time.
Food regulation and sustainability
Food legislation is an essential element for an effective food safety and control. The module deals with legislative control at various levels, embracing national and European Union legislation and also international approaches to harmonisation. It also provides an awareness of the different types of food standards, and their implications for manufacturers, retailers and consumers. It also addresses the policy issues in sustainable food production and management.
Food composition and safety
This module comprises of selected topics that are directly relevant to food safety and control. It considers the complex chemical composition of foods, the chemical safety of foods, quality parameters, and develops the skills to interpret and use data. The common themes throughout the module are the choice of suitable, appropriate and cost effective analytical methodology, and the correct interpretation of analytical results.
Food microbiology and hygiene
This module is designed to help you develop an understanding of food microbiology, to appreciate the principles of food microbiology and explore both microbial food spoilage and food borne microorganisms. You'll be able to critically analyse the means by which food can be processed safely from a microbiological standpoint, and the methodology that is applied to achieve this. Emphasis will be given to the development, application and use of microbiological criteria for foods and their limitations.
Food quality management
This module introduces the principles behind all effective quality management systems (QMSs) employed in the modern food industry. Quality of product or service does not just happen; it has to be planned and managed. Systems used by small as well as large companies are covered.
Food product development management
This module examines the management processes involved in the design and development of new safe food products. Students work together in small groups and adopt an allocated role within the group. The groups respond to a product development brief by designing and developing a new food product or an extension of an existing product. You'll prepare an individual portfolio describing your experience and contribution and make a group presentation of your product to a panel of external guests as a 'commercial pitch'.
Food control operations
This module outlines the rationale, philosophy and concepts of modern food control, introducing the precautionary principle, the scope ranging from 'farm to fork', and the requirement of risk assessment. The principles of control based on prevention rather than detection and self-regulation are underlined throughout. Modern tools, techniques and procedures in food control are also introduced, illustrating the scope, applications and potential benefits of effective food control. You'll learn how to draw up specifications, identify safety hazards, conduct risk assessments, determine product shelf life, apply the commonly used statistical quality control techniques as well as use basic sensory evaluation methods. In the end, you'll have a broad and comprehensive grounding in modern food control operations.
Research methods
This module aims to equip you with the knowledge and skills required for scientific research and systematic investigation. You'll learn how to ask the right questions, develop meaningful research proposals and evaluate objectively and independently research findings. Emphasis will be given to ethics, background information search, planning, experimental design, data collection and analysis. Principles of scientific methods, objective reasoning, idea formulation and model building will also be included. In data analysis, you'll be introduced to the most common statistical techniques covering both parametric and non-parametric tests.
Project
The Project forms the climax of the MSc Food Safety and Control programme. It's the opportunity for you to demonstrate your grasp of food control in its widest sense, and produce documentary evidence of that grasp. The project provides the opportunity for you to apply your knowledge in an integrated fashion to a particular challenge in the management and control of food safety. We always try to help you match your project intention with your career aspirations and where possible use our networks to enable you to work on real commercial problems within an industrial placement.
Employability
The responsibility of assuring the safety of food lies primarily with government and the industry. In today's food industry, all aspects of the production, storage and distribution of food must be effectively controlled, not only to assure safety and wholesomeness, but also to ensure efficient and consistent manufacture at the lowest possible cost.
The course will open up a wide range of career opportunities including roles in: product development; quality control; food safety and quality management; catering and retailing; technical auditing; and food law enforcement. Some of our graduates have gone on to PhD degrees.
Recent employers include Kerry Foods, Leathams, Bakkaver, Kraft Foods, Tesco, Asda, Marks and Spencer, Harrods and local authorities.
Employability Service
We are University of the Year for Graduate Employment for the second year in a row - The Times and Sunday Times Good University Guide 2018, 2019.
At LSBU, we want to set you up for a successful career. During your studies – and for two years after you graduate – you'll have access to our Employability Service, which includes:
An online board where you can see a wide range of placements: part-time, full-time or voluntary. You can also drop in to see our Job Shop advisers, who are always available to help you take the next step in your search.
Our Careers Gym offering group workshops on CVs, interview techniques and finding work experience, as well as regular presentations from employers across a range of sectors.
Our Student Enterprise team can also help you start your own business and develop valuable entrepreneurial skills.
Professional links
Recent guest lecturers include:
Professor Tim Brocklehurst, Institute of Food Research
Peter Addington, Packaging Consultant, Food Industry
Dr Tim Foster, University of Nottingham UK Institute of Food Science and Technology
Some members of the teaching team are registered trainers for the Charted Institute of Environmental Health (CIEH) and fellow of the Institute of Food Science and Technology (IFST). There is also a close association with Leatherhead Food Research and Campden BRI.
This course is accredited by the Institute of Food Science and Technology (IFST).
Facilities
Teaching and learning
You'll make extensive use of the Virtual Learning Environment, so materials are available whenever you need them. Personal tutoring support, extraclinics offering support outside lecture and tutorial sessions are available.There's a major focus on the practical applications of knowledge, supported by hands-on laboratory exercises. Various assessment methods are used in modules across the course.
Personal Tutoring
As an Applied Sciences student, you will be allocated a named tutor during your first three weeks at LSBU. The role of your tutor is to be your primary contact for academic and professional development support.
Your tutor will support you to get the most of your time at LSBU, providing advice and signposting to other sources of support in the University.
Your tutor should be the first person at the university that you speak to if you are having any difficulties that are affecting your work. These could be academic, financial, health-related or another type of problem.
You will have a scheduled appointment with your personal tutor in your first semester. From here you will agree how to keep in touch and how often to meet throughout your course. Meetings will usually last 30 minutes. You can contact your tutor for additional support by email.
Entry requirements
Bachelor degree equivalent to UK Second Class Honours Lower Division in a relevant subject; or
HND/HNC in Food Technology or a related subject; plus
2 years relevant work experience.
We welcome equivalent overseas qualifications.
An interview (face to face or phone) will be necessary where the qualifications don't exactly match the requirements.
How to apply
International students
International (non Home/EU) applicants should follow our international how to apply guide.
Instructions for Home/EU applicants
Mode
Duration
Start date
Application code
Application method

Mode

MSc Part-time (Sept)

Duration

30 months

Start date

September

Application code

5236

Application method

Mode

MSc Part-time (Jan)

Duration

31 months

Start date

January

Application code

5237

Application method

See below

Mode

PgDip Part-time

Duration

2 years

Start date

January; September

Application code

5238

Application method

See below

Mode

MSc Full-time

Duration

16 months

Start date

January; September

Application code

5235

Application method

See below

Mode

PgDip Full-time

Duration

1 year

Start date

January; September

Application code

5150

Application method

See below
Postgraduate students and research students should apply through our dedicated application system. Full details of how to do this are supplied on our How to apply section for postgraduate students and our How to apply section for research students.
See our admissions policy (PDF File 298 KB) and complaints policy (PDF File 448 KB).
Accommodation
Students should apply for accommodation at London South Bank University (LSBU) as soon as possible, once we have made an offer of a place on one of our academic courses. Read more about applying for accommodation at LSBU.
Finance
It's a good idea to think about how you'll pay university tuition and maintenance costs while you're still applying for a place to study. Remember – you don't need to wait for a confirmed place on a course to start applying for student finance. Read how to pay your fees as a postgraduate student.
Postgraduate Application Service
Book a session with one of our specialist Postgraduate Advisors. Over a one on one Advice Session they'll advise you on postgraduate degrees at LSBU that match your interests and experience. Book an Advice Session.
Fees and funding
For more information, including how and when to pay, see our fees and funding section for postgraduate students.
See our Tuition Fees Regulations (PDF File 144 KB) and Refund Policy (PDF File 102 KB).
Possible fee changes
The University reserves the right to increase its fees in line with changes to legislation, regulation and any government guidance or decisions.
The fees for international students are reviewed annually and the University reserves the right to increase the tuition fees in line with the RPIX measure of inflation up to 4 per cent.
Postgraduate loan (PGL) for Masters study
If you are starting a Masters course, studying either full- or part-time, you may be entitled to apply for a postgraduate study loan. Find out more at our postgraduate fees and funding section.
Scholarships
We offer several types of fee reduction through our scholarships and bursaries. Find the full list and other useful information on funding your studies on the scholarships and fee discounts page.
Fee status
Please check your fee status and whether you are considered a Home, EU or International student for fee-paying purposes and for our regulatory returns, by reading the UKCISA regulations.
Frank Brake Scholarship
We are able to offer a subject scholarship from the generous donations from alumnus Frank Brake. Read more about the Frank Brake scholarship.
Stories
Select a story and read about practical project work, students' placement experiences, research projects, alumni career achievements and what it's really like to study here from the student perspective.
Prepare to start
We help our students prepare for university even before the semester starts. To find out when you should apply for your LSBU accommodation or student finance read the How to apply tab for this course.
Welcome Week
Before you start your course we'll send you information on what you'll need to do before you arrive and during your first few days on campus. You can read about the process on our Welcome Week pages.
Top of page
Top of page