Unistats
What is Unistats?
Key Information Set (KIS) Data is only gathered for undergraduate full-time courses. There are a number of reasons why this course does not have KIS data associated with it. For example, it may be a franchise course run at a partner college or a course designed for continuing professional development.
Overview
Develop as a film scholar and a gain a practical grounding for careers in TV, film and media. The BA (Hons) Film Studies degree course combines film theory, cinema studies and practical video making using the latest post-production workstations. 83% assessed by coursework.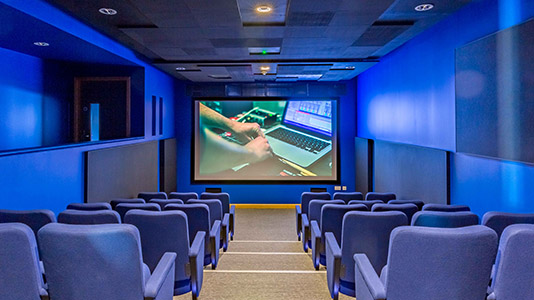 7 reasons to study here
Happy students: Top 10 in the UK for 'overall satisfaction' in Media Studies (National Student Survey 2017) and No. 1 London Modern University for 'overall student satisfaction' in 'Media and Film Studies' (Guardian League Table 2018)



Overall excellence: No.1 University in London for academic support, learning resources, community, teaching and feedback and assessment for Media Studies (National Student Survey 2017)

Watch great films - a lot: Lectures and seminars are accompanied by weekly film screenings and interactive seminars.

Industry links: Courses are taught by industry active practitioners with excellent links to arts and media organisations.

Multi-million pound Elephant Studios: Arri Cameras, Dolby Atmos Surround Sound studios and cinemas, grading suites, news room and games design centre, digital design suites, and industry-ready film and photographic studios.

Inspiring location: A short walk to the British Film Institute, the BFI Library and BFI Mediatheque (a set of dedicated workstations for viewing highlights from the world's greatest and most diverse collection of film and television).

Placement opportunities: We have 15 large international media companies on our doorstep as well as television companies, some of the finest theatres in the world and a thriving start-up economy.
This degree course covers...
The cultural, aesthetic, political and economic importance of film
World cinema history
The relationship between film theory and practice
The future of film in a globalised world of digital media
British cinema: past, present and future.
Film texts, film histories and national cinemas
Transferable skills in short-filmmaking, group presentations, writing short screenplays and film production dossiers.
Key course information - ordered by mode
Mode
Duration
Start date
Location

Mode

Full-time

Duration

3 years

Start Date

September

Location

Southwark Campus
Case studies
Studying BA (Hons) Film Studies led Alex Howard into a dream project; producing a promotional film for indie game The Town of Light.

Kurt is studying BA (Hons) Film Studies at London South Bank University and is currently part-way through a 12 month internship at Universal Studios.
Modules
Methods of assessment for course overall: 83% coursework
Assessment
You'll be assessed by a combination of film analyses, group presentations, essays and exams, which are designed to foster strong academic capabilities in research, communication skills, and critical thinking. In addition, you will develop a range of Professional Practice skills such as film-making, production management and pitching, as well as benefiting from opportunities to gain work experience on a number of outside projects.
Year 1
Reading the screen: theory and aesthetics
This module develops and builds on the content covered in 'Reading the Screen: Analysis and Design' and introduces you to a range of theoretical approaches to the study of film. We'll introduce the role of film theory as a way of understanding and analysing movies. This module concentrates on a selection of Anglo-American and European film and narrative theory. There will be screenings of films throughout the module to explore the complex and meaningful dialogue between the analysis of film form and aesthetics and various theoretical approaches. Assessment: Group presentation and critical reflection (40%) and 1,500-word essay (60%).
The rise of cinema: history and diversity
The received opinion of film history is that out of an initial period of incredible diversity of purpose and form arose a 'dominant' mode of narrative film which we still see, more or less intact, today. This module charts this journey in the film's development, from the late 19th century to contemporary digital cinema, exposing the diversity and testing some of the central assumptions of text-book film history. We'll look at the historical development of cinema and the film industry from its outset through to the Post World War II era up until today's digital cinema manifestations. The social and cultural significance of cinema is examined at key points, illustrating how a knowledge of history can deepen our understanding of film texts and contribute to a 'historiography' of the moving image. Assessment:500-word essay introduction and conclusion (30%) and 1,500-word essay (70%).
Reading the screen: analysis and design
This module introduces you to a range of different approaches to the study of film. We'll introduce you to a range of narrative and non-narrative forms and offers a basic introduction to film style with a focus on the elements of mise-en-scene, camera work, editing and sound. The emphasis here is on providing you with the tools necessary for the detailed and comprehensive analysis and interpretation of film. This module will prepare you for the second semester, in which analysis will enter a creative dialogue with different aspects of film theory. Assessment: 1,000-word shot-by-shot analysis of a short sequence of selected film (40%) and Group presentation (60%).
The film auteur: vision and style
In this module we'll examine the wide-ranging debates related to the film auteur through historical enquiry, theoretical investigation and comparative case studies. We'll explore the fraught relationship between film theory and the concept of the auteur, where the arguments against the film director-as-artist are set against the many instances of extraordinary 'personal' style and innovation in the cinematic medium. After exposure to the critical debates, you'll analyse a series of case-studies to better understand the auteur in the context of the 'classical', the 'postmodern' and the 'world cinema' auteur. Finally, we'll also update the discussion by considering the impact of digital media on the idea of the film auteur. Assessment: 1,000-word extract analysis of a short film sequence (40%) and Essay (60%).
World cinema: origins and forms
In this module we'll look at the historical and formal development of film and the cinema industry from the perspective of World Cinema. We'll consider the significance of film from around the globe (E.g. Eastern Europe, Japan, Latin America, Africa, India) and charts the development of a global film industry. We'll follow the historical methodology signalled in the preceding 'Rise of Cinema: History and Diversity' module and widen the theoretical and analytical focus to instances of national cinemas that have provided a significant challenge and alternative to dominant 'Western' modes of narrative and representation. Assessment: 1,000-word extract analysis of a short film sequence (40%) and Essay (60%).
Film-making and innovation
In this practical film-making module you'll apply the practical skills and processes involved in digital video-making to the conceptual practices of film theory and aesthetics. You'll learn the basics of digital video production and enter into a creative dialogue between film theory and practice. They will produce a short fiction film that is satisfying in its own right and to an audience. You'll gain an awareness of the 'position' of this type of practice within moving-image industries, and produce a short video to illuminate and test certain key concepts in the theoretical analysis of film form such as strategies towards framing, editing, length of take, and mise-en-scène. Through lectures and workshops we'll foster an awareness of film as art and consider what constitutes innovation in film-making. Diversity issues are addressed in this module through discussions of ethics in moving-image representation and production. Assessment: 2-6 minute group film (50%) and 1,500-word production log sheets and evidence of theoretical film analysis (50%).
Year 2
European realisms: Italy and France
In this module we'll explore the cultural, historical and material factors that contributed to the importance of Neorealist films in post-war Italian cinema – one of the most influential film movements in cinema history. We'll go on to reveal the profound connections between this movement and the subsequent cine-revolution in France represented by the French New Wave. You'll analyse a range of Neorealist and New Wave films in relation to your cultural and historical context, and place them within critical debates on film form, national cinema and identities. You'll gain a thorough insight into the relation between theory and practice in these two innovative movements, and go on to discover the lasting legacy for contemporary cinema. Assessment: 1,500-word extract analysis of a short film sequence (40%) and 1,500-word essay (60%).
Projecting Britain: postwar to the 1980s
In this module we'll examine films from the specified period of British cinema history, with a focus on the films' representation of economic, political and cultural change in British society. The key question guiding this module is one of how change occurs, and film's implicit and explicit role in reflecting and commenting on the changes which occurred, as well as those that were thwarted, in Britain during this period. We'll introduce you to the British New Wave of the early 1960s, and the radical cinema of the later 1960s and 70s. We'll investigate the 'Thatcherite' texts from the 1980s and moves on to the variegated forms of the 1990s. We'll also examine the role of realism as a predominant style in British cinema and critically analyses works by major, as well as critically overlooked, British directors through close attention to detail paired with wider contextual study. Assessment: Group presentation (40%) and 1,500-word essay (60%).
Documentary modes: practice and theory
This course introduces you to the major documentary modes by offering a critical analysis of documentary's major systems of visual representation. You'll demonstrate your understanding by producing a short documentary film, which is satisfying in its own right and to an audience. You are expected to develop a critical agenda and to explore texts and films relevant to your project. The practical element of the module enables you to enter into a creative and critical dialogue with theories and debates surrounding traditional and alternative modes of documentary film-making. Assessment: 5-6 minute group documentary film (50%) and a 1,200-word critical reflection plus a 300-word production log (50%).
Plus one optional module from:
Screenwriting
In this module we ask you to write an original 10-minute screenplay for a short narrative based drama. You'll explore the nature of narrative screen drama, the importance of research and development in generating new ideas, while considering the relationship between the script and the screen. You'll consider the importance of structure, plotting and setting, learn the difference between exposition and dialogue, while also thinking about such matters as point of view and mise-en-scene as narrative tools. Assessment: 100% coursework, 10-minute narrative screenplay (8-10 pages), one page treatment, and a 500-word reflection of the value of scholarly and trade literature (screenwriting books) for your scripts.
Visions of the city
In this module we'll investigate the relationship between cinema and the city as a vital and dynamic association that stretches back from the earliest days of film to contemporary times. The first section will provide you with a detailed understanding of the main critical debates surrounding modernism in the representation of the modern metropolis, focusing on film-making in Germany and USSR between 1924-1933. We'll reveal cinema's dual and contradictory role in offering 'distraction' to urban mass audiences as well as providing spectators with an aesthetic experience of modernity and the city. The second part takes up certain themes identified in modernism and maps them onto cinematic genres through the later 20th and 21st century cinema through a series of cine-urban case studies. Assessment: Group presentation (40%) and 1,500-word film review (60%).
Plus one further option from:
Professional employability
The production of film and video is almost always a collaborative exercise in some form or another. In the industry this means that teams of people, rather than the lone individual, predominantly produce work. This module offers you the opportunity to gain experience of work within the media industries through placement, shadowing experience or industry engagement. A placement will typically be for two weeks and you'll be required to reflect upon the culture, conventions, practices, power hierarchies and representations of the organisation. The focus will be on identifying what is happening in the your chosen sector in terms of trends, issues and markets, and this will involve analysis of your role in your industry engagement. Assessment: 5-minute presentation (40%) and a 2,000-word report (60%).
American cinema: Hollywood and independents
This module introduces you to the history and development of American cinema. You'll extend your knowledge and understanding of the growth of the film industry and your interpretation of image and meaning in film gained at Level 4. The module focuses on key aspects of Hollywood cinema including: production, distribution, exhibition and audiences. We'll go on to explore the relationship between Hollywood and Independent American cinema and explore the latter in terms of an alternative representational mode to Hollywood. You'll also be given the opportunity to view a wide range of Hollywood and Independent films and to critically evaluate such films in relation to the major themes of the module. Assessment: 3,000-word essay.
Critiquing gender and sexuality in the movies
In this module we'll examine developments in the cinematic representation of gender and sexuality from classical Hollywood cinema to present day mainstream film. We'll begin our critical focus in the early 1970s feminist interventions that not only began a wholesale reappraisal of the cinematic canon but also developed a theoretical corpus that addressed fundamental issues of women's identity in society, representation in the media, and spectatorship in cinema. You'll encounter a number of critical approaches – particularly psychoanalysis, semiotics, and queer theory – that were developed to explore the complex issues of gendered and sexual identity and the relationship between representation and politics. Assessment: 1,500-word extract analysis of a short film sequence (40%) and 1,500-word essay (60%).
Year 3
Contemporary cinema and digital futures
This module will focus on contemporary cinema from across the globe to provide you with a flavour of current trends in terms of themes and aesthetics. We'll cover the development of CGI cinema as the most recognisable form of digital cinema in the popular imagination, but we'll expand the definition to encompass diverse genres, forms and national cinemas to afford an awareness of the richness and diversity of contemporary film output. We will frame cinema today in terms of digital production methods and seek to relate the particular forms of digital cinema to both a new kind of affect and a new kind of 'control society' characterised by flows of information. Assessment: 1,500-word film extract analysis (40%) and 2,000-word essay (60%).
Film and revolution in the developing world
In this module we'll examine the complex nexus of cinema, politics and film-making practices that have defined the concept of 'Third Cinema' since the 1960s. The focus will be on African, Asian and Latin American models, and will go on to explore the links to contemporary filmic manifestations of political resistance in the West as well as in the developing world. Finally, the we'll consider the future of this type of cinema in the light of digital technologies and global competition from 'Hollywood'. You'll explore the writings and manifestos of the Third Cinema filmmakers themselves and situate these in the light of contemporary critical and theoretical work. Assessment: 1,500-word film extract analysis (40%) and 2,000-word essay (60%).
Film reviewing and curating
This module introduces you to concepts and practices of both film reviewing in a number of contexts, and film curation, including archiving. We'll outline the milieus of the film review in relation to other areas of film writing such as film criticism and film theory, and provide you with an opportunity to practice film reviewing by publishing to a student-owned blog on the WordPress platform. In addition, the module will explore film curation and the role of the film curator within the spaces of the art gallery as well as the wider film industry. We'll chart the changes that have occurred in film programming over the past decades and explore the important contribution of film festivals to the production industry, and the role of the film archive in a digital context. As part of the module, you'll gain experience in programming an original idea of your own for a film festival or curation event. Assessment: film blog production with two film reviews (1,500 words) (50%) and a 1,500-word film festival or curation event proposal (50%), which will include the rationale for the festival/event, market profiling and analysis and venue selection.
British film industry now!
This module offers a detailed and practical survey of the contemporary British film industry, providing you with an understanding of its organisational and funding structure from the 1980s to contemporary times. We'll invite external speakers in various industry roles to provide insights into the professional capabilities required and a snapshot of the current state of the film industry and related sectors. In addition we'll summarise the main trends in British Cinema since 2000 in terms of thematics and aesthetics. You'll be required to develop a film idea into a budgeted production package and pitch the idea to a nominal UK funding panel. Consequently, the module provides a chance for you to combine practical and academic knowledge to gain skills and capabilities useable in real world film and media production. You'll develop a feature film idea in groups, produce a production dossier containing outline budget, casting and location details - and you'll pitch the idea to a funding panel. Assessment: 1,000-word critical review of one professional role in the film industry (30%) and group pitch project (30%).
Plus one optional module from:
Critical film practice (practical module)
This module focused on the major fiction and documentary modes of film-making and relevant theories and debates surrounding narrative and non-narrative film. You choose from set assessment themes to explore a specific area of film theory in 'practice mode'. Understanding the relationship between theory and practice is demonstrated by producing a short film, which is satisfying in its own right and to an audience. You are expected to develop a critical agenda and to explore texts and films relevant to to your project. The practical element of this module enables you to enter into a creative and critical dialogue with theories and debates surrounding traditional and alternative modes of either narrative, or non-narrative film-making. Assessment: group, or individual, project narrative or non-narrative film (8-10 mins) (50%) and 3,000-word individual documentation (production log) and critical reflection of film (50%)
Film dissertation
The final year Film Studies dissertation is an extended research project of 8,000 to 10,000 words. It is credited as a double module. The dissertation provides you with the opportunity to write a research based dissertation on any area covered in the course or relating to aspects of film studies. You are strongly encouraged to pursue an original line of enquiry, and are expected to manage your research and write independently with support and advice from their supervisor.
Employability
This course will equip you with the skills to work in the film, media and cultural industries in a range of roles, covering film curation, TV production, journalism, public relations, publishing, marketing, advertising and administration.
Although the course does not provide you with professional film or media production training, it will give you the intellectual and practical skills and abilities that are premium requisites in the media and creative industries – and our graduates have gone on to work for the BBC, ITV and Universal (Europe). You'll also take practical film production modules in all years of study.
Essential skills
This course can also help you secure a career wherever the skills of analysis, clear communication and reasoned persuasion are valued, such as in business, local government and voluntary organisations.
Recent graduates
Recent graduates from this course have gone onto roles such as TV Production Trainee at the BBC, Independent Music Video Director, Film Education Assistant at BFI Southbank, Production Runner, Client Service Runner and Theatre Production Assistant.
Without the theoretical training from the course, I don't believe I could ever have gained such a deep understanding of film to apply to my practice. LSBU enabled me to achieve my goal - without it I would not be in the position I am in now - being interviewed for places at some of the world's top training environments for Film and TV.

Jonny Stearn, BA Film Studies , 2012
If you graduate from this course, you'll be able to apply for further study at postgraduate level.
Careers
At LSBU we take the future employability of our students very seriously. We think it's essential that you're prepared for the world of work, whether you're pursuing your first job, undertaking continuing professional development or taking your career down a totally different route. We also prepare you for the complexities of today's portfolio careers, combining employment with self-employment and freelance creative practice.
Support
You're are supported through work placements, projects with employers, talks and seminars with arts and media organisations, workshops on CVs, applications and interviews, personal tutoring and Personal Development Planning.
Employment track record
Employment in the creative industries continues to flourish. Our graduates have an excellent track record securing jobs in the creative and cultural industries as well as collaborating in setting up flourishing companies of their own. They go on to be involved in all aspects of the sector, including content creation, production, management, education, policy and distribution. Some of our graduates are working on feature dramas and in post production for leading UK production companies.
Our impressive graduate employment track record includes the following companies within the sector:
Dance, music and the performing arts

AEG Live, ArtsAdmin, Battersea Arts Centre, British Youth Opera, Donmar Warehouse, English National Opera, Geneva Dance Company, Gustav Mahler Youth Orchestra Vienna, Kali Theatre company, Live Art Development Agency, Mariinsky Theatre St Petersburg, Monteverdi Choir and Orchestra, Musicians Benevolent Fund , RADA (Royal Academy of Dramatic Art), Ninja Tune, Riffi Theatre, Rose Theatre Kingston, Roundhouse, Royal Albert Hall, Royal Festival Hall, Royal Scottish National Orchestra , Sadler's Wells and Universal Music.
Museums and galleries

Bankside Gallery, Dulwich Picture Gallery, Foundling Museum, Gasworks Gallery, Modern Art Oxford, Museum of London, Museum of Garden History, National Gallery, National Portrait Gallery.
Art Museum and Tate Not-for-profit organisations, charities and local government

Childline, The Children's Society, Coventry City Council Performing Arts Service, Energy Saving Trust, Great Ormond Street Children's Hospital, London Borough of Hackney, London Borough of Lewisham.
LSBU Employability Service
We are University of the Year for Graduate Employment - The Times and Sunday Times Good University Guide 2018
LSBU is committed to supporting you develop your employability and succeed in getting a job after you have graduated. Your qualification will certainly help, but in a competitive market you also need to work on your employability, and on your career search.
As an LSBU student you have access to the Employability Service and its resources during your time here and for two years after you graduate.
Our Employability Service will support you in developing your skills, finding a job, interview techniques, work experience or a placement/internship, and will help you assess what you need to do to get the career you want at the end of your course. LSBU offers a comprehensive Employability Service, with a range of initiatives to complement your studies, including:
Direct engagement from employers who come in to network with students
Job Shop – daily drop in service to help with, tailoring CVs, cover letters and applications, sourcing online resource, mock interviews and general job searching. One to one appointments for further support also available
Mentoring and work shadowing schemes
Higher education achievement report - The HEAR is designed to encourage a more sophisticated approach to recording student achievement, which acknowledges fully the range of opportunities that LSBU offers to our students.
It pulls into one certificate: Module grades, Course descriptions, Placements, LSBU verified extra-curricular activities
Employability workshops - delivered free to students all year round on a variety of related topics
Careers fairs throughout the year to really focus your thoughts on a career after university
Find out about any of these services by visiting our student employability page
Professional links
The Film Studies course has links with a range of professional practitioners in the film industry. During the course you'll be given the opportunity to develop a network of interests and contacts outside of the University.
LSBU is just a short walk away from the headquarters of the British Film Institute (BFI Southbank). Amongst the facilities and resources available here are the BFI Library, a world-renowned centre for academic film research, and the BFI Mediatheque, a set of dedicated workstations for viewing highlights from the world's greatest and most diverse collection of film and television. Students will visit BFI Southbank as part of their Induction.
Recent guest lecturers at London South Bank University:
Nick Broomfield, documentary filmmaker
Deborah Moggach, screenwriter, Pride and Prejudice
Kieron Corless, deputy editor, Sight and Sound
John Smith, screenwriter, Gnomeo and Juliet.
Teaching and learning
Percentage of time spent in different learning activities

| | Lectures and seminars | Self-directed learning |
| --- | --- | --- |
| Year 1 | 30% | 70% |
| Year 2 | 25% | 75% |
| Year 3 | 20% | 80% |
Entry requirements
2018 Entry
A Level BCC or;
BTEC National Diploma MMM or;
Access to HE qualifications with 9 Distinctions 36 Merits or;
Equivalent level 3 qualifications worth 106 UCAS points
Applicants must hold 5 GCSEs A-C including Maths and English or equivalent (reformed GCSEs grade 4 or above)
We welcome qualifications from around the world. English language qualifications for international students: IELTS score of 6.0 or Cambridge Proficiency or Advanced Grade C.
Fees and funding
Fees are shown for new entrants to courses, for each individual year of a course, together with the total fee for all the years of a course. Continuing LSBU students should refer to the Finance section of our student portal, MyLSBU. Queries regarding fees should be directed to the Fees and Bursary Team on: +44 (0)20 7815 6181.
UK/EU fee:

£9250

International fee:

£12500

AOS/LSBU code:

3311

Session code:

1FS00
Total course fee:
UK/EU
£27750
International
£37500
For more information, including how and when to pay, see our fees and funding section for undergraduate students.
Possible fee changes
Current regulatory proposals suggest that institutions will be permitted to increase fee levels in line with inflation up to a specified fee cap. Specifically, LSBU may be permitted to increase its fees for new and existing Home and EU undergraduate students from 2017/18 onwards. The University reserves the right to increase its fees in line with changes to legislation, regulation and any governmental guidance or decisions.
The fees for international students are reviewed annually, and additionally the University reserves the right to increase tuition fees in line with inflation up to 4 per cent.
Scholarships
We offer students considerable financial help through scholarships, bursaries, charitable funds, loans and other financial support. Many of our scholarships are given as direct tuition fee discounts and we encourage all eligible students to apply for our Access Bursary. New home full-time undergraduate students meeting eligibility criteria could receive a £1,000 cash bursary by joining us in the 2017/18 academic year. Find out more about all our scholarships and fee discounts for undergraduate students.
International students
As well as being potentially eligible for our undergraduate scholarships, International students can also benefit from a range of specialist scholarships. Find out more about International scholarships.
Please check your fee status and whether you are considered a home, EU or international student for fee-paying purposes by reading the UKCISA regulations.
Case studies
Select a case study and read about practical project work, students' placement experiences, research projects, alumni career achievements and what it's really like to study here from the student perspective.
Studying BA (Hons) Film Studies led Alex Howard into a dream project; producing a promotional film for indie game The Town of Light.

Kurt is studying BA (Hons) Film Studies at London South Bank University and is currently part-way through a 12 month internship at Universal Studios.

Matteo Casarini chose to pursue his love of cinema with the BA Film Studies course at LSBU.
Prepare to start
We help our students prepare for university even before the semester starts. To find out when you should apply for your LSBU accommodation or student finance read the How to apply tab for this course.
Applicant Open Days
To help you and your family feel confident about your university choice we run Applicant Open Days. These are held at subject level so students start getting to know each other and the academic staff who will be teaching them. These events are for applicants only and as an applicant you would receive an email invitation to attend the relevant event for your subject.
Enrolment and Induction
Enrolment takes place before you start your course. On completing the process, new students formally join the University. Enrolment consists of two stages: online, and your face-to-face enrolment meeting. The online process is an online data gathering exercise that you will complete yourself, then you will be invited to your face-to-face enrolment meeting.
In September, applicants who have accepted an unconditional offer to study at LSBU will be sent details of induction, which is when they are welcomed to the University and their School. Induction helps you get the best out of your university experience, and makes sure you have all the tools to succeed in your studies.
Read more about Enrolment and Induction.
Preparatory Reading List
Module: The rise of cinema:
Bordwell,D & Thompson,K (2009) Film History: An Introduction. Winconsin: McGraw-Hill
Module: Reading the screen:
Film Analysis: o Bordwell,D & Thompson,K (2010) Film Art: An Introduction. Winconsin: McGraw-Hill.
Module: Authorship in cinema:
Wood, Robin (1989) Hitchcock's films revisited New York: Columbia University Press
Please read the introductory chapter of each book
Top of page

Course Enquiries - UK/EU
Tel: 0800 923 8888
Tel: +44 (0) 20 7815 6100
Get in touch
Course Enquiries - International
Tel: +44 (0) 20 7815 6189
Get in touch
Top of page