Unistats
What is Unistats?
Key Information Set (KIS) Data is only gathered for undergraduate full-time courses. There are a number of reasons why this course does not have KIS data associated with it. For example, it may be a franchise course run at a partner college or a course designed for continuing professional development.
Overview
New technologies are constantly changing the way engineering designers approach problem solving. The learning process here at LSBU is practical and applied, giving students unique opportunities to embed some of the latest ideas in advanced manufacturing technology through a wide range of project-focused modules.
6 reasons to study here
Professional accreditation: Fully accredited with the Institution of Engineering Designers (IED).

Great teaching: No. 2 University in London for the teaching on general engineering courses, National Student Survey 2016.

Mixes creativity with science: Creative thinking with scientific analysis and insight to make workable and functional product solutions.

Practical and applied: Gives unique opportunities to embed some of the latest ideas in advanced manufacturing technology through a wide range of project-focused modules.

Employability skills: Creative thinking, innovation, design analysis, engineering mathematics, 2D and 3D CAD skills, design for manufacture, and business enterprise.

Work experience: Option to complete your third year in a paid professional work placement.
This degree course covers...
You'll graduate with a portfolio of core skills and experience including the production of design drawings, digital design skills in CAD and graphics, technical engineering analysis, presentation and communication skills, and the production of working prototypes. This course covers:
design methods
modelling
mechanical and electronic engineering
visual communications
mathematics
materials technology
manufacture processes
innovation and enterprise
You'll display your work at our end of year degree show.
Accreditations
Key course information - ordered by mode
Mode
Duration
Start date
Location

Mode

Full-time

Duration

3 years

Start Date

September

Location

Southwark Campus

Mode

Sandwich

Duration

4 years

Start Date

September

Location

Southwark Campus
Case studies
Final year engineering and design students recently visited the Vauxhall Van plant in Luton to see engineering theory in practice.

Rupert Cain studied BSc (Hons) Product Design at London South Bank University (LSBU), where he came up with his innovative design for a fold-up bike helmet.
Modules
Methods of assessment for course overall: 96% coursework
Year 1
Design methods
This module is an introductory experience for students on the BSc Product Design cluster and covers the majority of practical work to be undertaken at first year level –design methods, process and projects. Using design projects as a vehicle, you'll cover design methodology, physical prototyping, workshop skills, and an introduction to materials and manufacturing technology. Assessment method: 100% coursework.
Digital design and modelling
This module provides an introduction to the principles and use of Computer Aided Design techniques and software for product and engineering design. Assessment method: 100% coursework.
Introduction to mechanical and electronic engineering
This module develops concepts in engineering science relevant for engineering product design. The content of the module is split in two sections: mechanical engineering and low voltage electronic engineering content. Although the content is in two sections, it's expected that the teaching method provides an integrated approach to the subject. Assessment methods: 50% coursework, 50% exam.
Engineering mathematics
This module consolidates the mathematical skills that underpin the BEng engineering degrees. It's specifically designed to cater for the wide differences in mathematical background of 1st year students, as well as to prepare you for the Advanced Engineering Mathematics and Modelling module that you'll take in the second year. Assessment methods: 50% coursework, 50% exam.
Visual Communications
This module will deal with free hand drawing and sketching, technical drawing, graphic communication and digital visual tools. Assessment method: 100% coursework.
Year 2
Design thinking and applications
This module will build on the experience gained in the first year Design Thinking and Practice module and other first year modules and aims to develop design thinking methodology and product development practice for the placement (sandwich) year and the final year projects. The module will aim to allow you to experience a thorough range of design process cycles and develop various resolution prototypes in relation to the weighting of the assignments; you'll need to reflect on the increasing diversity in product, service, interaction design and "design thinking" as a component of business development. Assessment method: 100% coursework.
Virtual engineering and CAD
This module will help you develop advanced Computer Aided Design skills and will introduce you to the principles of Computer Aided Engineering (CAE) and Computer Aided Manufacture (CAM). Assessment method: 100% coursework.
Mechatronics
This module provides an introduction to the interdisciplinary field of mechatronics. It's traced from its origins through the synergistic integration of fine mechanical engineering with electronics and computer control, to modern day products and processes. Particular attention is paid to sensors and actuators, and microcontrollers. You'll learn by the laboratory experiments about the hardware components and subsystems used in the mechanical and mechatronics control in real engineering applications. Assessment methods: 50% coursework, 50% exam.
Solid mechanics and FEA
This module will provide new concepts in the deformation of materials under different loading conditions and extend the application of fundamental principles of solid mechanics to more advanced systems, building on knowledge gained through Engineering and mechanical Principles. The module will provide basic concepts and the principles of the finite element analysis (FEA) techniques and the application of FEA in structural and stress analysis. Assessment methods: 30% coursework, 70% exam.
Design contexts and communications
This module will enhance fundamental employability skills for a graduate in the contemporary design industry. It builds on the concepts that were introduced in Level 4 modules, with a view to creation of a professional portfolio that reflects your design capabilities, in order to leave you in a strong position for gaining a work placement and/or graduate employment. Assessment method: 100% coursework.
Design and manufacture by project
This module will allow you to apply 'design thinking' techniques and methods coupled with your technical specialist focus and practical skills, to the design, development and production of a working prototype of a product. Assessment method: 100% coursework.
Year 3
Optional Placement year
Students benefit enormously from spending a period of time in industry, whatever course they undertake. This module is designed to provide you with first-hand knowledge and experience in an appropriate industrial setting. Some design and creative industries work largely on the basis of long-term salaried positions, others work on the basis of subcontracted and specialist working, usually of a short-term nature. You're required to work in a situation where you're accountable to an outside company or person for the work you carry out. The employment in total needs to be the equivalent of at least a complete academic year in some form of appropriately employed or voluntary capacity within the industry, in its broadest terms. You're required to have access to the local management in order to understand the ways in which management decisions and actions take place, as well as concentrating on achieving the best performance possible in the technicalities of the placement work. Assessment method: 100% coursework.
Year 4
Engineering design project
The Engineering Design Project requires you to develop an engineered solution from concept through to artefact based on the subject that is identified via the Research Methods for Design Projects module. The artefact may be physical and/or digital. The project deliverables will include a detailed record of the design development process, a fully developed artefact, and an analytical report that demonstrates the application of technical engineering expertise to the proposed solution. The project will give you an opportunity to explore a chosen specialist field in order to develop expertise and demonstrate depth of understanding. In order to execute your individual project, you'll draw on selected tools and resources learned in previous modules and produce a coherent and professional methodology for the intended solution. Assessment method: 100% coursework.
Research methods for design projects
In this module you'll identify a suitable subject for your Design Project; you'll then develop a project brief and work plan, which will be presented visually and verbally in addition to your preliminary contextual research and justification for the proposed project. You'll also develop brand identity for the Design Degree Show, which may be pitched to experts and/or design professionals. Assessment method: 100% coursework.
Manufacturing systems
This module introduces the core concepts of manufacturing systems and computer integrated manufacturing in the contemporary product realisation process. It also develops practical skills in the use of CAD/CAM/CAE tools for engineering design projects. Assessment method: 100% coursework.
Portfolio engineering projects
This module will develop your professional skills and portfolio in preparation for a career as a Design Engineer. You'll apply knowledge and understanding of a range of engineering design principles and techniques, using appropriate theoretical and practical methods to the analysis and solution of engineering design problems, exploring design alternatives and understanding the implications of trade-offs in the design process. You'll learn how to prototype and implement your proposed solutions using appropriate digital manufacturing technologies. In addition to this, there will be significant content relating to management of the design process, presentation of ideas, and working in teams. Assessment method: 100% coursework.
Innovation and enterprise
In the rapidly changing world around us, it's imperative that you're able to think dynamically to create advantage in your life. This module encourages you to question what you see and experience around you and in your prospective engineering field with an aim to enhance your creativity to discover new and better ways of doing things. It aims to equip you with methods and processes to recognise opportunities and to plan on harnessing commercially viable benefits that may exist from exploiting those opportunities in a sustainable fashion. This might be a product or service (such as consultancy or contract management). The application of project management principles will help to define the critical path of a proposed business and how the many processes involved (planning, market research, market placement, finance, operations, human resources etc.) are interlinked throughout the initial planning exercise and how they can change over time. You'll be expected to reflect on what you can contribute towards a group. Assessment method: 100% coursework.
Final year degree show
The final year of the course revolves around the delivery of a major design project, you'll be required to design, develop, prototype and manufacture a product to your own specifications. You'll need to choose the appropriate manufacturing techniques and materials to make and test a working prototype of your product using our innovative IT and workshop facilities. The result will be showcased at the University's annual design show.
Employability
The course's practical and applied nature means that you'll develop a wide range of skills sought by industry employers; these include creative thinking, innovation, design analysis, engineering mathematics, 2D and 3D CAD skills, design for manufacture, and business enterprise. You'll also learn how to create workable and functional solutions within financial constraints whilst still delivering aesthetic and desirable products.
Graduate success stories
Alumni from this course have gone onto jobs with a range of world class companies including: Hasbro, Dyson, PDD, Kenwood, Gillette, Atlas Copco, McLaren and LEGO. Please see the case studies for more details.
What to expect from your career
Product Design Engineers work as part of a multi-disciplinary team - with researchers, marketers, sales teams and customer services. They get a real understanding of what the product needs to do, and the best ways to approach a solution.
They are then involved throughout the creative journey, brainstorming ideas and sketching them out, using CAD software to make up specific designs before creating prototypes or working models. They test designs, research the costs of production and likely volumes needed, and present and feedback at senior level on how a project is running and how successful the product ultimately been.
Due to the varied nature of product design, salaries can vary significantly, and designers with a few years' experience can earn between £20,000 and £40,000.
LSBU Employability Service
We are University of the Year for Graduate Employment - The Times and Sunday Times Good University Guide 2018
LSBU is committed to supporting you develop your employability and succeed in getting a job after you have graduated. Your qualification will certainly help, but in a competitive market you also need to work on your employability, and on your career search.
As an LSBU student you have access to the Employability Service and its resources during your time here and for two years after you graduate.
Our Employability Service will support you in developing your skills, finding a job, interview techniques, work experience or a placement/internship, and will help you assess what you need to do to get the career you want at the end of your course. LSBU offers a comprehensive Employability Service, with a range of initiatives to complement your studies, including:
Direct engagement from employers who come in to network with students
Job Shop – daily drop in service to help with, tailoring CVs, cover letters and applications, sourcing online resource, mock interviews and general job searching. One to one appointments for further support also available
Mentoring and work shadowing schemes
Higher education achievement report - The HEAR is designed to encourage a more sophisticated approach to recording student achievement, which acknowledges fully the range of opportunities that LSBU offers to our students.
It pulls into one certificate: Module grades, Course descriptions, Placements, LSBU verified extra-curricular activities
Employability workshops - delivered free to students all year round on a variety of related topics
Careers fairs throughout the year to really focus your thoughts on a career after university
Find out about any of these services by visiting our student employability page
Professional links
The BSc (Hons) Engineering Product Design course is one of the longest running degrees to be fully accredited with the Institution of Engineering Designers (IED). The IED have accredited the course for the purposes of fully meeting the academic requirement for registration as an Incorporated Engineer (IEng) and as partially meeting the academic requirement for registration as Chartered Technical Product Designer (CTPD).
---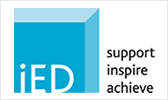 The Institution of Engineering Designers (IED) is the UK's only professional body representing those working in the field of Engineering Design. Members work in a diverse range of industries that span product design, architecture, mechanical, automotive and aircraft design, design education, IT and computing.
---
Recent guest lecturers
Andrew Ritchie (Designer and MD of Brompton Bicycles),
Rob Jones (Design Manager, DAS Business Furniture),
Jamie Croggan (EPD alumnus and Head of Industrial Design, Gillette)
Pete Lomas (Co-founder and Trustee, Raspberry Pi Foundation)
Domenika Potuzakova (usability tester, AVG antivirus)
Chris Moon (head of product design, the Continuity Company)
Placements
You're encouraged to spend your third (sandwich) year on placement in industry;this gives you the opportunity of testing and adapting the skills that you have learned in class within a workplace environment. It also gives you an invaluable networking opportunity. Placement jobs often lead to 'live' projects in your final year that are sponsored by the companies, and many of our students have been employed by their placement companies on graduation.
In recent years students have done placements at companies such as Vitamin (design consultancy), Complete Fabrication, Firefly Lighting, Smiths Medical, amongst others.
Facilities
Our course philosophy places making at the heart of the design process; you'll learn in an environment that is highly in tune with refined technologies. You'll gain the knowledge and training needed to meet future demands for products and services, and the requirements of employers in the design industry.
Well-placed and considered investment means you'll have access to up-to-date and large-scale workshops, laboratories and design studios. Through hands-on engineering experience you'll learn how to test, measure, design and produce your own prototypes, bringing your ideas off the drawing board or computer screen and into full-size and functional 3D models. All our students are entitled to free educational copies of the Autodesk suite of CAD software, including Inventor, Alias, AutoCAD, and VRed.
Our workshop capabilities include:
'soft' modelling operations, for prototypes in card, foam, clay, or wood;
machining capabilities using milling machines, lathes, and others, both manually and CNC controlled;
welding and metal fabrication;
digital prototyping including laser cutting, silicone soft tooling and resign casting , and a range of 3D printing technologies;
paint finishing facility;
reverse engineering through CMM and 3D scanning;
composite manufacture in fibre glass and carbon fibre;
electronics and robotics laboratories;
material testing laboratories;
photography and video editing studios;
a virtual engineering suite for 3D visualisation and testing.
Read more about our workshops and industry-standard software.
Our virtual engineering laboratory allows engineering students to walk around their designs and view them in 3-D, as well as experiment and improve on them in real-time.
Teaching and learning
Our teaching staff have a great amount of experience. Whether they're teaching, carrying out research or involved in consultancy for industry they have the skills to make a difference to you. You'll learn in a modern, well-equipped environment complete with sophisticated technology.
Approach to learning
You'll learn through lectures, seminars, tutorials and practical work. Taking on both group and individual projects, we assess your work through a mixture of coursework and exams, with project and laboratory work counting towards your final award. We also teach you the life skills of effective communication, problem solving, project planning and team working that will set you apart and give you the best chance of getting the job you want after you graduate.
Percentage of time spent in different learning activities

| | Lectures, seminars and lab-based study | Self-directed study |
| --- | --- | --- |
| Year 1 | 38% | 62% |
| Year 2 | 38% | 62% |
| Year 3 | 18% | 82% |
Entry requirements
2018 Entry
A Level BBB (must include Maths) or;
BTEC National Diploma DDM or;
Access to HE qualifications with 24 Distinctions and 21 Merits, must include a minimum of 3 Merits in Design Technology, Maths and Physics or;
Equivalent level 3 qualifications worth 122 UCAS points
Level 3 qualifications must include Maths or Physics
Applicants must hold 5 GCSEs A-C including Maths and English or equivalent (reformed GCSEs grade 4 or above).
We welcome qualifications from around the world. English language qualifications for international students: IELTS score of 6.0 or Cambridge Proficiency or Advanced Grade C.
Applicants are normally interviewed before being offered a place and are asked to bring along a portfolio of work. For more guidance on what to include in your portfolio, please see the 'Interviews and Portfolios' guide in the 'prepare to start' section.
How to apply
International (non Home/EU) applicants should follow our international how to apply guide.
Instructions for Home/EU applicants
Mode
Duration
Start date
Application code
Application method

Mode

Full-time

Duration

3 years

Start date

September

Application code

H770

Application method

Mode

Sandwich

Duration

4 years

Start date

September

Application code

H770

Application method
All full-time undergraduate students apply to the Universities and Colleges Admissions Service (UCAS). Full details of how to do this are supplied on our How to apply webpage for undergraduate students.
All part-time students should apply directly to London South Bank University and full details of how to do this are given on our undergraduate How to apply webpage.
Interview and portfolio
Applicants are normally interviewed before being offered a place and are asked to bring along a portfolio of work to discuss with the tutors.
Accommodation
Students should apply for accommodation at London South Bank University (LSBU) as soon as possible, once we have made an offer of a place on one of our academic courses. Read more about applying for accommodation at LSBU.
Finance
It's a good idea to think about how you'll pay university tuition and maintenance costs while you're still applying for a place to study. Remember – you don't need to wait for a confirmed place on a course to start applying for student finance. Read how to pay your fees as an undergraduate student.
Fees and funding
Fees are shown for new entrants to courses, for each individual year of a course, together with the total fee for all the years of a course. Continuing LSBU students should refer to the Finance section of our student portal, MyLSBU. Queries regarding fees should be directed to the Fees and Bursaries Team on: +44 (0)20 7815 6181.
UK/EU fee:

£9250

International fee:

£13125

AOS/LSBU code:

593

Session code:

1FS00
Total course fee:
UK/EU (excluding any optional years)
£27750
UK/EU (including any optional years)
£27750
International (excluding any optional years)
£39375
International (including any optional years)
£39375
For more information, including how and when to pay, see our fees and funding section for undergraduate students.
Possible fee changes
Current regulatory proposals suggest that institutions will be permitted to increase fee levels in line with inflation up to a specified fee cap. Specifically, LSBU may be permitted to increase its fees for new and existing Home and EU undergraduate students from 2017/18 onwards. The University reserves the right to increase its fees in line with changes to legislation, regulation and any governmental guidance or decisions.
The fees for international students are reviewed annually, and additionally the University reserves the right to increase tuition fees in line with inflation up to 4 per cent.
Scholarships
We offer students considerable financial help through scholarships, bursaries, charitable funds, loans and other financial support. Many of our scholarships are given as direct tuition fee discounts and we encourage all eligible students to apply for our Access Bursary. New home full-time undergraduate students meeting eligibility criteria could receive a £1,000 cash bursary by joining us in the 2017/18 academic year. Find out more about all our scholarships and fee discounts for undergraduate students.
International students
As well as being potentially eligible for our undergraduate scholarships, International students can also benefit from a range of specialist scholarships. Find out more about International scholarships.
Please check your fee status and whether you are considered a home, EU or international student for fee-paying purposes by reading the UKCISA regulations.
Case studies
Select a case study and read about practical project work, students' placement experiences, research projects, alumni career achievements and what it's really like to study here from the student perspective.
Prepare to start
We help our students prepare for university even before the semester starts. To find out when you should apply for your LSBU accommodation or student finance read the How to apply tab for this course.
Applicant Open Days
To help you and your family feel confident about your university choice we run Applicant Open Days. These are held at subject level so students start getting to know each other and the academic staff who will be teaching them. These events are for applicants only and as an applicant you would receive an email invitation to attend the relevant event for your subject.
Interviews and Portfolios
Your school or college examination results are of course important, but particularly for design courses, so is your portfolio. We like to meet all of our applicants in person so that you have the best opportunity to show us what you are capable of and what makes you tick, and the portfolio is a useful tool to help you do this. Many candidates ask us what to include in a portfolio; this can be tricky because you all have different backgrounds and there is no such thing as a 'standard' portfolio. In short, we would like to see exciting example sheets of design or other creative work that you have done, which collectively illustrate the breadth of your skills. This might include (in no particular order):
Problem solving
2D sketch work
Creative thinking ( mind maps, spider diagrams)
Colour treatments
Photography
3D collages
3D sculpture
2D and 3D prototyping/model making
CAD or other digital work
Presentation drawings/boards
This work doesn't have to be just from your formal education to date, it's always good to add some 3D design work (photos/drawings) from projects you have done outside school/college. Have you built some furniture, made a poster for a local event, doctored your family's photographs? – this all counts to a rounded and interesting body of work! Along with your portfolio try to bring some small sketch models that you used to work through a problem. Be honest and be yourself: If something isn't quite right with your design, it's much better to be open about it that to try and gloss over it. And be concise: we cannot realistically look through 300 portfolio sheets in one interview, so try to select down to the key examples that show off your range of skills to best advantage. Imagery is far more useful to us than large blocks of text. If you have any more questions please don't hesitate to get in touch with our admissions team.
Enrolment and Induction
Enrolment takes place before you start your course. On completing the process, new students formally join the University. Enrolment consists of two stages: online, and your face-to-face enrolment meeting. The online process is an online data gathering exercise that you will complete yourself, then you will be invited to your face-to-face enrolment meeting.
In September, applicants who have accepted an unconditional offer to study at LSBU will be sent details of induction, which is when they are welcomed to the University and their School. Induction helps you get the best out of your university experience, and makes sure you have all the tools to succeed in your studies.
Top of page

Course Enquiries - UK/EU
Tel: 0800 923 8888
Tel: +44 (0) 20 7815 6100
Get in touch
Course Enquiries - International
Tel: +44 (0) 20 7815 6189
Get in touch
Top of page