Section Menu
Electronics and Communications Engineering Top-up to BEng (Hons)
Overview
If you have a HND in Electronics Engineering and are looking to extend your technical and application skills then this one-year Top-up course is for you. Design and develop engineering systems for a variety of fields in today's fast-changing marketplace. You'll study integrated and multidisciplinary electrical, electronic, computer, telecommunications, mechanical and computer aided design in engineering environment.
6 reasons to study here
No. 1: London modern uni for Electrical and Electronic Engineering, Sunday Times League Table 2017.

Exceptional technical facilities: Use industry-standard equipment, together with hardware and simulation/modelling packages and benefit from significant laboratory-based practical teaching to support the rigorous lecture material.

Industry relevant: We have a panel of advisers from the industry, to help ensure our course coverage is up-to-date and relevant to employment needs.

Research active academics: 4th out of 23 in Research Impact for post-92 Universities in UK for General Engineering.

Innovation and enterprise: Live innovation and enterprise project work will enhance your prospects of employment and consultancy in a wide range of industries, or of running your own business.

Research, design, develop and test: Obtain the expertise to solve complex and challenging problems that enable you to make a positive difference in electrical engineering.
This degree course covers...
This course will develop your appreciation of the wider multidisciplinary engineering context and its underlying principles., including the social, environmental, ethical, economic and commercial considerations affecting the exercise of your engineering judgement.
This course covers:
Appropriate mathematics
Appropriate communication theory
Sound grasp of analogue and digital communication systems
Sound knowledge of design techniques for analogue electronics systems design using Multisim and discrete and integrated semiconductor devices
Able to use DSP tools to design, analyse and simulate digital filters
Professional engineering studies including innovation and enterprise.
Key course information - ordered by mode
Mode
Duration
Start date
Location

Mode

Full-time

Duration

1 year

Start Date

September

Location

Southwark Campus
Case studies
Kathleen first joined LSBU as a part-time student studying an HND. She has since progressed on to a full degree and looking forward to the challenges of a Masters and moving towards becoming a Chartered Engineer.

Second year student Yasmin is working hard towards her goal of starting her own business and is enjoying the challenge of her chosen course.
Modules
Innovations and enterprise
In the rapidly changing world around us, it is imperative that you're to think dynamically to create advantage for themselves (entrepreneurial) and for the businesses you may work for (intrapreneurial). This module encourages you to question what you see and experience around you and in your prospective engineering fields with an aim to enhance your creativity to discover new and improved ways of doing things. This module will equip you with methods and processes to recognise opportunities and to plan on harnessing commercially viable benefits that may exist from exploiting those opportunities in a sustainable fashion. This might be a product or a service (such as consultancy or contract management). The application of project management principles will help to define the critical path of a proposed business and how the many processes involved (planning, market research, market placement, finance, operations, human resources etc.) are interlinked throughout the initial planning exercise and how they can change over time. Assessment: 100% coursework made up of two team assignments. Team Assignment 1: To develop an idea for a service or a product with an aim to make it into a viable commercial proposition. Team Assignment 2: Investigation of an existing company presented as a Business Model Canvas and a supporting report.
Advanced analogue and RF electronics
In this module we'll explore specialist linear analogue circuit techniques. The case study of a typical monolithic operational amplifier design is used as a vehicle for further analysis of analogue linear methods of IC design. Workshops follow the development of the material in lectures, leading to the design of a discrete op-amp on a breadboard. Further material involves the designs of Digital to Analogue Converters (DACs) and ADCs. We'll also cover Radio Frequency circuits, including oscillators and PLLs. Assessment: 3-hour examination (50%), plus coursework (50%) comprising: Logbook (30%) and a Phase Test (20%).
Analogue and digital communication systems
This module provides deeper understanding of modern communication theory, communication system performance analysis and a brief overview of wireless communication technologies. The areas covered are analogue, discrete and digital communication systems, modulation techniques, multiplexing, principles of digital modulation and wireless communication systems. We'll give particular emphasis to current digital communication technologies and architectures, design approaches and applications. Assessment: Coursework: Matlab workshops + reports (15%) and Experiments + Report (15%), plus a 3-hour Exam (70%).
Digital signal processing (DSP) for communications
Today, digital signal processing (DSP) is widely used in radio receivers, computers, and many other applications where signals need to be processed. DSP is based upon the fact that it is possible to build up a representation of the signal in a digital form. In this module we'll introduce fundamental concepts, algorithms and applications of digital signal processing, starting from a description of how signals can be represented as digital waveforms and how systems may be modelled as digital filters. We'll investigate the processing and analysis of discrete signals using the most common approaches and algorithms for communication applications. Assessment: 2-hour Exam (70%), plus Coursework (30%) comprised of: One hour Phase Test in week 8 (10%) and a Lab Report (20%).
BEng final year project
The individual major project requires students to plan, execute, review and report upon a major piece of technical work directly related to your degree discipline. It provides you with the opportunity to develop a high degree of subject specific expertise. This module differentiates from others on the course taken due to the high degree of autonomous study expected. This flexibility should be seen as an opportunity to explore new areas of interest and to acquire new and often unexpected skills. Assessment: 1.Project Arrangement form (no mark but compulsory submission); 2.Project Progression Report (5%); 3.Interim report (10%) 4.Final project report Comprising: i.Technical quality (literature review and understanding of the necessary background, results & outcomes, analysis, evaluation of the findings, quality of abstract and conclusions) 45% ii.Quality of referencing 5% iii.Report presentation (structure and organisation, standard of English, quality of diagrams and graphs) 10% iv. Evidence and quality of project planning and management 5% v. logbook 10%; 5. Project oral presentation and demonstration with questions 10%.
Employability
This course will prepare you for a career within many fields of electrical and electronic engineering where electronic systems are in use, specifically in embedded control systems where large scale integrated circuits are programmed and used to automate typical processes.
Sectors graduates could work include: energy/utility companies, building services sector, mechanical engineering design, electrical engineering design, large infrastructural companies, mass transportation systems, product development engineering, governmental and defence industries, educational sectors, aerospace, entrepreneurship and in many other fields, or they can work as a consultant.
As a graduate you could also progress to further postgraduate study to obtain strong analytical and technical skills in a specific area. The School of Engineernig offers a suite of MSc program that form a natural extension to Masters-level.
Successful completion of the BEng (Hons) Electronics and Communications EngineeringTop-up course would allow graduates access to our suite of postgraduate taught master's degrees and potentially the option to pursue Membership of the relevant professional body and ultimately registration as an Incorporated or Chartered Engineer.
What to expect from your career
Electrical and Electronics Engineers can find themselves working in all kinds of environments and sectors. You might work in a production plant, workshop, office, laboratory, factory or on site with a client.
Engineers can be involved in a project from its inception and often find themselves involved in maintenance programmes too. Sometimes they specialise in a particular part of the process and on other occasions are involved at every stage. They tend to work in multi-disciplinary teams with engineers from other areas, as well as architects, marketers, manufacturers, technicians and more.
Typical tasks include identifying customer and user needs, designing systems and components, researching solutions and estimating costs and timescales, making prototypes, designing and conducting tests, ensuring safety standards are adhered to and modifying, improving and maintaining the product once it is finished.
Chartered engineers can earn between £40,000 and £50,000 per year, and some can earn even more.
Gaining key employability skills
The vocational approach to teaching taken at LSBU will have a positive impact on your employability. This is because our graduates understand the theory, but can also confidently apply that learning and adapt their skills to the workplace.
As a graduate you'll have a number of practical key skills that will make you an attractive prospect to employers, such as, the ability to complete analytical investigative work,knowledge of both analogue and digital systems,the ability to create computer models for simulation,and the ability to manage projects using industry standards and specifications.
LSBU Employability Service
We are University of the Year for Graduate Employment - The Times and Sunday Times Good University Guide 2018
LSBU is committed to supporting you develop your employability and succeed in getting a job after you have graduated. Your qualification will certainly help, but in a competitive market you also need to work on your employability, and on your career search.
As an LSBU student you have access to the Employability Service and its resources during your time here and for two years after you graduate.
Our Employability Service will support you in developing your skills, finding a job, interview techniques, work experience or a placement/internship, and will help you assess what you need to do to get the career you want at the end of your course. LSBU offers a comprehensive Employability Service, with a range of initiatives to complement your studies, including:
Direct engagement from employers who come in to network with students
Job Shop – daily drop in service to help with, tailoring CVs, cover letters and applications, sourcing online resource, mock interviews and general job searching. One to one appointments for further support also available
Mentoring and work shadowing schemes
Higher education achievement report - The HEAR is designed to encourage a more sophisticated approach to recording student achievement, which acknowledges fully the range of opportunities that LSBU offers to our students.
It pulls into one certificate: Module grades, Course descriptions, Placements, LSBU verified extra-curricular activities
Employability workshops - delivered free to students all year round on a variety of related topics
Careers fairs throughout the year to really focus your thoughts on a career after university
Find out about any of these services by visiting our student employability page
Professional links
This Top-up to BEng degree is designed to meet the requirements of registration as an Incorporated Engineer. This course has a panel of advisers from industry, to help ensure our course coverage is up-to-date and relevant to employment needs.
---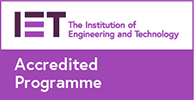 The Institute of Engineering and Technology (IET) is the professional society for the engineering and technology community, with more than 150,000 members in 127 countries.
---
IET membership
All students are granted student membership of the IET on enrolment for the duration of the course for no extra cost. Benefits include access to IET resources, career opportunities and support and a dedicated student and apprentice online zone where you will find study resources, news, guidance and more. Plus, you'll be part of a large professional network, so you can begin to grow your contacts.
History and expertise
LSBU has been educating professional engineers for over 100 years. We know that industry is continually expanding into new areas and technology is rapidly developing and changing and we are proud to play a vital role in these developments.
Global issues, such as, the growth in global communications and information handling, global warming and environmental considerations together with the need to conserve global resources and find alternative energy sources, have identified new areas of importance in the study and practice of engineering and product design. Our courses are designed with these issues in mind and are focused on academic content and real-life applications so our graduates are appropriately equipped for future employment and/or postgraduate studies.
Facilities
Our students learn in an environment that is highly in tune with leading technologies. They gain the knowledge and training needed to meet future demands for products and services. You'll learn to use the latest computer interfacing technologies in our National Instruments Laboratory. Sponsored by National Instruments, the laboratory contains virtual instrument workstations using software including Multisim, Ultiboard and Labview.
Read more about our laboratories and industry-standard software.
Our students have access to modern workshops and laboratories.
Teaching and learning
Our teaching staff have a great amount of experience. Whether they're teaching, carrying out research or involved in consultancy for industry they have the skills to make a difference to you. You'll learn in a modern, well-equipped environment complete with sophisticated technology.
Existing engineering programmes have been developed over many years and deploy a diverse range of learning, teaching and assessment methods to enhance and reinforce the student learning experience. The methods of delivery and the design of the curriculum are updated on a regular basis in response to generic and subject-specific developments, taking into account educational research, changes in national policy, industrial practice and the needs of employers.
Approach to learning
You'll learn through lectures, seminars, tutorials and practical work. Taking on both group and individual projects, we assess your work through a mixture of coursework and exams, with project and laboratory work counting towards your final award. We also teach you the life skills of effective communication, problem solving, project planning and team working that will set you apart and give you the best chance of getting the job you want after you graduate.
Hands-on engineering
You'll have opportunities to take on 'design-make-test' projects. This means that you'll adapt theoretical principles to solve real-world engineering problems very early on in your university career. This experience of delivering innovation makes you attractive to employers. Innovation is at the very heart of what an engineer does on a day-to-day basis. Engineers look for practical ways of making things better, more efficient, cheaper, safer, stronger, more resilient, quicker, more integrated and more effective. Our engineering courses will teach you first-hand how to develop these crucial skills and traits.
Prepared for modern engineering practice
In reality most engineers will find themselves working side-by-side in multi-disciplinary project teams. One of the greatest professional assets that you can have is the ability to function well in this team set-up. That's why some of our modules are shared across all our engineering courses. These modules are about understanding the commercial priorities that shape engineering practice and problem-solving. Guest lecturers from world-renowned companies, such as Rolls Royce, have lectured on these modules.
Entry requirements
2017 Entry
For September 2017 entry the number of UCAS tariff points that qualifications are worth is changing. Visit UCAS for guidance on the 2017 tariff.
Higher National Diploma with at least 60 credits at Merit in second year modules, or
Other equivalent Higher Education qualification in a relevant area
We welcome applicants with qualifications from around the world. English language qualifications for international students: IELTS score of 6.0, TOFEL-550 (print-based), TOFEL-80 (internet-based), Cambridge Proficiency or Advanced Grade C.
2018 Entry
To be confirmed
Fees and funding
Fees are shown for new entrants to courses, for each individual year of a course, together with the total fee for all the years of a course. Continuing LSBU students should refer to the Finance section of our student portal, MyLSBU. Queries regarding fees should be directed to the Fees and Bursary Team on: +44 (0)20 7815 6181.
UK/EU fee:

£9250

International fee:

£13125

AOS/LSBU code:

5094

Session code:

1FS00
For more information, including how and when to pay, see our fees and funding section for undergraduate students.
Possible fee changes
Current regulatory proposals suggest that institutions will be permitted to increase fee levels in line with inflation up to a specified fee cap. Specifically, LSBU may be permitted to increase its fees for new and existing Home and EU undergraduate students from 2017/18 onwards. The University reserves the right to increase its fees in line with changes to legislation, regulation and any governmental guidance or decisions.
The fees for international students are reviewed annually, and additionally the University reserves the right to increase tuition fees in line with inflation up to 4 per cent.
Scholarships
We offer students considerable financial help through scholarships, bursaries, charitable funds, loans and other financial support. Many of our scholarships are given as direct tuition fee discounts and we encourage all eligible students to apply for our Access Bursary. New home full-time undergraduate students meeting eligibility criteria could receive a £1,000 cash bursary by joining us in the 2017/18 academic year. Find out more about all our scholarships and fee discounts for undergraduate students.
International students
As well as being potentially eligible for our undergraduate scholarships, International students can also benefit from a range of specialist scholarships. Find out more about International scholarships.
Please check your fee status and whether you are considered a home, EU or international student for fee-paying purposes by reading the UKCISA regulations.
Case studies
Select a case study and read about practical project work, students' placement experiences, research projects, alumni career achievements and what it's really like to study here from the student perspective.
Prepare to start
We help our students prepare for university even before the semester starts. To find out when you should apply for your LSBU accommodation or student finance read the How to apply tab for this course.
Applicant Open Days
To help you and your family feel confident about your university choice we run Applicant Open Days. These are held at subject level so students start getting to know each other and the academic staff who will be teaching them. These events are for applicants only and as an applicant you would receive an email invitation to attend the relevant event for your subject.
Enrolment and Induction
Enrolment takes place before you start your course. On completing the process, new students formally join the University. Enrolment consists of two stages: online, and your face-to-face enrolment meeting. The online process is an online data gathering exercise that you will complete yourself, then you will be invited to your face-to-face enrolment meeting.
In September, applicants who have accepted an unconditional offer to study at LSBU will be sent details of induction, which is when they are welcomed to the University and their School. Induction helps you get the best out of your university experience, and makes sure you have all the tools to succeed in your studies.
Top of page

Course Enquiries - UK/EU
Tel: 0800 923 8888
Tel: +44 (0) 20 7815 6100
Get in touch
Course Enquiries - International
Tel: +44 (0) 20 7815 6189
Get in touch
Top of page