Overview
BA (Hons) Drama and Applied Theatre allows you to study a range of drama techniques and practice as well as providing a distinctive insight into applied theatre: making you highly employable on your graduation from the degree.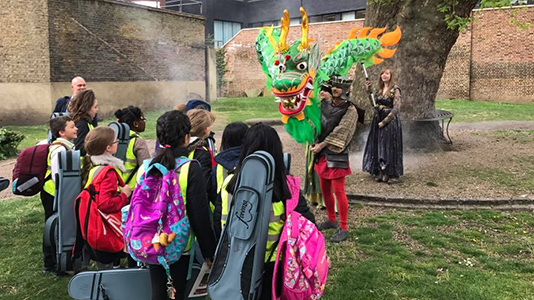 This exciting course will provide you with a unique opportunity to develop your drama techniques and performance skills into an educational and outreach environment. Working with a range of industry trained academics and professional partners who will help you gain the practical skills needed to produce and deliver your own community theatre projects while having many opportunities to capitalise on your excellent location in the heart of the SE1 cultural quarter.
Please note that this course is only open to applications for September 2019 entry. To view other courses which are open for 2018 recruitment, please visit our course finder.
Subject to validation.
5 reasons to study here
Happy students: No. 2 London University for satisfaction with teaching and graduate prospects in Drama (Guardian League Table 2018) and for Academic support (National Student Survey 2017)

LSBU Student Theatre Company: You'll take part in a full season of theatre working exclusively with theatre professionals including directors, performers and theatre companies.

Creative partnership with Frantic Assembly: Known for their high-octane, physical theatre productions Frantic Assembly will deliver workshops and residencies, and share their expertise with you.

On-site theatre: The Edric Theatre is a dedicated performance and rehearsal space with a 90-seat capacity, plus a 30-seat studio and backstage facilities.

Inspiring location: Take full advantage of the proximity to London's theatres by attending professional workshops, gaining temporary employment and answering casting calls.
This degree course covers...
During your three-year course you'll build core performance strengths in:
acting technique
movement
expressiveness
scene study
and characterisation.
Alongside this you'll also engage your skills as a creative actor and performer through the exploration of innovative contemporary performance methods and new theatre practices.
Key course information - ordered by mode
Mode
Duration
Start date
Location

Mode

Full-time

Duration

3 Years

Start Date

September

Location

Southwark Campus
Case studies
Second year Drama and Performance students work with pioneering theatre company Frantic Assembly to produce a show in just a week.

LSBU Drama and Performance students form the Student Theatre Company, which regularly puts on shows and work with professional theatre companies.
Modules
Year 1
Theatre workshop
In this module you will take part in a diverse series of practical and fun workshops exploring key dramaturgical concepts, perspectives, tools and general performance skills. You will develop trust, play and confidence that will guide you through the next three years of your degree. This module is a practical introduction to fundamental theatre-making concepts and performance skills. The study area of each workshop will be developed by looking at existing performances; you will examine the structural and essential features that constitute a theatrical experience. Different members of the Drama teaching team will lead each session allowing you to meet the diverse set of staff leading you through your degree.
Acting a role
This module will introduce you to the Stanislavski system of training the actor and enable you to develop your vocal and stagecraft skills in rehearsal and performance. You will investigate the artistic processes involved in creating a role to the standards of the professional rehearsal room. You will also learn about the historical evolution of naturalism and realism and engage actively and creatively in the process of building a role.You will develop the ability to interpret a text from the point of view of an actor, equipping you with the skills needed to work to professional standards, introducing you to the working practices of the professional actor.
What is education?
An introduction to key concepts in education studies contextualised within the disciplines of philosophy, sociology and history.
Performance Lab
The emphasis of this module will be live performance, the performer's body and the relationship you have with the audience. In the first part of this module you will be introduced to work created upon the form of ritual, play, games and performance in everyday life. You will then be guided into performance art and body art through a brief historical overview of the field. This module will enable you to analyse the relationship between the body in everyday life and the body in performance, and develop an understanding of the relationship between the audience and the space.
Acting the text
This module is offered as an option if you are interested in further developing the work encountered in Acting a role by exploring characterisation techniques used by professional actors. In groups, you will develop a workshop performance of a contemporary play and apply the characterisation techniques learnt on the module. Alongside the practical work, you will work on critical reflections in the form of a rehearsal script and notebook. You will experience the performer's journey from their first encounter with a script, through the various stages of rehearsal to a work-shopped formal performance
Workshop in development
Facilitation and delivery of workshops, ethics of intervention and representation and an overview and exploration of different concepts of applied theatre.
Year 2
Collaborative outreach project
This is a 4 week intensive practical project ending in a production for a specific community/educational setting audience.
Company in residence - delivered by Frantic Assembly
In this module, you will gain practical experience working intensively with a professional physical theatre company. Working from contemporary issues, you will explore risk-based physical work, expressive staging and ensemble movement to create a new piece of physical theatre. The current partner delivering this module is Frantic Assembly Theatre, although this is subject to change. You will gain confidence as a performer and develop a more expressive and dynamic stage presence. You will develop physical skills and techniques that can be applied to devising your own work.
Critical frameworks
This module will encourage you to theorise the practice you encounter in the 'professional season' semester. You will engage in a series of lectures and seminars designed to develop critical thinking and reflection on the work you engaged in for the intensive practical modules.
Theatre and Audience
In this module you will investigate different forms of interactive theatre to gain an understanding of the practical and ethical aspects of engaging an audience directly in performance. You will learn approaches to making and performing participatory work and develop an understanding of the ethical implications of participation. You will be introduced to a range of different interactive forms including socially engaged work and community projects and skills including improvisation, reading an audience and dealing with challenging participants.
Community Theatre Practice and verbatim Theatre
This module will explore further the role of community theatre and invite the students to work with a specific genre of theatre to explore contemporary issues and topics that are important to specific communities.
Peer mediation and conflict resolution
A shared module with law students in mediation and negotiation skills. This module ends in a qualification that is approved by the College of Mediators.
Theatre-in-education
A practical module where students will have the chance to work in small groups on a specific project from proposal to production in a school setting.
Year 3
Contemporary issues in education
This module deals with politically, economically and socially current issues in education.
Placement module
This module invites you to experience a work placement which will be set up over the summer before year 3 begins.
Research project
Students will select an area for in-depth study and be assigned a tutor who will help them plan, research and structure their work. The Research Project (RP) will enable students to acquire a wide range of research and analytical skills. Its aim is for students to produce a coherently argument extended essay that integrates independent thinking and research and provides a foundation for further academic study and research in this area.
Independent applied performance project
This module aims to allow students to develop and present an advanced independent performance project. Students will be expected to produce a coherent and critically informed final work that is fully matched to its intended audience. Students will be expected to produce work that demonstrates in-depth knowledge and understanding of the relevant issues and debates within the formal parameters of the subject they have chosen.
Independent applied practice as research
This module aims to allow students to develop and present an advanced independent practice as research project, which represents a summation of their practical and research interests on the course. Students will be working on creating 5000-6000 practice as research paper on a topic of their choice.
Employability
Graduates will be able to go on to be employed in a range of applied theatre settings - theatre company education and outreach departments, Youth Theatres, schools, community theatre groups, Theatre-In-Education (T.I.E.) companies, specialist theatre companies that work with specific audiences – e.g. in prisons, in special schools etc. They can also go onto freelance as workshop leaders, directors, project managers and producers.
LSBU Employability Service
We are University of the Year for Graduate Employment - The Times and Sunday Times Good University Guide 2018
LSBU is committed to supporting you develop your employability and succeed in getting a job after you have graduated. Your qualification will certainly help, but in a competitive market you also need to work on your employability, and on your career search.
As an LSBU student you have access to the Employability Service and its resources during your time here and for two years after you graduate.
Our Employability Service will support you in developing your skills, finding a job, interview techniques, work experience or a placement/internship, and will help you assess what you need to do to get the career you want at the end of your course. LSBU offers a comprehensive Employability Service, with a range of initiatives to complement your studies, including:
Direct engagement from employers who come in to network with students
Job Shop – daily drop in service to help with, tailoring CVs, cover letters and applications, sourcing online resource, mock interviews and general job searching. One to one appointments for further support also available
Mentoring and work shadowing schemes
Higher education achievement report - The HEAR is designed to encourage a more sophisticated approach to recording student achievement, which acknowledges fully the range of opportunities that LSBU offers to our students.
It pulls into one certificate: Module grades, Course descriptions, Placements, LSBU verified extra-curricular activities
Employability workshops - delivered free to students all year round on a variety of related topics
Careers fairs throughout the year to really focus your thoughts on a career after university
Find out about any of these services by visiting our student employability page
Professional links
We have established a working partnership with the highly successful and creative theatre company, Frantic Assembly, known for their high-octane, physical theatre productions. They will deliver workshops and residencies, and share their expertise and working methodology with you.
We also have links with exciting new companies working in contemporary theatre, including: Dirty Market Theatre, Rough Fiction Theatre and Thick-skin Theatre Company.
The use of visiting lecturers from professional companies, and organisations, is integral to the course. Recent visiting companies, specialist expertise from guest lecturers or artists in residence include:
Staff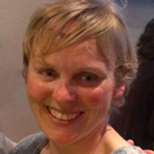 School/Division:
Arts and Creative Industries / Arts and Performance
Job title:
Lecturer, Drama and Performance
Dawn has directed, produced and project-managed extensively in Britain and internationally. Her interests lie in participatory theatre, the relationship between the audience and the performer, performative story telling for young audiences, and Theatre-In-Education.
---
Facilities
A dedicated performance and rehearsal space with a 90-seat capacity that can be set up in numerous configurations. The main auditorium, 30-seat studio and backstage facilities are used by drama, performance and technical theatre students. Facilities are available for commercial hire.

The gallery is a home for visual art and a unique part of the University's heritage. Opened in 2012, the Borough Road Gallery contains valuable and significant works of Post War British Art in a public collection, produced by the celebrated artist and teacher David Bomberg (1890-1957).

The University couldn't be better located being only a 10-15 minute walk from the Southbank Centre, National Theatre, BFI IMAX, Tate Modern, Royal Festival Hall, The Old Vic Theatre, The Young Vic and therefore the best of London's plays, performances, exhibitions and screenings.
Entry requirements
2019 Tariff
A Level BBC or;
BTEC National Diploma DMM or;
Access to HE qualifications with 15 Distinctions 30 Merits or;
Equivalent Level 3 qualifications in a relevant subject such as Drama, Theatre or Performing Arts worth 112 UCAS points
Applicants must hold 5 GCSEs A-C including Maths and English or equivalent (reformed GCSEs grade 4 or above)
We welcome qualifications from around the world. English language qualifications for international students: IELTS score of 6.0 or Cambridge Proficiency or Advanced Grade C.


All students must also complete a successful audition to be considered for this course.
How to apply
Instructions for Home/EU applicants
Mode
Duration
Start date
Application code
Application method

Mode

Full-time

Duration

3 Years

Start date

September

Application code

TBC

Application method
Please note that this course begins in September 2019. More information on how to apply, including the application code, will be available from mid-2018.
All full-time undergraduate students apply to the Universities and Colleges Admissions Service (UCAS) using the University's Institution Code L75. Full details of how to do this are supplied on our How to apply webpage for undergraduate students.
All part-time students should apply directly to London South Bank University and full details of how to do this are given on our undergraduate How to apply webpage.
Accommodation
Students should apply for accommodation at London South Bank University (LSBU) as soon as possible, once we have made an offer of a place on one of our academic courses. Read more about applying for accommodation at LSBU.
Finance
It's a good idea to think about how you'll pay university tuition and maintenance costs while you're still applying for a place to study. Remember – you don't need to wait for a confirmed place on a course to start applying for student finance. Read how to pay your fees as an undergraduate student.
Fees and funding
This course starts in September 2019, and therefore full fee information will not be available until mid-2018.
For more information, including how and when to pay, see our fees and funding section for undergraduate students.
Possible fee changes
Current regulatory proposals suggest that institutions will be permitted to increase fee levels in line with inflation up to a specified fee cap. Specifically, LSBU may be permitted to increase its fees for new and existing Home and EU undergraduate students from 2017/18 onwards. The University reserves the right to increase its fees in line with changes to legislation, regulation and any governmental guidance or decisions.
The fees for international students are reviewed annually, and additionally the University reserves the right to increase tuition fees in line with inflation up to 4 per cent.
Scholarships
We offer students considerable financial help through scholarships, bursaries, charitable funds, loans and other financial support. Many of our scholarships are given as direct tuition fee discounts and we encourage all eligible students to apply for our Access Bursary. New home full-time undergraduate students meeting eligibility criteria could receive a £1,000 cash bursary by joining us in the 2017/18 academic year. Find out more about all our scholarships and fee discounts for undergraduate students.
International students
As well as being potentially eligible for our undergraduate scholarships, International students can also benefit from a range of specialist scholarships. Find out more about International scholarships.
Please check your fee status and whether you are considered a home, EU or international student for fee-paying purposes by reading the UKCISA regulations.
Case studies
Select a case study and read about practical project work, students' placement experiences, research projects, alumni career achievements and what it's really like to study here from the student perspective.
Second year Drama and Performance students work with pioneering theatre company Frantic Assembly to produce a show in just a week.

LSBU Drama and Performance students form the Student Theatre Company, which regularly puts on shows and work with professional theatre companies.

Charli Sumner-Bedford knew that LSBU was the place to make excellent connections with theatre industry professionals.
Prepare to start
We help our students prepare for university even before the semester starts. To find out when you should apply for your LSBU accommodation or student finance read the How to apply tab for this course.
Applicant Open Days
To help you and your family feel confident about your university choice we run Applicant Open Days. These are held at subject level so students start getting to know each other and the academic staff who will be teaching them. These events are for applicants only and as an applicant you would receive an email invitation to attend the relevant event for your subject.
Enrolment and Induction
Enrolment takes place before you start your course. On completing the process, new students formally join the University. Enrolment consists of two stages: online, and your face-to-face enrolment meeting. The online process is an online data gathering exercise that you will complete yourself, then you will be invited to your face-to-face enrolment meeting.
In September, applicants who have accepted an unconditional offer to study at LSBU will be sent details of induction, which is when they are welcomed to the University and their School. Induction helps you get the best out of your university experience, and makes sure you have all the tools to succeed in your studies.
Top of page

Course Enquiries - UK/EU
Tel: 0800 923 8888
Tel: +44 (0) 20 7815 6100
Get in touch
Top of page