Overview
The next stage
Please note: this course will be open for applications in September 2019.
This course is ideal for those with experience of contemporary and urban dance forms who are interested in how dance can be combined with theatre and technology to create exciting, original and innovative new performance work. Learn from industry-trained academics and professional artists. You'll build professional partnerships and become equipped with new and robust skills for your career.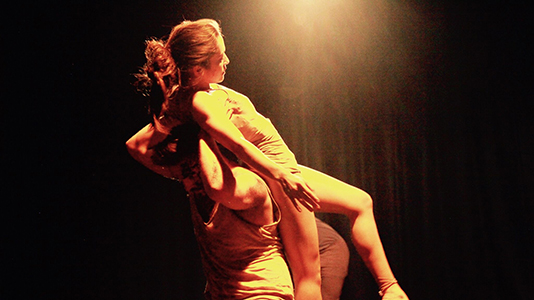 Please not that this course starts in September 2019 and is not yet open for recruitment. To view other courses which are open for 2018 recruitment, please visit our course finder.
Why Dance and Performance at LSBU?
No. 2 London University for satisfaction with teaching and graduate prospects in Drama (Guardian League Table 2018) and for Academic support (National Student Survey 2017).

LSBU Student Theatre Company: You'll take part in a full season of theatre, working exclusively with theatre professionals including directors, performers and theatre companies.

Creative partnership with Frantic Assembly: Known for their high-octane, physical theatre productions Frantic Assembly will deliver workshops and residencies, and share their expertise with you.

The Edric Theatre – a dedicated performance and rehearsal space with a 90-seat capacity, plus a 30-seat studio and backstage facilities.

Take full advantage of the proximity to London's theatres by attending professional workshops, gaining temporary employment and answering casting calls.
Key course information - ordered by mode
Mode
Duration
Start date
Location

Mode

Full-time

Duration

3 Years

Start Date

September

Location

Southwark Campus
Stories
LSBU Drama and Performance students form the Student Theatre Company, which regularly puts on shows and work with professional theatre companies.

Second year Drama and Performance students work with pioneering theatre company Frantic Assembly to produce a show in just a week.
Modules
The most innovative contemporary dance repertoire is developing around performance art practices and technology, and it is this area which our programme seeks to explore alongside more conventional dance practices.
Year 1
Contemporary dance skills
Contemporary dance technique classes aimed at further developing your dance skills and technique.
Performance histories
This module introduces you to historical contemporary performance and methods of critical analysis. Students will be introduced to a range literature from the dramatists of Ancient Greeks to the work of the Renaissance playwrights. You will learn how to form connections and draw distinctions between different historical periods and cultures and explore concepts relevant to the study of drama such as performance space, dramatic language and genre, the place of the stage in society and critical performance analysis.
Dance making and performance
An exploration of the techniques and practice of key contemporary and experimental dance practitioners leading to the choreography and performance of a new work.
Studio practice
Advanced skills practice workshops and classes with professional dance artists
20th century practice
This module will expand on the knowledge gained in Performance Histories, with a focus on twentieth century performance and methods of critical analysis. You will examine a range of historically important theatre specialists, dramatic literature and cultural movements from the beginning of the twentieth century to the 1960s.
You will again investigate the relationship between dramatic text and performance through video and stage productions. You will explore concepts relevant to the study of drama of this period such as the role of the director, the place and function of the stage in society and critical performance analysis.
Plus one option:
Movement for actors
Through the combined study of technique and its application to practice, students will develop an informed understanding of the many different contemporary approaches to movement in theatre and performance. The module will build awareness of the importance of physical training in order to create the physical score of a text and fully embody a character, as well as build confidence in the students' understanding of the expressive potential of the body in performance.
This module will focus on the development the actor's movement and expressive physicality through technique classes designed to improve strength, coordination and flexibility. The work encountered will enhance your awareness of physical and gestural approaches to characterisation in preparation from Collaborative Production and Artistic Residency in Year 2.
Advanced contemporary dance skills
An advanced skills module building on the technique and practice encountered in semester 1.
Year 2
Company in residence
In this module, you will gain practical experience working intensively with a professional physical theatre company. Working from contemporary issues, you will explore risk-based physical work, expressive staging and ensemble movement to create a new piece of physical theatre. The current partner delivering this module is Frantic Assembly Theatre, although this is subject to change.
You will gain confidence as a performer and develop a more expressive and dynamic stage presence. You will develop physical skills and techniques that can be applied to devising your own work.
Urban dance styles
An introduction to the techniques, skills and music of a range of urban dance practice leading to a performance of work.
Collaborative production
The module runs as part of the 'professional season' where you will be a member of the company and, working exclusively with industry professionals, undertake a series of live briefs. You will be expected to demonstrate your ability to work to the highest standards of personal and professional discipline and to work collaboratively to stage a full-length production of a selected text or texts. This module is designed to reflect the way in which a production might be mounted in the theatre industry.
There are three pathways through the module: performance, design and technical theatre. The module will give you detailed understanding of how the industry works in practice and give you the confidence of independent theatre makers, with an understanding of industry practice.
Critical frameworks
This module will encourage you to theorise the practice you encounter in the 'professional season' semester. You will engage in a series of lectures and seminars designed to develop critical thinking and reflection on the work you engaged in for the intensive practical modules.
Practices of adaptation
This module provides an in-depth theoretical overview of the contemporary practice of adapting 'classic' texts for new stages and audiences. The module also looks forward to Level 6 by providing you with an opportunity to develop a mini-dissertation and to write at some length about a specific area of theatre practice.
Dance technologies
An introduction to the interface between dance artists and the latest technological innovations leading to the creation of experimental performance practice.
Plus one option:
Body in performance
This is a workshop-based module that offers you the opportunity to improve on physical performance skills learn in Movement for actors and Physical theatres and to deepen knowledge and understanding of body-centred practice. Practical work will be supported by short discussions, readings and lectures that explore theoretical material. You will gain experience in training exercises that can be used when leading or developing your own workshops and training programs.
Multimedia performance
You'll explore multimedia approaches to performance in group and solo contexts. You'll explore how a video camera may be used not only to document work, but also as an integral part of a performance. We'll explore technologies, such as: projection and software. We'll ask what the implications are for the role of the actor in the light of an increasing reliance on digitisation/CGI? And, how this affects our notion of 'live' performance. Our points of reference will also encompass discussion regarding the increasing use of surveillance in contemporary culture.
Year 3
Creative strategies
In this module, you will draw on their previous learning, as well as module specific knowledge, to plan and create a collaborative piece of work in which your own practice can be identified and developed. With a focus on the current arts environment this module will begin to prepare you for your professional career. As future theatre makers, you will have the confidence, knowledge and practical experience necessary to begin developing work and looking for funding.
Dance research project
A research project on a specialist subject of your choice.
Plus two options from:
Professional toolkit
Interested in forming your own Theatre Company? This module will equip you with advanced creative research and planning skills, providing you with the confidence, knowledge and practical experience necessary to begin developing work and look for funding. Engaging in a hypothetical performance piece – you will cover planning, research and development leading to a arts council funding application. You will be empowered with a sense of your own creative practice and ambitions for post university life.
Digital performance technologies
Learn the know-how of digital performance and an understanding of the new experience of performance space that accompanies the shift to digital media technologies. This module allows you to explore the relationship between digital aesthetics and culture in contemporary performance. Practical skills in video editing and programming are valuable assets, especially in the field of theatre and performance where digital elements are taking on an increasing importance.
Photographing the body
A look at the creation of dance images and photographic practice
Community dance practice
A preparation for those who wish to seek employment in the field of community dance work.
Employability
This course is intended for those students who are interested in pursuing a career in the professional dance and theatre industry, in community dance or in teaching and arts related professions. The combination of dance and performance allows students to build on their existing dance technique and skills whilst developing their broader creative performance practice.
Throughout this course students will be taught by professional dance practitioners and artists, including our partner company – Frantic Assembly. In the second year, dancers will become part of the LSBU Student Theatre Company and will take part in our professional season, working entirely with industry professionals.
By the time you graduate you will already have a professional portfolio demonstrating your experience in the industry. The third year is devoted to 'employability' modules with students taking options in their desired field and conducting a specialist research study. The final project allows students to work independently or to collaborate with other dancers, theatre makers and theatre technology students to create an innovative and exciting piece of dance performance with which to launch their career as dance artists.
Employability Service
We are University of the Year for Graduate Employment for the second year in a row - The Times and Sunday Times Good University Guide 2018, 2019.
At LSBU, we want to set you up for a successful career. During your studies – and for two years after you graduate – you'll have access to our Employability Service, which includes:
An online board where you can see a wide range of placements: part-time, full-time or voluntary. You can also drop in to see our Job Shop advisers, who are always available to help you take the next step in your search.
Our Careers Gym offering group workshops on CVs, interview techniques and finding work experience, as well as regular presentations from employers across a range of sectors.
Our Student Enterprise team can also help you start your own business and develop valuable entrepreneurial skills.
Professional links
The course is taught by professional theatre practitioners who provide an excellent platform by which to experience life in the world of theatre and dance.
We have established a working partnership with the highly successful and creative theatre company, Frantic Assembly, known for their high-octane, physical theatre productions. They will deliver workshops and residencies, and share their expertise and working methodology with you.
Our other partners include:
Ovalhouse
Little Bulb Theatre
Fanshen Theatre
Dirty Market Theatre
Southwark Playhouse
Siobhan Davies Dance
The Old Vic theatre
Au Brana Theatre Workshop, France
Placements
In your second year you'll become a member of the LSBU Student Theatre Company and spend a semester working with industry professionals to produce a full season of work for public performance. You'll also have the opportunity to engage with the international world of theatre on our established trips to France and China.
Facilities
A dedicated performance and rehearsal space with a 90-seat capacity that can be set up in numerous configurations. The main auditorium, 30-seat studio and backstage facilities are used by drama, performance and technical theatre students. Facilities are available for commercial hire.

The gallery is a home for visual art and a unique part of the University's heritage. Opened in 2012, the Borough Road Gallery contains valuable and significant works of Post War British Art in a public collection, produced by the celebrated artist and teacher David Bomberg (1890-1957).

The University couldn't be better located being only a 10-15 minute walk from the Southbank Centre, National Theatre, BFI IMAX, Tate Modern, Royal Festival Hall, The Old Vic Theatre, The Young Vic and therefore the best of London's plays, performances, exhibitions and screenings.
Entry requirements
2019 Tariff
A Level BBC or;
BTEC National Diploma DMM or;
Access to HE qualifications with 15 Distinctions 30 Merits or;
Equivalent Level 3 qualifications in a relevant subject such as Drama, Theatre or Performing Arts worth 112 UCAS points
Applicants must hold 5 GCSEs A-C including Maths and English or equivalent (reformed GCSEs grade 4 or above)
We welcome qualifications from around the world. English language qualifications for international students: IELTS score of 6.0 or Cambridge Proficiency or Advanced Grade C.


All students must also complete a successful audition to be considered for this course.
How to apply
2019 entry
Instructions for Home/EU applicants
Mode
Duration
Start date
Application code
Application method

Mode

Full-time

Duration

3 Years

Start date

September

Application code

TBC

Application method
Please note that the first entry for this course is in September 2019.
More information on how to apply, including the application code, will be available from mid-2018.
All full-time undergraduate students apply to the Universities and Colleges Admissions Service (UCAS) using the University's Institution Code L75. Full details of how to do this are supplied on our How to apply webpage for undergraduate students.
All part-time students should apply directly to London South Bank University and full details of how to do this are given on our undergraduate How to apply webpage.
Accommodation
Students should apply for accommodation at London South Bank University (LSBU) as soon as possible, once we have made an offer of a place on one of our academic courses. Read more about applying for accommodation at LSBU.
Finance
It's a good idea to think about how you'll pay university tuition and maintenance costs while you're still applying for a place to study. Remember – you don't need to wait for a confirmed place on a course to start applying for student finance. Read how to pay your fees as an undergraduate student.
Fees and funding
First entry to this course is in September 2019, and therefore full fee information will not be available until mid-2018.
For more information, including how and when to pay, see our fees and funding section for undergraduate students.
Possible fee changes
Current regulatory proposals suggest that institutions will be permitted to increase fee levels in line with inflation up to a specified fee cap. Specifically, LSBU may be permitted to increase its fees for new and existing Home and EU undergraduate students from 2017/18 onwards. The University reserves the right to increase its fees in line with changes to legislation, regulation and any governmental guidance or decisions.
The fees for international students are reviewed annually, and additionally the University reserves the right to increase tuition fees in line with inflation up to 4 per cent.
Scholarships
We offer students considerable financial help through scholarships, bursaries, charitable funds, loans and other financial support. Many of our scholarships are given as direct tuition fee discounts and we encourage all eligible students to apply for our Access Bursary. New home full-time undergraduate students meeting eligibility criteria could receive a £1,000 cash bursary by joining us in the 2017/18 academic year. Find out more about all our scholarships and fee discounts for undergraduate students.
International students
As well as being potentially eligible for our undergraduate scholarships, International students can also benefit from a range of specialist scholarships. Find out more about International scholarships.
Please check your fee status and whether you are considered a home, EU or international student for fee-paying purposes by reading the UKCISA regulations.
Stories
Select a story and read about practical project work, students' placement experiences, research projects, alumni career achievements and what it's really like to study here from the student perspective.
LSBU Drama and Performance students form the Student Theatre Company, which regularly puts on shows and work with professional theatre companies.

Second year Drama and Performance students work with pioneering theatre company Frantic Assembly to produce a show in just a week.

A dedicated performance and rehearsal space with a 90-seat capacity that can be set up in numerous configurations. The main auditorium, 30-seat studio and backstage facilities are used by drama, performance and technical theatre students. Facilities are available for commercial hire.
Prepare to start
Applicant events
After you've received your offer we'll send you emails about events we run to help you prepare for your course.
Welcome Week
Before you start your course we'll send you information on what you'll need to do before you arrive and during your first few days on campus. You can read about the process on our Welcome Week pages.
Top of page
Top of page