Overview
This foundation degree runs on a full-time basis at Westminster Kingsway College's famous Victoria Centre, offering a professional qualification in the technology of food preparation in the heart of London.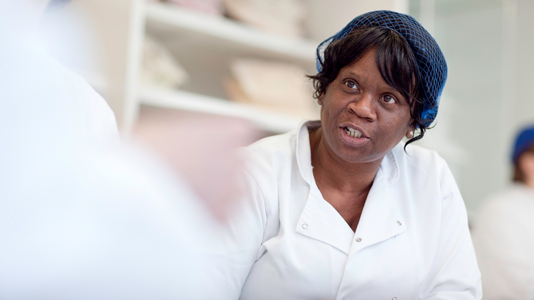 5 reasons to study here
Heritage: Westminster Kingsway College has an excellent reputation within the industry - famous former students include Jamie Oliver, Antony Worrall Thompson and Ainsley Harriot.

Great teaching: Staff members are experts in their respective fields.

Academic progression: Foundation Degree students can progress onto the final year of a BSc (Hons) Food Science or BSc (Hons) Food and Nutrition.

Dedicated facilities: Product development labs, sensory evaluation suite and an extensive compositional and analytical suite.

Strong alumni network: Become part of an 80,000-strong LSBU alumni network.
This degree course covers...
The two year programme has been designed for those working in a professional kitchen environment who wish to develop their practical, scientific and technological, and supervisory skills for a management level position in culinary arts. You'll study a range of modules including food innovation, resource management and the impact of science and technology on culinary processes.
Key programme information

| Mode | Duration | Start date |
| --- | --- | --- |
| Full-time | 2 years | September |
Modules
Semester 1 - Level 4
Personal development and study skills
This module is designed to provide you with opportunities to develop your study skills and personal development skills. Study skills include report and essay writing, exam techniques, presentation skills, utilising Moodle, Harvard Referencing, and using online databases for research. Personal development skills include completing a self-audit of transferable skills, analysing and developing time management and personal objective setting. Assessment method: 100% coursework.
Introduction to culinary science
This module examines the chemistry and physics of food ingredients and cooking processes relevant to professional chefs and aspiring food technologists. Assessment methods: 60% coursework, 40% exam.
Practical cooking techniques in culinary arts
This module will develop your skills in practical cookery and dish composition. The module will build on the topics taught in the Introduction to Culinary Science module. Assessment method: 100% exam.
Semester 2 - Level 4
Marketing and food product design
This module will give you an overview of marketing and market research in the culinary and retail sector, highlighting their importance when developing and launching new food products. You'll consider the entire product development process from initial concept to product launch. Assessment method: 100% coursework.
Human resources management
This module will provide a foundation in the knowledge and skills required by human resource managers in the various service industries, and will enable you to recognise how management of human resources at all levels can critically affect efficiency and effectiveness. Assessment methods: 50% coursework, 50% exam.
Gastronomy and innovation
This module considers a range of gastronomic issues through history to the modern day – it outlines the history of food trends and dishes, an appreciation of how they have evolved, and an exploration of modern culinary trends and techniques. You'll consider food and beverages from a variety of regional and international cuisines, and you'll undertake an evaluation of food and drink matching. Assessment methods: 50% coursework, 50% exam.
Semester 3 - Level 5
Practical scientific techniques in culinary arts
Food preservation techniques such as smoking and curing foods have been around for many years, and many of these techniques use chemicals such as salt, sugar or acid to preserve the food. This module will explain the science behind how these techniques act to preserve foods and prevent bacterial growth.
In modern cooking, chefs are starting to use scientific techniques and equipment to innovate their food – this module will also look into these different techniques and explain how they work. Assessment method: 50% coursework, 50% exam.
Introduction to finance and information systems
This module will introduce you to the topics of IT and finance and relate your understanding of these areas to the working world and the economic environment. Assessment methods: 50% coursework, 50% exam.
Research methods
This module will develop your research and analytical skills. It will promote the development of independent learning, and you'll be expected to show autonomy through choosing, researching and planning a small scale research study in preparation for undertaking a final year dissertation. Assessment method: 100% coursework.
Optional modules
Small business and entrepreneurship
On a practical level, this module aims to increase the success of a business enterprise through the development of professional business plans. It will provide you with opportunities to use a written business plan as a framework for analysis and a mechanism for delivering business strategy. At the same time, the module will explore different business concepts and include an understanding of entrepreneurship, enterprise and the small to medium enterprise (SME) sector. Assessment method: 100% coursework.
Food science and nutrition
This module will provide you with an overview of food composition, proximate analysis and dietary requirements using the important food commodity groups (meat, dairy, cereals, fruits and vegetables etc) as examples. You'll consider the chemical nature of proteins, carbohydrates and fats as macronutrients and the way they are determined in foods. You'll also consider vitamins as key nutrients and examples of their complex structures. Finally, you'll analyse the way in which the composition of food ingredients 'creates' a unique environment described by pH, moisture, water activity and salt, and how it affects the way in which the ingredient is used. This module is suitable for those considering developing their careers from a culinary background to working in product development and product evaluation in the food manufacturing industry. Assessment methods: 50% coursework, 50% exam.
Semester 4 - Level 5
Practical modernist cooking
This hands-on practical module will look at how innovative scientific ingredients and equipment can be used to add a modern twist to traditional dishes. Assessment method: 100% exam.
Food production and safety
This module will familiarise you with food production systems from "farm to fork". You'll consider several food products and the whole process of their production through the food chain. The module will also provide you with a sound foundation of safe food operations in the modern food and drink industry, including the testing of key safety parameters and developing a Hazard Analysis and Critical Control Point (HACCP). Assessment methods: 50% coursework, 50% exam.
Developing professional practice
This module is designed to expand your awareness and development of transferable and employability skills required for your future career. This includes being aware of career opportunities, constructing a professional development plan and a CV, investigating a work-based project and evaluating professional skills developed during the project. Assessment method: 100% coursework.
Assessment methods:
Some modules use a combination of written laboratory reports and an examination at the end of the module. Practical-based modules will be assessed by monitoring your skills and finished products.
Employability
There is a well-established network of employers and industry advisors and a visiting speaker / demonstrator programme in place to support course delivery. Candidates joining the course will be expected to be working within the food and catering industry and the course provides an ideal opportunity for students to progress to supervisory and senior management positions in food preparation and catering including leading food manufacturers.
Progression to a Bachelors degree
Students successfully completing the course may progress to an Honours programme in BSc (Hons) Food Science or BSc (Hons) Food and Nutrition or other degree programmes involving the science and technology of foods.
LSBU Employability Service
We are University of the Year for Graduate Employment - The Times and Sunday Times Good University Guide 2018
LSBU is committed to supporting you develop your employability and succeed in getting a job after you have graduated. Your qualification will certainly help, but in a competitive market you also need to work on your employability, and on your career search.
As an LSBU student you have access to the Employability Service and its resources during your time here and for two years after you graduate.
Our Employability Service will support you in developing your skills, finding a job, interview techniques, work experience or a placement/internship, and will help you assess what you need to do to get the career you want at the end of your course. LSBU offers a comprehensive Employability Service, with a range of initiatives to complement your studies, including:
Direct engagement from employers who come in to network with students
Job Shop – daily drop in service to help with, tailoring CVs, cover letters and applications, sourcing online resource, mock interviews and general job searching. One to one appointments for further support also available
Mentoring and work shadowing schemes
Higher education achievement report - The HEAR is designed to encourage a more sophisticated approach to recording student achievement, which acknowledges fully the range of opportunities that LSBU offers to our students.
It pulls into one certificate: Module grades, Course descriptions, Placements, LSBU verified extra-curricular activities
Employability workshops - delivered free to students all year round on a variety of related topics
Careers fairs throughout the year to really focus your thoughts on a career after university
Find out about any of these services by visiting our student employability page
Professional links
Westminster Kingsway College has been awarded Centre of Vocational Excellence status in hospitality and catering by the Learning and Skills Council with specialist kitchen facilities, demonstration and lecture theatres.
The College hosts international catering competitions and seminars from prominent practitioner experts in the industry. Students are eligible for associate/student membership of the Institute of Food Science and Technology.
Staff School/Division:
Applied Sciences / Food Sciences (including the National Bakery School)
Job title:
Senior Lecturer
Dr Aouzelleg is interested in novel food preservation and processing methods. He is especially interested in high pressure processing as an alternative to heat treatment. Dr Aouzelleg is also interested in the link between molecular structures and macroscopic food properties.
---
Facilities
Entry requirements
80 UCAS points
2 Es at A Level
All appropriate Level 3 qualifications welcome - including Access courses
We welcome qualifications from around the world. English language qualifications for international students: IELTS score of 6.0 or Cambridge Proficiency or Advanced Grade C.
Significant industrial experience in food or catering at supervisory level
How to apply
Key application information

| Mode | Institution Code | Application Code | Apply |
| --- | --- | --- | --- |
| Full-time | Westminster Kingsway (W52) | D640 | Via UCAS |
Fees and funding
Please refer to Westminster Kingsway College for information regarding fees.
Top of page

Course Enquiries - UK/EU
Tel: 0800 923 8888
Tel: +44 (0) 20 7815 6100
Get in touch
Top of page