Unistats
What is Unistats?
Key Information Set (KIS) Data is only gathered for undergraduate full-time courses. There are a number of reasons why this course does not have KIS data associated with it. For example, it may be a franchise course run at a partner college or a course designed for continuing professional development.
Overview
Understand, manage and design
This course is designed for students interested in understanding, managing and designing the IT systems that are required for modern organisations.
Why Computer Management Systems at LSBU?
Accredited by the British Computer Society; graduates are recognised for full exemption from their professional exams.

Combine system-development skills with business-orientated knowledge.

Opportunity to prepare for professional certifications (such as Microsoft MCP and IT industry framework ITIL) alongside academic award.

Gain experience of the latest technologies including virtual computing and cloud based systems.

We employ industry-standard equipment, computer programming and simulation packages.

Top 10 in UK for career prospects in Computer Science and Information Systems (Guardian 2019).
Key course information - ordered by mode
Mode
Duration
Start date
Location

Mode

Part-time

Duration

6 years

Start Date

September

Location

Southwark Campus

Mode

Part-time

Duration

4 years

Start Date

September

Location

Southwark Campus

Mode

Full-time

Duration

3 years

Start Date

September

Location

Southwark Campus

Mode

Sandwich

Duration

4 years

Start Date

September

Location

Southwark Campus
Modules
We offer a balanced programme combining business-orientated and management topics with more technical units. You'll learn how to use computer hardware in physical and virtual architectures, manage both servers and clients, and configure wired and wireless networks. This course covers business and professional issues, mathematical analysis, networks, software development, databases, user-centred design, operating systems.
Methods of assessment for course overall: 32% coursework.
Year 1
Business & Professional Issues
As a new entrant to the university, this module prepares you for developing an understanding of - and skills for - academic study and the world of work, and the professional and personal skills you 'll need. You'll be introduced to all aspects of university study and being an IT professional, allowing your ideas to be explored and developed throughout your time at LSBU and beyond. The topics studied will be used to develop the skills that both a graduate and an IT professional will require, and will give you ample opportunities to develop your intellectual skills as well as your practical ones. In addition to these topics on professionalism, the module will introduce you to a range of topics relating to computer-based information systems, e-business and how business organisations work. The module is largely based on some existing model syllabi as devised by professional bodies such as the Association for Computing Machinery (ACM) and The Chartered Institute for IT (BCS), but this has been adapted for the particular needs of LSBU's new entrants. Assessment method: 100% coursework.
Mathematical Analysis for Informatics
Programmes within the informatics domain will have an emphasis on the business and managerial functions of organisations. This module will introduce you to the logical and discrete mathematical structures and models, which are commonly used in the broad field of Informatics and which underpin any study of a branch of this discipline. The module will emphasise the formulation of problems into mathematical forms, the interpretation of solutions and the identification of problem characteristics to help suggest modelling approaches. Provisions will be made (typically one hour per week) to allow us to bring you, if necessary, to a level of confidence and expertise in those areas of essential basic mathematics that should have been covered at earlier levels. Assessment method: 100% coursework.
Media, Computers and Networks
This module will introduce the overall structure and operation of the computer systems and networks found in all areas of business and daily life. Emphasis will be given to the different types of information that must be stored and processed, and how this information is distributed over different types of network. You'll gain an appreciation of the difference between high-level and low-level programming languages and how program instructions are executed at the machine level. The role of operating systems, peripherals, and networking hardware and software will be introduced. Assessment method: 100% coursework.
Socio-Technical Analysis of Requirements
The module will provide you with a first course in systems theory and the analysis of requirements from a socio-technical perspective. The module will explore the modelling of both hard and soft requirements from human, data and process centred perspectives. You'll study requirements analysis as the expression of the business rules of an organisation. Elements of organisational theory and organisational behaviour, with particular reference to technology and culture, will be introduced alongside systems architectures, the systems development life cycle and aspects of change management. Unified Modeling Language will be used throughout. Assessment method: 100% coursework.
Software Development 1
This module will introduce you to developing small business systems using PC based applications. In this module you'll learn how to build integrated systems that meet business users' requirements. The bottom-up approach adopted by the module will enable you to explore and learn how to use the various tools that these applications provide for building and integrating systems. You'll consider the need for and use of programming languages, and the requirement to adhere to a professional approach when developing software systems. Assessment method: 100% coursework.
Software Development 2
This module will help you to develop a vocabulary and acquire some simple programming skills using a programming language. It does this by having you develop your own system over the course of the module, supported by the exercises and examples provided in parallel. This experience will include developing familiarity with Objects and Classes, gaining experience in simple Graphical User Interfaces, and looking at good development principles and the kind of support an Integrated Development Environment will provide: all important aspects of the application development process in whatever environment or programming language you may use in the future. Assessment method: 100% coursework.
Year 2
Database Systems
The database is now the underlying framework of the information system, and it has fundamentally changed the way companies, organisations and individuals work. This module will cover the fundamentals of the database field. The subject of the database field is concerned with how to use computers to store and manage data, usually large quantities of data. This is, first and foremost, an introductory module to database management systems. Assessment methods: 60% coursework, 40% exam.
Managing Technological Innovation
The history of technological innovation has been nothing short of remarkable, affecting our lives, the effectiveness of organisations, the profitability of industries, the well-being of societies and the prosperity of nations. Understanding the processes that underpin technological innovation is therefore crucial, whether you're a user or producer of technological innovation. And if you're involved in managing innovation processes, an understanding of the overall process of innovation and its variations is a core professional competence. This course examines innovation from a management perspective, enabling you to improve how you contribute to the process and management of technological innovation. Assessment method: 100% coursework.
Research & Professional Practice
This module will provide you with the necessary methodological, analytical and development skills needed to design, implement, and analyse a piece of independent research or development piece of work in the form of a consultancy tender, reflection, etc. at an undergraduate level in the field of Informatics. The module will focus on general issues you're likely to adopt for your research project such as: the Research and Development life cycle; collecting and analysing primary and secondary sources of knowledge; elementary consultancy skills, ethics and managing your time effectively and presenting your findings in a coherent manner. The module will focus on specific issues related to your chosen pathway by providing specific pathway tutorial groups where you'll explore, in greater depth, those issues most likely to be relevant for your chosen pathway. Assessment method: 100% coursework.
IT Infrastructure and Management
This module address the range of topics required to plan, implement and manage computer networks of the type used in a wide range of business environments. Emphasis is given to those methods and skills required to deal with systems containing clients, servers and networking devices as effectively and efficiently as possible. This module will give due prominence to current techniques such as multimedia networking and virtualisation, together with foundation topics such as TCP/IP and file/print serving. Assessment methods: 60% coursework, 40% exam.
User-Centred Design
This module provides the practical tools and techniques required to design, develop and evaluate effective interactive systems in an ever-changing digital age. Assessment method: 100% coursework.
System Design Techniques
This module explores the techniques for systems analysis and design, divided mainly into four areas: traditional methodologies, agile methodologies, systems thinking methodologies and professionally recognised project management techniques. Assessment methods: 60% coursework, 40% exam.
Year 3
Optional placement year.
Year 4
IT Systems Administration
This module will cover the range of organisational and technical procedures required to effectively manage modern computer systems within a typical business environment. Emphasis will be given to planning and design, rather than reactive problem-solving. Assessment methods: 60% coursework, 40% exam.
Network Configuration and Management
This module examines the theory and practice of networking with emphasis on the issues that relate to the design and provision of the most appropriate network technologies for modern business organisations. Assessment methods: 60% coursework, 40% exam.
Honours Informatics Project
The project contributes significantly towards the final degree. In your final year you'll spend about 2 days a week on your project. Future employers will probably ask you about your project, and use performance in the project as one of the most reliable guides to your potential. Requests for references often ask about the project. This module will allow you to demonstrate, through a practical application, the extent of theoretical knowledge gained in the first two years of study, practical skills acquired in the subsequent year of industrial or commercial training and further theoretical and practical skills acquired during the final year of study. The project is therefore a very important piece of work. The project is intended to demonstrate to the examiners your ability to undertake and complete, to a satisfactory standard, all the parts of a professional piece of work. Assessment method: 100% coursework.
IS Project Management
As you come towards the end of your honours degree, this module takes a broad and reflective view of the profession in a holistic and critical manner. It considers matters of professional and ethical relevance, and particularly considers issues that are of contemporary significance to the subject area. Assessment methods: 60% coursework, 40% exam.
Plus one optional module from:
Social & Collaborative Computing
This module looks at all aspects of social networking that are currently used for both business and pleasure. It also examines collaborative software and how it can be used to best effect. The module provides a thorough understanding of user activity in these areas, how users can be supported and managed and how the various systems can be used to their best effect. Assessment methods: 60% coursework, 40% exam.
Web Services, Security & Management
This module covers the practical issues of both hosting and managing web sites, including security and server configuration. It also covers the various approaches used to implement the web services that enable cloud computing, and the competing techniques for implementing the semantic web. Assessment methods: 60% coursework, 40% exam.
Employability
This course will equip you to design and run networked systems on both local and enterprise scales – skills that are in demand by business and industry. You will also gain experience of the latest technologies, including virtual computing and cloud based systems.
Skills for work
Our degrees in this area equip working professionals who require a combination of computing and other capabilities, especially in the world of business and commerce. You'll develop a wide range of employability skills through an emphasis on a vocational approach to teaching.
What to expect from your career
While technical skills are needed for many roles, you often need strong teamwork, problem solving and communication skills as well.
IT Consultant
Working in IT is a constant learning process and, in order to be successful, you will need to keep on top of industry developments and teach yourself new skills all the time. There's a definite advantage to being based in London or the South East, where 39% of IT and Telecoms professionals are located (National Careers Service).
Web Developer
Web developers work with clients to design, build and maintain websites and website applications.
Systems Analyst
System analysts design new IT solutions to improve business efficiency and productivity.
Employability Service
We are University of the Year for Graduate Employment for the second year in a row - The Times and Sunday Times Good University Guide 2018, 2019.
At LSBU, we want to set you up for a successful career. During your studies – and for two years after you graduate – you'll have access to our Employability Service, which includes:
An online board where you can see a wide range of placements: part-time, full-time or voluntary. You can also drop in to see our Job Shop advisers, who are always available to help you take the next step in your search.
Our Careers Gym offering group workshops on CVs, interview techniques and finding work experience, as well as regular presentations from employers across a range of sectors.
Our Student Enterprise team can also help you start your own business and develop valuable entrepreneurial skills.
Placements
The placement gives you the opportunity to spend a year in the work-place, honing your transferable skills and proving your academic learning in the development of real-world systems. The assessment of the placement is designed to support and accredit the experience by formalising personal development outcomes, and by contextualising prior learning. Regular on-line contact with tutors, peer-contact and placement support will be maintained throughout the year.
Staff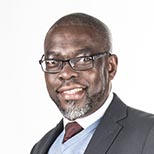 School/Division:
Engineering / Computer Science and Informatics
Job title:
Sessional Lecturer
Francis Babayemi has been a Sessional Lecturer at LSBU since 2008. Francis divides his time between working at LSBU and working at the Department of Health, where he works as a Digital Operations Manager.
---
Facilities
Teaching and learning
Percentage of time spent in different learning activities

| | Lectures, seminars and lab-based study | Self-directed study |
| --- | --- | --- |
| Year 1 | 36% | 64% |
| Year 2 | 33% | 67% |
| Year 3 | 26% | 74% |
Entry requirements
A Level BCC or;
BTEC National Diploma DMM or;
Access to HE qualifications with 9 Distinctions 36 Merits including 3 Merits in Maths and 12 Merits in ICT or;
Equivalent level 3 qualifications worth 112 UCAS points
Applicants must hold 5 GCSEs A-C including Maths and English or equivalent (reformed GCSEs grade 4 or above).
We welcome qualifications from around the world. English language qualifications for international students: IELTS score of 6.0 or Cambridge Proficiency or Advanced Grade C.
How to apply
International students
International (non Home/EU) applicants should follow our international how to apply guide.
Instructions for Home/EU applicants
Mode
Duration
Start date
Application code
Application method

Mode

Part-time

Duration

6 years

Start date

September

Application code

4935

Application method

Mode

Part-time

Duration

4 years

Start date

September

Application code

4156

Application method

Mode

Full-time

Duration

3 years

Start date

September

Application code

G490

Application method

Mode

Sandwich

Duration

4 years

Start date

September

Application code

G490

Application method
For full-time courses, please send your applications through the Universities and Colleges Admissions Service (UCAS) using our code L75. UCAS is the organisation responsible for managing applications to higher education courses in the UK.
If you're applying for January entry through UCAS, make sure to search under the 2018/19 academic year.
For part-time courses, you can apply directly to the University.
For more details on how to apply (full-time and part-time) see our how to apply page.
See our admissions policy (PDF File 298 KB) and complaints policy (PDF File 448 KB).
Accommodation
Once we have made you an offer, you can apply for accommodation. You can rent from LSBU and you'll deal directly with the university, not third party providers. That means we can guarantee you options to suit all budgets, with clear tenancy agreements and all-inclusive rents that include insurance for your personal belongings, internet access in each bedroom and on-site laundry facilities.
Or, if you'd rather rent privately, we can give you a list of landlords – just ask our Accommodation Service.
Read more about applying for accommodation at LSBU.
Finance
You don't need to wait for a confirmed place on a course to start applying for student finance. Read how to pay your fees as an undergraduate student.
Fees and funding
Fees are shown for new entrants to courses, for each individual year of a course, together with the total fee for all the years of a course. Continuing LSBU students should refer to the Finance section of our student portal, MyLSBU. Queries regarding fees should be directed to the Fees and Bursaries Team on: +44 (0)20 7815 6181.
UK/EU fee:

£9250

International fee:

£13780

AOS/LSBU code:

5110

Session code:

1FS00
Total course fee:
UK/EU (excluding any optional years)
£27750
UK/EU (including any optional years)
£27750
International (excluding any optional years)
£41340
International (including any optional years)
£41340
UK/EU fee:

£4625

International fee:

£6562.5

AOS/LSBU code:

4935

Session code:

1PS00
Total course fee:
UK/EU
£27750
International
£39375
UK/EU fee:

£6935

International fee:

£9843.75

AOS/LSBU code:

4156

Session code:

1PS00
Total course fee:
UK/EU
£27740
International
£39375
For more information, including how and when to pay, see our \;fees and funding section for undergraduate students.
Please check your fee status and whether you are considered a home, EU or international student for fee-paying purposes by reading the \;UKCISA regulations.
Possible fee changes
The University reserves the right to increase its fees in line with changes to legislation, regulation and any governmental guidance or decisions.
The fees for international students are reviewed annually, and additionally the University reserves the right to increase tuition fees in line with inflation up to 4%.
Scholarships
We offer several types of fee reduction through our scholarships and bursaries. Find the full list and other useful information on our scholarships page.
Stories
Select a story and read about practical project work, students' placement experiences, research projects, alumni career achievements and what it's really like to study here from the student perspective.
Prepare to start
Applicant events
After you've received your offer we'll send you emails about events we run to help you prepare for your course.
Welcome Week
Before you start your course we'll send you information on what you'll need to do before you arrive and during your first few days on campus. You can read about the process on our Welcome Week pages.
Top of page
Top of page