Unistats
What is Unistats?
Key Information Set (KIS) Data is only gathered for undergraduate full-time courses. There are a number of reasons why this course does not have KIS data associated with it. For example, it may be a franchise course run at a partner college or a course designed for continuing professional development.
Overview
The science of life
Bioscience is a diverse and rapidly expanding sector. Prepare for a practical career or further study with this two year course. An understanding of biology is fundamental to our understanding of the human body and how to stay healthy. This practical course will equip you with the skills to work as a technician in the bioscience industries and the knowledge you need for further study.
We offer the opportunity for all undergraduate Home/EU students to undertake a work placement, internship or work experience while studying a full-time course starting in September 2019.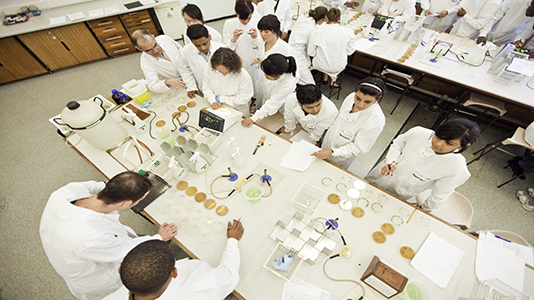 Why study Applied Biology at LSBU?
It's an alternative route to a biology degree for those who do not meet requirements to enter straight on to a degree.

Dedicated facilities: benefit from multi-purpose and specialist labs with all the instrumentation you'd expect in modern scientific fields.

Recognised research quality: No.2 London modern university for research quality in Biological Sciences (Complete University Guide league table, 2018) .

Take a work placement to enhance career prospects.
Key course information - ordered by mode
Mode
Duration
Start date
Location

Mode

Full-time

Duration

2 years

Start Date

September

Location

Southwark Campus
Modules
In your first year, you'll build up a solid grounding in biological principles. You can then transfer directly onto the second year of our BSc (Hons) Bioscience degree, or follow a specially designed course for technicians in the bioscience industries. If you complete the HND, you've still got the option of further undergraduate study. You don't have to have it all worked out in advance, your tutors will be on hand to advise you.
The compulsory work placement will further improve your CV and appreciation of bioscience workplaces.
Year 1
Biology of the cell
This is an introductory module providing a foundation for further studies in all areas of biology and biosciences. You'll be introduced to the cellular organisation of living organisms and you'll explore the organisation and functions of eukaryotic cells. You'll focus on the regulation of cellular homeostasis and metabolism, including the flow of energy and genetic information, cell death, renewal and differentiation and their relation to human health and disease. In addition, you'll be introduced to current research approaches and methods for studying cells and manipulating genes. Assessment method: 100% coursework.
Physiology and anatomy
This module will develop your knowledge and understanding in anatomical language and human anatomy of the musculoskeletal system, as well as the physical and chemical principles that underlie physiological functions and metabolic processes. The concept of integration and control in physiology will be developed, beginning with the study of cell membrane function and leading to an appreciation of human physiology through an understanding of systems. Assessment method: 100% coursework.
Nutrition, health and disease
This module will familiarise you with the fundamental principles of human nutrition as a multidisciplinary perspective relating to human health and well-being. You'll explore key concepts of nutritional requirements, food chemistry, macro and micro-nutrient functions. You'll also explore the relationship of diet to health, with special reference to over and under nutrition states. You'll examine dietary recommendations for the maintenance of health and well-being, and you'll consider the assessment of food intake in this context. You'' review the factors determining food choice, and you'll explore the role of nutrition in the context of physical activity. Assessment method: 100% coursework.
Scientific skills
This module will provide you with a foundation for the study of science at undergraduate level. The basis for the module will be the context, planning and execution of experimental work, along with analysis and presentation of experimental data. A substantial component of study will involve activities in effective written communication and the writing of laboratory reports in particular. Assessment method: 100% coursework.
Numerical methods for bioscientists
This module introduces one of the central principles of biosciences, that of quantitative measurements, their interpretation and analysis. The emphasis of this module is based around understanding the measurement process, the significance of the measurement units and the mathematical manipulation of the data obtained to produce results of use to the analyst. You'll develop the relevant mathematical skills needed to achieve this in conjunction with the introduction to selected analytical data processing software. The data will be derived from a variety of human, microbial and epidemiological experimental settings. On completion of this module you'll have gained knowledge of the main basic mathematical concepts and the use of software in the treatment and interpretation of the measured data. Assessment methods: 40% coursework, 60% exam.
An option from a specialist path across human sciences area, including food sciences, nutrition, sport, biomechanics, psychology and forensic sciences
Year 2
Public health
Improving public health requires a multi-disciplinary and multi-professional approach in order to gain increased control over the determinants of health and well-being. In both developed and developing societies, an evidence-based approach to public health is of increasing importance. This module will give you insight into a variety of key concepts associated with the complex influences on human health and disease. It will emphasise an epidemiological approach and will critically evaluate strategies for disease prevention and management. You'll examine various modes and means of communication to diverse audiences. Assessment method: 100% coursework.
Research project
The project is an extended piece of work that requires you to undertake a piece of independent scientific research. The project is primarily a laboratory or fieldwork-based investigation. You'll be expected to manage your own research activity with tutorial support from your research supervisor. Assessment method: 100% coursework.
Food microbiology
This module is designed to help you develop an understanding of food microbiology, appreciate the principles of food microbiology and explore both microbial food spoilage and food borne microorganisms. In this context you'll learn about the hazards that microorganisms pose to food safety, evaluate the risk and apply methods by which food can be processed safely. This is a practical module, and you'll continue to develop your skills in examining foodstuffs in order to enumerate and identify specific microorganisms. Emphasis will be given to the development, application and use of microbiological criteria for evaluating food safety. Assessment methods: 40% coursework, 60% exam.
Food composition properties and analysis
This module builds on an understanding of the chemistry of biological molecules and applies these principles to explaining the nature, properties and behaviour of particular food macromolecules. Specific components will be used for illustration, e.g. starch, lipids, proteins, pectin and fibre. The properties of many of these compounds can be influenced by functional chemicals called 'food additives'. The determination of all of these components in foods is essential for declaring compositional, nutritional and labelling information, and therefore the module will include practical learning material explaining the methods of analysis. Proximate and sensory analysis will form the major aspect of the laboratory analysis. Assessment methods: 40% coursework, 60% exam.
Work placement
The nature of the work carried out at individual placements will vary greatly. In some cases, you'll be exposed to numerous work situations to give an overall appreciation of the total operation of the employer. In other cases, you may be assigned to a singular role. Nonetheless, there are certain core learning outcomes that will apply to all placements. Assessment method: 100% coursework.
Plus one optional module from:
Human evolution, physiology and behaviour
This module will look at the biology of human beings as adaptations to the selective pressures prevalent in our recent evolutionary history. It will provide you with an overview of the Hominoidea provided by the fossil record, and our dispersal out of Africa. The module will review our physiology as an omnivorous mammal originally adapted to tropical grasslands. It will go on to review the extent to which human behaviour can be interpreted as adaptive for a social animal exploiting the range of habitats that our species has exploited. Assessment methods: 40% coursework, 60% exam.
Disease and immunity
This module looks at various types of disease, including Infectious, congenital (genetic and acquired), degenerative, metabolic (endocrine and nutritional), immunological (auto immune, allergic, inflammatory) and nepotistic. The module also covers the basics of the immune system and diagnosis and therapy. Assessment method: 100% exam.
Human nutrition
The science of human nutrition is a rapidly evolving discipline. This module will consolidate and expand on introductory concepts from Level 4. The breadth of the subject will be explored including perspectives from physiology, cell biology, epidemiology and public health. Applied aspects of the area will be introduced and the human being as the central subject emphasised. You'll foster an appreciation of the multidisciplinary nature of nutrition and gain practical experience of assessing nutritional status. Assessment methods: 40% coursework, 60% exam.
Sport nutrition
This module will develop your knowledge and understanding of the nutritional requirements of athletes and the metabolic responses and adaptations to acute and chronic exercise. In particular, it will focus on fuel utilisation during endurance, and explore the nutritional requirements of different 'athlete types'. The module will also reference evidence supporting the use of nutritional strategies in optimising performance and training. Assessment method: 100% coursework.
Employability
You can go on to further study or embark on a career in fields including public health, pharmaceuticals, medical diagnostics, pathology, healthcare and food production.
Take a look at potential careers, including biomedical technician, on Prospects.
Recent graduates from this course have gone onto roles in medical and technical product sales, quality control, the pharmaceutical industry, medical writing and teaching.
Employability Service
We are University of the Year for Graduate Employment for the second year in a row - The Times and Sunday Times Good University Guide 2018, 2019.
At LSBU, we want to set you up for a successful career. During your studies – and for two years after you graduate – you'll have access to our Employability Service, which includes:
An online board where you can see a wide range of placements: part-time, full-time or voluntary. You can also drop in to see our Job Shop advisers, who are always available to help you take the next step in your search.
Our Careers Gym offering group workshops on CVs, interview techniques and finding work experience, as well as regular presentations from employers across a range of sectors.
Our Student Enterprise team can also help you start your own business and develop valuable entrepreneurial skills.
Professional links
Our close links with industry ensure that our course is up-to-date with their needs – and this means our graduates are in demand.
Put your skills to work
Work experience transforms a CV. It's important that you get some – and we'll help you do that. The compulsory work placement on this course is a great opportunity to understand the way that the industry functions and to gain an appreciation of the priorities in the commercial environment.
During the work placement you'll stay in regular contact with your tutor and your peers – and we'll make sure that you have the support you need.
Facilities
Teaching and learning
Percentage of time spent in different learning activities

| | Time spent in lectures, seminars and lab-based study | Self-directed learning | Placement |
| --- | --- | --- | --- |
| Year 1 | 33% | 67% | 0% |
| Year 2 | 18% | 70% | 0% |
| Year 3 | 18% | 70% | 12% |
Personal Tutoring
As an undergraduate Applied Sciences student, you will be allocated a named tutor during your first three weeks at LSBU. The role of your tutor is to be your primary contact for academic and professional development support.
Your tutor will support you to get the most of your time at LSBU, providing advice and signposting to other sources of support in the University.
Your tutor should be the first person at the university that you speak to if you are having any difficulties that are affecting your work. These could be academic, financial, health-related or another type of problem.
You will have a scheduled appointment with your personal tutor in your first semester. From here you will agree how to keep in touch and how often to meet throughout your course. You can contact your tutor for additional support by email.
Entry requirements
2018 entry
A Level EEE or;
BTEC National Diploma MPP or;
Access to HE qualifications with 45 Passes or;
Equivalent level 3 qualifications worth 64 UCAS points
All Level 3 qualifications preferably include a Science subject
Applicants must hold 5 GCSEs A-C including Maths and English or equivalent (reformed GCSEs grade 4 or above).
We welcome qualifications from around the world. English language qualifications for international students: IELTS score of 6.0 or Cambridge Proficiency or Advanced Grade C.
How to apply
International students
International (non Home/EU) applicants should follow our international how to apply guide.
Instructions for Home/EU applicants
Mode
Duration
Start date
Application code
Application method

Mode

Full-time

Duration

2 years

Start date

September

Application code

011C

Application method
For full-time courses, please send your applications through the Universities and Colleges Admissions Service (UCAS) using our code L75. UCAS is the organisation responsible for managing applications to higher education courses in the UK.
For part-time courses, you can apply directly to the University.
For more details on how to apply (full-time and part-time) see our how to apply page.
Accommodation
Once we have made you an offer, you can apply for accommodation. You can rent from LSBU and you'll deal directly with the university, not third party providers. That means we can guarantee you options to suit all budgets, with clear tenancy agreements and all-inclusive rents that include insurance for your personal belongings, internet access in each bedroom and on-site laundry facilities.
Or, if you'd rather rent privately, we can give you a list of landlords – just ask our Accommodation Service.
Read more about applying for accommodation at LSBU.
Finance
You don't need to wait for a confirmed place on a course to start applying for student finance. Read how to pay your fees as an undergraduate student.
Fees and funding
Fees are shown for new entrants to courses, for each individual year of a course, together with the total fee for all the years of a course. Continuing LSBU students should refer to the Finance section of our student portal, MyLSBU. Queries regarding fees should be directed to the Fees and Bursaries Team on: +44 (0)20 7815 6181.
UK/EU fee:

£9250

International fee:

£13125

AOS/LSBU code:

2170

Session code:

1FS00
Total course fee:
UK/EU
£18500
International
£26250
For more information, including how and when to pay, see our fees and funding section for undergraduate students.
Please check your fee status and whether you are considered a Home, EU or International student for fee-paying purposes and for our regulatory returns, by reading the UKCISA regulations.
Possible fee changes
The University reserves the right to increase its fees in line with changes to legislation, regulation and any government guidance or decisions.
The fees for international students are reviewed annually and the University reserves the right to increase the tuition fees in line with the RPIX measure of inflation up to 4 per cent.
Scholarships
We offer several types of fee reduction through our scholarships and bursaries. Find the full list and other useful information on our scholarships page.
Stories
Select a story and read about practical project work, students' placement experiences, research projects, alumni career achievements and what it's really like to study here from the student perspective.
Prepare to start
Applicant events
After you've received your offer we'll send you emails about events we run to help you prepare for your course.
Welcome Week
Before you start your course we'll send you information on what you'll need to do before you arrive and during your first few days on campus. You can read about the process on our Welcome Week pages.
Top of page
Top of page