Section Menu
Accounting and Entrepreneurship Top-up BA (Hons)
Overview
The Top-up to BA (Hons) Accounting and Entrepreunership offers a unique blend of academic, professional and practical modules to develop you both as an accountant and an entrepreneur. The course is professionally accredited, offering five ACCA exemptions.
With accounting even more important in the modern financial climate, the subsequent opportunities for employment in the field of accounting and finance can provide graduates with a platform for a successful career in business. Each year 25,000 graduates enter a job within the accountancy profession.
By combining accounting knowledge with the mindset and skills of an entrepreneur, you'll be well placed to enter the business world. Guest speakers deliver lectures and you'll be encouraged to take part in a wide-range of extra-curricular activities to prepare you for your career and broaden your experience.
6 top reasons to study this course
Great teaching: No.1 university in UK for teaching satisfaction for Accounting and Finance students, Guardian League Table 2016.

Award winning: LSBU Business School picked up the award for Accountancy College of the Year- Public Sector at the PQ Magazine 2017 awards.

Happy students: No.1 university in the UK for Student Experience in accounting and finance, Sunday Times League Table 2017.

Professional certification: Become a part-qualified accountant with exemptions from ACCA, CIMA and ICAEW.

High career salaries: Senior chartered accountants can earn up to £135,000

Digital skills: Access to the software widely used in industry: Bloomberg, SAGE, FAME, Nvivo and SPSS.
Accountancy College of the Year- Public Sector

PQ Magazine 2017 awards
Number 1 London Modern University for Accounting and Finance

Guardian League Tables 2016
What is a Top-up degree?
This course builds on your skills developed on the FdA Accounting degree from LSBU or from a recognised foundation programme. It allows you to graduate with a full BA (Hons) after just a year of full-time study.
Accreditations
Key course information - ordered by mode
Mode
Duration
Start date
Location

Mode

Full-time

Duration

1 year

Start Date

September

Location

Southwark Campus
Case studies
Stella Flemmy, BA (Hons) Accounting and Finance, took every opportunity on offer to maximise her employability, through student society activities, and an internship with LSBU's Finance department.

Amanda Proaspatu, BA (Hons) Accounting and Finance, followed in both her parents' footsteps by studying at LSBU.
Modules
Accounting and enterprise theories and issues
Financial reporting
Enterprise strategy
Project management for small business
The business plan
Plus one from the following:
Audit and assurance
Advanced taxation
Managerial finance
All modules are assessed by a mix of coursework and examinations. For exempting modules this has to conform to ACCA accreditation requirements, so they are assessed with a minimum of 50%examination. A variety of assessment methods are used including, group work,report writing, PowerPoint presentations and personal development planning.
Employability
Employability is at the core of this course; it is implicit within every module and is supported by a wider extracurricular programme. The course will enable you to develop a wide range of skills through the emphasis on a vocational approach to teaching, including student presentations, group work and Sage/computer skills. You'll have the option of a placement period in industry in a role related to accounting and you'll document your experience, so that it's recognised by the accrediting bodies. Recent graduates from this course have gone onto jobs such as trainee Financialand Management Accountants.
Types of career you can expect
On graduating many students go on to train as chartered accountants. There are many different directions to pursue, specialising in financial reporting, taxation, auditing or forensic accounting. They provide professional advice, aiming to maximise profitability on behalf of their client or employer. Strong analytical skills, a developed understanding of business and good mathematical instincts are all necessary key skills. Although accountancy has four large firms: Deloitte LLP, Ernst & Young, KPMG and PwC, there are many small to medium-sized enterprises (SMEs) which provide plenty of opportunities on graduation, such as professional training and development.
Expected salaries
Graduates entering accountancy can find starting salaries in the region of £23,000 - £24,000, with the potential for salaries to increase rapidly with further qualifications and experience. Senior chartered accountants can expect to earn up to £135,000 depending on location, company and experience.
LSBU Employability Service
We are University of the Year for Graduate Employment - The Times and Sunday Times Good University Guide 2018
LSBU is committed to supporting you develop your employability and succeed in getting a job after you have graduated. Your qualification will certainly help, but in a competitive market you also need to work on your employability, and on your career search.
As an LSBU student you have access to the Employability Service and its resources during your time here and for two years after you graduate.
Our Employability Service will support you in developing your skills, finding a job, interview techniques, work experience or a placement/internship, and will help you assess what you need to do to get the career you want at the end of your course. LSBU offers a comprehensive Employability Service, with a range of initiatives to complement your studies, including:
Direct engagement from employers who come in to network with students
Job Shop – daily drop in service to help with, tailoring CVs, cover letters and applications, sourcing online resource, mock interviews and general job searching. One to one appointments for further support also available
Mentoring and work shadowing schemes
Higher education achievement report - The HEAR is designed to encourage a more sophisticated approach to recording student achievement, which acknowledges fully the range of opportunities that LSBU offers to our students.
It pulls into one certificate: Module grades, Course descriptions, Placements, LSBU verified extra-curricular activities
Employability workshops - delivered free to students all year round on a variety of related topics
Careers fairs throughout the year to really focus your thoughts on a career after university
Find out about any of these services by visiting our student employability page
Professional links
This course is accredited by the Association of Chartered Certified Accountants (ACCA) and provides exemption from examination paper F7 and one of either F6 or F8.
The Association of Chartered Certified Accountants (ACCA) was founded in 1904; the ACCA is the global body for professional accountants offering the Chartered Certified Accountant qualification.

Centre of Excellence status is the IoEE's (Institute of Enterprise and Entrepreneurs) flagship organisational accreditation for organisations that promote and deliver enterprise skills development – and is in recognition of the School's entrepreneurial culture and leading-edge practice.
Staff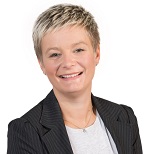 School/Division:
Business / Accounting and Finance
Job title:
Head of Division for Business and Enterprise; Associate Professor in Enterprise Education
Anna is a Senior Lecturer and the Lead for Student Enterprise, School of Business. She is a qualified accountant in practice, specialising in Management Accounting.
---
Facilities
Teaching and learning
Teaching methods include student presentations, group working, role playing exercises, hands-on computing, and computer assisted learning packages. We also aim to strengthen your interpersonal skills to help you establish a career in your chosen subject area. You'll be supported with a personal tutor and a student mentor.
Entry requirements
2018 Entry
Foundation Degree in Accounting (FdAA)
The Institute of Financial Accountants Diploma for SME Financial Managers with relevant work experience; or
Foundation Degree or HND in Accounting from a recognised Higher Education institution or
Other relevant qualifications subject to course content; or
Any other equivalent, relevant and recognised Level 5 qualification.
We welcome equivalent qualifications from around the world. English language qualifications for international students: IELTS score of 6.0 or Cambridge Proficiency or Advanced Grade C.
Visit UCAS for guidance on the 2018 tariff.
Fees and funding
Fees are shown for new entrants to courses, for each individual year of a course, together with the total fee for all the years of a course. Continuing LSBU students should refer to the Finance section of our student portal, MyLSBU. Queries regarding fees should be directed to the Fees and Bursary Team on: +44 (0)20 7815 6181.
UK/EU fee:

£9250

International fee:

£12500

AOS/LSBU code:

4419

Session code:

1FS00
Total course fee:
UK/EU
£9250
International
£12500
For more information, including how and when to pay, see our fees and funding section for undergraduate students.
Possible fee changes
Current regulatory proposals suggest that institutions will be permitted to increase fee levels in line with inflation up to a specified fee cap. Specifically, LSBU may be permitted to increase its fees for new and existing Home and EU undergraduate students from 2017/18 onwards. The University reserves the right to increase its fees in line with changes to legislation, regulation and any governmental guidance or decisions.
The fees for international students are reviewed annually, and additionally the University reserves the right to increase tuition fees in line with inflation up to 4 per cent.
Scholarships
We offer students considerable financial help through scholarships, bursaries, charitable funds, loans and other financial support. Many of our scholarships are given as direct tuition fee discounts and we encourage all eligible students to apply for our Access Bursary. New home full-time undergraduate students meeting eligibility criteria could receive a £1,000 cash bursary by joining us in the 2017/18 academic year. Find out more about all our scholarships and fee discounts for undergraduate students.
International students
As well as being potentially eligible for our undergraduate scholarships, International students can also benefit from a range of specialist scholarships. Find out more about International scholarships.
Please check your fee status and whether you are considered a home, EU or international student for fee-paying purposes by reading the UKCISA regulations.
Case studies
Select a case study and read about practical project work, students' placement experiences, research projects, alumni career achievements and what it's really like to study here from the student perspective.
Prepare to start
We help our students prepare for university even before the semester starts. To find out when you should apply for your LSBU accommodation or student finance read the How to apply tab for this course.
Applicant Open Days
To help you and your family feel confident about your university choice we run Applicant Open Days. These are held at subject level so students start getting to know each other and the academic staff who will be teaching them. These events are for applicants only and as an applicant you would receive an email invitation to attend the relevant event for your subject.
Enrolment and Induction
Enrolment takes place before you start your course. On completing the process, new students formally join the University. Enrolment consists of two stages: online, and your face-to-face enrolment meeting. The online process is an online data gathering exercise that you will complete yourself, then you will be invited to your face-to-face enrolment meeting.
In September, applicants who have accepted an unconditional offer to study at LSBU will be sent details of induction, which is when they are welcomed to the University and their School. Induction helps you get the best out of your university experience, and makes sure you have all the tools to succeed in your studies.
Read more about Enrolment and Induction.
Core reading
Adam, J. H. (2012) Longman Dictionary of Business English,Pearson Publications, Harlow.
Cottrell, S. (2011) Critical Thinking Skills: Developing Effective Analysis and argument (2nded),Palgrave Macmillan, Basingstoke.
Glautier, M., Underdown, B. Morris, D. (2010) Accounting: Theory and Practice,(8thed),Pearson, Harlow.
King, T. A. (2006) More Than a Numbers Game: A Brief History of Accounting, Wiley, Hoboken NJ.
Mallin, C. (2012) Corporate Governance (4thed),OUP, Oxford.
Saunders, M., Lewis, P. &Thornhill, A. (2009) Research Methods forBusiness Students (5ed), Pearson, Harlow.
Elliott, B. &Elliott, J. (2013) Financial Accounting and Reporting (15thed), Pearson, Harlow
Johnson, G., Scholes, K. & Whittingdon,R. (2010) Exploring strategy text and cases my strategy lab and the strategy experience simulation: text and case study (9th edition), Prentice Hall, Harlow.
Johnson, G., Scholes, K. & Whittingdon, R. (2010) Exploring strategy [electronic resource]: text and case(9th edition), Prentice Hall, Harlow.
Rumelet, R. (2012), Good StrategyBad Strategy the difference and why it matters, CPI Group Croydon.
Top of page

Course Enquiries - UK/EU
Tel: 0800 923 8888
Tel: +44 (0) 20 7815 6100
Get in touch
Course Enquiries - International
Tel: +44 (0) 20 7815 6189
Get in touch
Top of page