Overview
Money never sleeps
Please note that part-time entry to this course is closed for 2018/19.
Join this unique, top-ranked course and set yourself on the path towards a major professional accountancy qualification.
Accounting and Entrepreneurship BA (Hons) offers a unique blend of academic, professional and practical modules to develop you both as an accountant and an entrepreneur. The course is professionally accredited, offering five ACCA exemptions.
By combining accounting knowledge with the mind-set of an entrepreneur, you'll be well placed to enter the business world.
We offer the opportunity for all undergraduate Home/EU students to undertake a work placement, internship or work experience while studying a full-time course starting in September 2019.
Why Accounting and Entrepreneurship at LSBU?
Great teaching: we're No.1 London university and No.4 in the UK overall for Accounting and Finance (Guardian League Table, 2018).

Accountancy College of the Year 2017 (PQ Magazine).

Top 5 amongst London competitors for overall satisfaction in Accounting (National Student Survey 2018).

Professional certification: become a part-qualified accountant with exemptions from ACCA, CIMA and ICAEW.

Great potential: senior chartered accountants can earn up to £135,000.

Software skills: you'll learn industry-standard software including Bloomberg, Thomson One Banker, SAGE, Blueprint, FAME, Nvivo and SPSS.
Accreditations
Key course information - ordered by mode
Mode
Duration
Start date
Location

Mode

Part-time

Duration

2 years

Start Date

September

Location

Southwark Campus

Mode

Full-time

Duration

1 year

Start Date

September

Location

Southwark Campus
Stories
Stella Flemmy, BA (Hons) Accounting and Finance, took every opportunity on offer to maximise her employability, through student society activities, and an internship with LSBU's Finance department.

Amanda Proaspatu, BA (Hons) Accounting and Finance, followed in both her parents' footsteps by studying at LSBU.
Modules
Accounting and enterprise theories and issues
Financial reporting
Enterprise strategy
Project management for small business
The business plan
Plus one from the following:
Audit and assurance
Advanced taxation
Managerial finance
All modules are assessed by a mix of coursework and examinations. For exempting modules this has to conform to ACCA accreditation requirements, so they are assessed with a minimum of 50% examination. A variety of assessment methods are used including, group work, report writing, PowerPoint presentations and personal development planning.
Employability
Employability is implicit within every module and is supported by a wider extracurricular programme. The course will enable you to develop a wide range of skills through a vocational approach to teaching, including student presentations and group work. You'll have the option of a placement period in a role related to accounting and become recognised by the accrediting bodies.
Types of career you can expect
On graduating many students go on to train as chartered accountants. There are many different directions to pursue, specialising in financial reporting, taxation, auditing or forensic accounting. Strong analytical skills, a developed understanding of business and good mathematical instincts are all necessary key skills. Although accountancy has four large firms: Deloitte LLP, Ernst & Young, KPMG and PwC, there are many small to medium-sized enterprises (SMEs) which provide plenty of opportunities on graduation, such as professional training and development.
Expected salaries
Graduates entering accountancy can find starting salaries in the region of £23,000 - £24,000, with the potential for salaries to increase rapidly with further qualifications and experience. Senior chartered accountants can expect to earn up to £135,000 depending on location, company and experience.
Employability Service
We are University of the Year for Graduate Employment for the second year in a row - The Times and Sunday Times Good University Guide 2018, 2019.
At LSBU, we want to set you up for a successful career. During your studies – and for two years after you graduate – you'll have access to our Employability Service, which includes:
An online board where you can see a wide range of placements: part-time, full-time or voluntary. You can also drop in to see our Job Shop advisers, who are always available to help you take the next step in your search.
Our Careers Gym offering group workshops on CVs, interview techniques and finding work experience, as well as regular presentations from employers across a range of sectors.
Our Student Enterprise team can also help you start your own business and develop valuable entrepreneurial skills.
Professional links
This course is accredited by the Association of Chartered Certified Accountants (ACCA) and provides exemption from examination paper F7 and one of either F6 or F8.
The Association of Chartered Certified Accountants (ACCA) was founded in 1904; the ACCA is the global body for professional accountants offering the Chartered Certified Accountant qualification.

Centre of Excellence status is the IoEE's (Institute of Enterprise and Entrepreneurs) flagship organisational accreditation for organisations that promote and deliver enterprise skills development – and is in recognition of the School's entrepreneurial culture and leading-edge practice.
Staff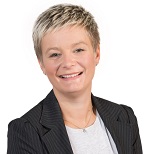 School/Division:
Business / Business and Enterprise
Job title:
Head of Division for Business and Enterprise; Associate Professor in Enterprise Education
Anna is an Associate Professor in Enterprise Education and the Lead for Student Enterprise, School of Business. She is a qualified accountant in practice, specialising in Management Accounting.
---
Facilities
Specialist industry software prepares our students with the digital skills that employers' value. Students on our programmes have access to Bloomberg, Thomson One Banker, SAGE, Blueprint, FAME, NVivo, and SPSS.
Why not read about how a LSBU student took first place in Bloomberg's prestigious annual Investment Challenge (BIC) competition.
Read more about the Division of Accounting and Finance's specialist facilities and software.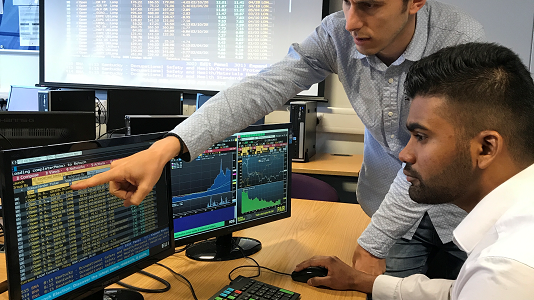 Teaching and learning
In addition to lectures, seminars and tutorials, teaching methods include student presentations, group working, role playing exercises, hands-on computing and computer assisted learning packages. We'll strengthen your interpersonal skills to help you establish a career in your chosen subject area by supporting you with a personal tutor and a student mentor.
Personal Tutoring
As an undergraduate Business student, you will be allocated a named tutor during your first three weeks at LSBU. The role of your tutor is to be your primary contact for academic and professional development support.
Your tutor will support you to get the most of your time at LSBU, providing advice and signposting to other sources of support in the University. They should be the first person at the university that you speak to if you are having any difficulties that are affecting your work. These could be academic, financial, health-related or another type of problem.

You will have appointments with your personal tutor at least once a semester for 30 minutes throughout your course. You can contact your tutor for additional meetings or support by email.
Coaching
Students in their first year of an undergraduate degree will also benefit from our coaching programme. This programme is a proactive approach to student development that draws out our students' potential through a process of self-analysis, reflection, planning and action, enabling students to discover and decide upon their required needs.
Entry requirements
2018 Entry
Foundation Degree in Accounting (FdAA)
The Institute of Financial Accountants Diploma for SME Financial Managers with relevant work experience; or
Foundation Degree or HND in Accounting from a recognised Higher Education institution or
Other relevant qualifications subject to course content; or
Any other equivalent, relevant and recognised Level 5 qualification.
We welcome equivalent qualifications from around the world. English language qualifications for international students: IELTS score of 6.0 or Cambridge Proficiency or Advanced Grade C.
Visit UCAS for guidance on the 2018 tariff.
How to apply
International students
International (non Home/EU) applicants should follow our international how to apply guide.
Instructions for Home/EU applicants
Mode
Duration
Start date
Application code
Application method

Mode

Part-time

Duration

2 years

Start date

September

Application code

Application method

Mode

Full-time

Duration

1 year

Start date

September

Application code

N421

Application method
All full-time undergraduate students apply to the Universities and Colleges Admissions Service (UCAS) using the University's Institution Code L75. Full details of how to do this are supplied on our How to apply webpage for undergraduate students.
All part-time students should apply directly to London South Bank University and full details of how to do this are given on our undergraduate How to apply webpage.
As well as applying through UCAS, international students (non-EU) may complete the LSBU Direct Application Form (DOC File 316 KB) and email it, along with scanned copies of supporting documents, to: international.admissions@lsbu.ac.uk. We need to be emailed scanned copies of the following documents with your application:
academic certificates and transcripts
English Language qualifications (if applicable)
passport (photo and ID page)
copies of all UK visas (if applicable)
Accommodation
Students should apply for accommodation at London South Bank University (LSBU) as soon as possible, once we have made an offer of a place on one of our academic courses. Read more about applying for accommodation at LSBU.
Finance
It's a good idea to think about how you'll pay university tuition and maintenance costs while you're still applying for a place to study. Remember – you don't need to wait for a confirmed place on a course to start applying for student finance. Read how to pay your fees as an undergraduate student.
Fees and funding
Fees are shown for new entrants to courses, for each individual year of a course, together with the total fee for all the years of a course. Continuing LSBU students should refer to the Finance section of our student portal, MyLSBU. Queries regarding fees should be directed to the Fees and Bursaries Team on: +44 (0)20 7815 6181.
UK/EU fee:

£9250

International fee:

£13125

AOS/LSBU code:

4419

Session code:

1FS00
UK/EU fee:

£6166.67

International fee:

£8750

AOS/LSBU code:

4420

Session code:

1PS00
Total course fee:
UK/EU
£9250
International
£13125
For more information, including how and when to pay, see our fees and funding section for undergraduate students.
Please check your fee status and whether you are considered a Home, EU or International student for fee-paying purposes and for our regulatory returns, by reading the UKCISA regulations.
Possible fee changes
The University reserves the right to increase its fees in line with changes to legislation, regulation and any government guidance or decisions.
The fees for international students are reviewed annually and the University reserves the right to increase the tuition fees in line with the RPIX measure of inflation up to 4 per cent.
Scholarships
We offer several types of fee reduction through our scholarships and bursaries. Find the full list and other useful information on our scholarships page.
Stories
Select a story and read about practical project work, students' placement experiences, research projects, alumni career achievements and what it's really like to study here from the student perspective.
Prepare to start
Applicant events
After you've received your offer we'll send you emails about events we run to help you prepare for your course.
Welcome Week
Before you start your course we'll send you information on what you'll need to do before you arrive and during your first few days on campus. You can read about the process on our Welcome Week pages.
Core reading
Adam, J. H. (2012) Longman Dictionary of Business English,Pearson Publications, Harlow.
Cottrell, S. (2011) Critical Thinking Skills: Developing Effective Analysis and argument (2nded),Palgrave Macmillan, Basingstoke.
Glautier, M., Underdown, B. Morris, D. (2010) Accounting: Theory and Practice,(8thed),Pearson, Harlow.
King, T. A. (2006) More Than a Numbers Game: A Brief History of Accounting, Wiley, Hoboken NJ.
Mallin, C. (2012) Corporate Governance (4thed),OUP, Oxford.
Saunders, M., Lewis, P. &Thornhill, A. (2009) Research Methods forBusiness Students (5ed), Pearson, Harlow.
Elliott, B. &Elliott, J. (2013) Financial Accounting and Reporting (15thed), Pearson, Harlow
Johnson, G., Scholes, K. & Whittingdon,R. (2010) Exploring strategy text and cases my strategy lab and the strategy experience simulation: text and case study (9th edition), Prentice Hall, Harlow.
Johnson, G., Scholes, K. & Whittingdon, R. (2010) Exploring strategy [electronic resource]: text and case(9th edition), Prentice Hall, Harlow.
Rumelet, R. (2012), Good StrategyBad Strategy the difference and why it matters, CPI Group Croydon.
Top of page
Top of page