Professor Katina Michael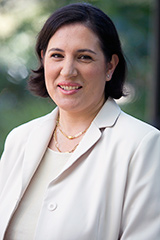 Associate Professor Katina Michael is the Associate Dean International in the Faculty of Engineering and Information Sciences at the University of Wollongong.
On a daily basis Katina liaises with companies, institutions and people from at least a dozen different countries. She holds a Bachelor of Information Technology from UTS (1996), a Masters of Transnational Crime Prevention (2009) and PhD (2003) from the University of Wollongong.
She is the IEEE Technology and Society Magazine editor-in-chief, associate editor of the IEEE Consumer Electronics Magazine and researches the socio-ethical implications of national security technologies.
Katina has served as a board member of the Australian Privacy Foundation since 2008 and was the recipient of a substantial Australian Research Council grant on the "Regulation of Location-Based Services in Australia".
She is the author of hundreds of peer-reviewed research articles and books.
Katina has worked in industry and held several technical positions with Nortel Networks, Andersen Consulting and OTIS Elevator company.
In 2012 Katina gave a TEDx talk on the "socio-ethical implications of microchipping people", in 2013 she was a member of the European-wide pervasive adaptation network contributing to the theme "User heaven or techno hell: where are intelligent, adaptive technologies leading us", and in 2014 she was invited to participate in an IQ2 debate on the enslavement of technology. Katina's latest book is on the theme of uberveillance which is co-edited with her husband MG Michael.
Cyprus Minister of Finance Harris Georgiades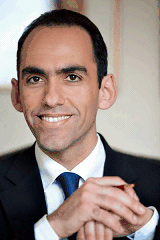 Harris Georgiades has been the Minister of Finance of the Republic of Cyprus since 3 April 2013, having been appointed by President Nicos Anastasiades. Previously he served briefly as Minister of Labour and Social Insurance (1 March – 3 April 2013). He has a leading role in the implementation of the reform and consolidation program for the Cyprus economy.
He participates in the Eurogroup and the ECOFIN. He was elected Chairman of the Board of Governors of the European Bank for Reconstruction and Development for the period 2014-2015 and is a member of the Board of Governors of the International Monetary Fund, the European Investment Bank and the European Stability Mechanism.
Prior to his appointment as minister he was a Member of the House of Representatives with the Democratic Rally Party (2011-2013). He served in the Parliamentary Committees on Finance and Budgetary Affairs, Communications and Works and the Watchdog Committee. He also served as Press Spokesman and as member of the Executive of the Democratic Rally, and as Chairman of the Young Graduates and Secretary General of the Youth of the party.
In parallel, he was Managing Director of a family-owned hotel business (1999-2013).
He studied International Relations and Economics (BA, 1995) and European Studies (MA, 1996) at the University of Reading, UK, and was a post-graduate researcher at the Institute of European and International Studies, University of Reading (1996-98).
He graduated from the English School, Nicosia (1983-1990), and served his military service in the Cyprus National Guard as a non-commissioned officer of the Artillery.
He is married to Eva Yiangou Georgiades, who works as a schools-councillor, and they have a young daughter, Leda.
Mr Mohamed Farid Khamis
Mr Mohamed Farid Khamis is Head of The British University in Egypt Board of Trustees and Owner and Founder of The Orientals Group.
As a majority share owner and founder of the Orientals Group, established in 1978, with modern state of the art carpet factories – Orientals Weavers, MAC Carpets and EFCO - Farid Khamis is an eminently suitable speaker for a conference on business in a dynamic world. The Group, with a turnover in excess of 3.6 billion dollars per year, consists of different companies engaged in the following industries:
Carpet industry: the largest producer of machine made carpets worldwide with factories in Egypt, USA and China
Fibre producers and spinners
Petrochemical industry (Propylene & Polypropylene)
Carpet and rugs trading: own distribution centres in USA, UK, Germany, Dubai and Egypt
Agriculture: major citrus producer in Egypt (with 15,000 acres of land)
Real estate development: Oriental Urban Development, Egypt
Presently Chairman of the Egyptian Federation of Investors Associations (42 associations with 4,100 factories and companies' members), he is also President of the International Chamber of Commerce, Egypt.
As well as his business activities, he is founder of the following non-profit organisations:
M.F.Khamis for Society Development, concentrating on Excellency in Education and Scientific Researches. The top 200 students from different universities and schools across Egypt are adopted for support up to PhD level, plus encouraging and developing Scientific Researches
Al-Azhar Khamis Advanced Schools for Boys and Girls (Sharkia, Egypt)
Khamis Healthcare Institution (Hospital and Medical Treatment Centres, Sharkia, Egypt)
Khamis Limited Income Support Foundation
Professor Clemens Mader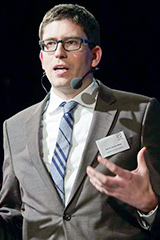 Professor Clemens Mader is Visiting Professor for Environment and Sustainability in the Region at Leuphana University of Lüneburg, Germany, and vice-president of the COPERNCUS Alliance – the European Network on Higher Education for Sustainable Development (2012/13).
Before that he was founder and director of the RCE Graz-Stryia (Regional Centre of Expertise on Education for Sustainable Development) which was acknowledged by the United Nations University in 2007. He graduated in Environmental System Sciences and finished his PhD with an emphasis on Innovation and Sustainability Science, as well as Regional Sciences, at University of Graz, Austria.
His main research emphasis is in the fields of regional transformation through cross-sector partnership learning, transdisciplinary research, as well as theories and practices of ESD. In 2002 he was founding president of oikos Graz, the Student Organisation for Sustainable Economics and Management, and started to engage in the field of education for sustainable development.
After studying he spent a year in Switzerland to work as president of oikos International as well as at the ETH Zurich sustainability centre. In recent years he was lecturing inter- and transdisciplinary courses at University of Graz, Hiroshima University in Japan and University of Novi Sad in Serbia.
Top of page