Section Menu
Tomas Snarskis, Sound Design graduate and electronic music entrepreneur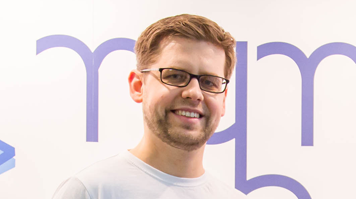 London South Bank University gave international graduate Tomas Snarskis the opportunity to turn his passion for electronic music into a business
An interest in electronic music brought Lithuania's Tom Snarskis to London South Bank University (LSBU) to study sound production. In his third year, he discovered his entrepreneurial potential and went on to set up an electronic music platform, which he is developing on the Graduate Entrepreneur Scheme (GES) run by Student Enterprise at LSBU.
Different music cultures
Tomas was drawn to LSBU's BA (Hons) Music and Sonic Media degree (now Sound Design) by its focus on electronic music production and LSBU's prime London location.
"I wanted to study in London because it is the music industry capital of the world. I contacted lots of universities, but they all said I must play a musical instrument, even though I was more interested in music software," he says.
"LSBU's course is more focused on how cultural backgrounds influence genres and how these influence the mainstream. I liked how the course looks at adapting music and sound based on different cultural backgrounds, and widens your understanding of today's music industry."
Focus on electronic music culture
In his third year at LSBU, Tomas was inspired to start My Music House, an online portal that combines three services into one by giving users access to an electronic music store, ticketing for electronic music events and an electronica-specific newsfeed. The website currently has an average of 2,000 users a month.
"We needed to do a self-assessment for our dissertations. I had been making music, but I wanted something bigger. I knew of music platforms like Beatport and ticketing sites, so I thought why not join them all together?" he explains.
Evolving with Student Enterprise
Tomas started My Music House while on Student Enterprise's Entrepreneurship in Action (EiA, now called Spark) start-up scheme, which provides funding, workshops, guidance and free office space at the Clarence Centre for Enterprise and Innovation.
"EiA was really good training in all aspects of how to maintain, develop and invest in a small project. You learn how to turn a little project into a bigger outcome," he says.
He is now growing the business on the GES programme, which gives recent graduates further funding, mentoring and specialised business support, as well as office space at the Rami Ranger MBE Centre for Graduate Entrepreneurship.
"We get an open work space which lets you work with other businesses who are doing totally different things, but who can help you out. We help each other with brainstorming new ideas and sharing knowledge," he explains.
Top of page