Section Menu
Lianne Howard-Dace, civic-minded postgraduate and social entrepreneur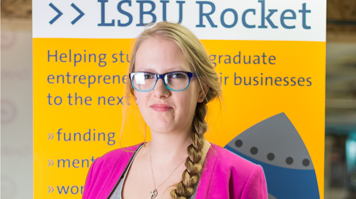 London South Bank University helped postgraduate Lianne Howard-Dace take her social business to the next level and make a greater social impact
Having worked in the charity sector for over six years, Lianne Howard-Dace chose to study an MSc Management in Civil Society at London South Bank University (LSBU) because she wanted a practical way to develop her career and an industry-recognised qualification.
While studying, she had the idea to start a business that promotes ethical brands and supports other social enterprises. That idea is now This GOOD Box, a subscription box service that delivers quality ethically-sourced products straight to the customer's door.
"I'm passionate about making it easy and fun for people to discover amazing ethical products and that's what This GOOD Box is all about. It's really exciting to be at this stage, getting new customers and developing the products," explains Lianne.
Lianne is taking her social enterprise to the next level on LSBU Rocket, an intensive six month business accelerator scheme delivered by Student Enterprise at LSBU and start-up experts Start Up Republic.
"The mixture of workshops and one-to-one support through Rocket has really helped me get This GOOD Box off the ground. The Student Enterprise team has been really supportive, helping me access some great opportunities and the office space is really helpful," says Lianne.
The first student accelerator in the UK to be designed and delivered in collaboration with leading figures and expert entrepreneurs in the start-up community, Rocket provides mentoring, guidance, seed funding and office space at the Clarence Centre for Enterprise and Innovation.
"I feel privileged to have done my MSc at a university that is creating such fantastic opportunities. As a social entrepreneur, the learning, investment and networking I have received from Rocket has helped me to not only grow my business, but also make a greater impact," says Lianne.
Top of page