Section Menu
Lewis Fountain, Drama and Performance Studies graduate and fashion entrepreneur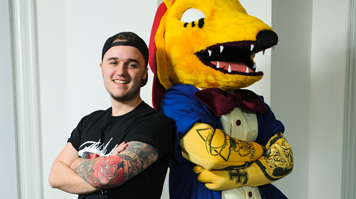 London South Bank University gave creative graduate Lewis Fountain the support to turn his interest in fashion into a label and business
Lewis Fountain was in his third year of a BA (Hons) Drama and Performance Studies degree at London South Bank University (LSBU) when he was inspired to start his own fashion label called Headfunk'd Apparel.
Putting inspiration into action
"I studied drama at college and I wanted to further my training. But I also knew that I wanted to work for myself. I've always been interested in clothes, but everything seemed to be either too expensive or poor quality. So I decided to do something about it myself," Lewis explains.
Headfunk'd Apparel is a fashion label and online retail company that sells a range of unique unisex clothing featuring tattoo-inspired hand-drawn designs.
Lewis was looking for funding to start Headfunk'd Apparel when he came across the Student Enterprise team at LSBU. He went on to develop his idea through the Entrepreneurship in Action (EiA) scheme, which gives students guidance, funding and support to try out their business ideas while studying
"Student Enterprise truly has been the backbone to kick starting my business. Without the scheme, I wouldn't have had the facilities, opportunities and funding to get my business started as quickly as it has done," he says.
Putting creativity and entrepreneurship in action
Lewis went on to develop the business on LSBU's Graduate Entrepreneur Scheme, which provides graduates with funding, advice and a year's office space in the Clarence Centre for Enterprise and Innovation.
"Now I've got a mentor and access to expert advice on everything from IP to marketing. Plus it's great being with so many other entrepreneurs. The atmosphere and energy here is brilliant," he says.
"The scheme has shown me how to get funding to jump-start my business, how to successfully run a business with a greater understanding of the legality and tribulations of the business world and most importantly it has allowed my dream to become a reality."
Headfunk'd Apparel has traded at a variety of markets in London, including LSBU's Celebrate Enterprise pop up market and Lower Marsh Market.
Top of page