Section Menu
Leagha Ejeta, MSc International Banking and Finance, scholarship recipient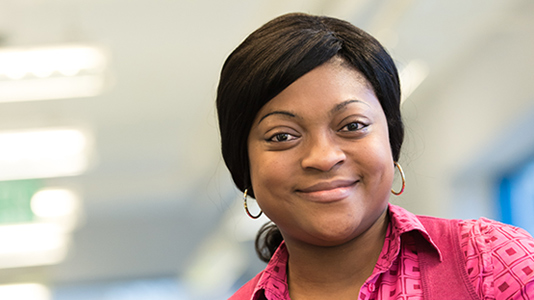 How a trainee accountant fell in love with LSBU as an undergraduate and, thanks to a Vice-Chancellor's Scholarship, is studying with us again as a postgraduate
Leagha Ejeta was no stranger to LSBU, after studying a BA (Hons) Accounting & Finance with us. "My undergraduate studies at LSBU were the best studying experience I can imagine," she recalls. "All the lecturers were passionate about their jobs, and were devoted to making sure we all understood what was being discussed in every lecture and seminar."
When it came to postgraduate study, Leagha and her friends looked at the courses LSBU offered to see if any matched their own career aspirations. For Leagha, the MSc International Banking & Finance was a perfect match.
Trainee accountant
"I am currently a trainee accountant at TD&A in Canary Wharf," explains Leagha. "I'm very serious about building a career in the financial services industry so I can help companies and individuals to make informed decisions about investments and funding. The MSc International Banking & Finance is designed for students who already have some accounting experience and qualifications, so it was the perfect choice for me."
The course will enable Leagha to study banking and finance in an international context, so she will study a wide range of topics. These include bank lending, credit risk management, bank governance and regulation, and international banking and bank performance. As a trainee accountant, Leagha will be able to put her learning straight into practice, improving her learning experience even more.
Interest in finance
Given her interest in finance, Leagha investigated a variety of ways of paying for her tuition fees and applied for a Vice-Chancellor's Scholarship. Her application was successful, which Leagha describes as "an honour".
"Winning the scholarship adds a lot of value to my CV as it shows I am a strong student who has performed well. It will also make it more affordable for me to study, and allow me to concentrate on my studies and my career. I'd like to thank the organisers of the scholarship, and the LSBU donors who have made it possible."
Find out more
LSBU awards up to £48,000 in Vice-Chancellor's Scholarships and bursaries to postgraduate students each year. They are made possible by donations to our Annual Fund from alumni and other supporters. Visit Vice-Chancellor's Scholarships.
Top of page