Section Menu
Charlotte Beck, alumna, BA (Hons) Arts Management graduate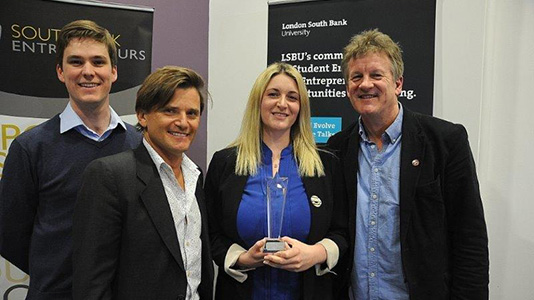 How one graduate is working hard to bring her love of the arts to a wider audience – and how her ongoing relationship with LSBU is helping her to achieve it
LSBU graduate Charlotte Beck is the founder and CEO of SaintClinX, an alternative education provider in London. "Our aim is to stop exclusions by asking schools to proactively identify students who, at some point in their education, may be at risk of being excluded from school," she says.
"We run five-week offsite provision for up to 15 youths at a time, focusing on family values such as shared meal times. Our students study eight bespoke personal social development topics while also working towards their bronze Arts Award, and are then re-integrated into mainstream learning – though they are always welcome to return to us if they want, and we stay in touch with them."
Support from LSBU
To help get Charlotte's vision up and running, LSBU has provided support in two significant ways since SaintClinX was launched. As well as providing premises while she begins to build the business, we awarded funding following a successful competitive pitch against rival businesses – all held in front of former Dragons' Den star and current LSBU Chancellor Richard Farleigh.
Successful pitch
Charlotte's successful pitch was part of our annual Enterprise Day, where students and graduates are invited to apply to LSBU for business funding. "There were over 50 applications initially, which were whittled down to just six finalists, all of whom would pitch to the three judges and a live audience," says Charlotte of the experience.
"My pitch was a risk because I was the only finalist who decided not to have a Powerpoint presentation – I wanted people to focus on what I was saying to get my business across to them in the best possible way."
An exhilarating experience
Although Charlotte had never pitched or presented to such a large audience before, she looked back at Richard Farleigh's time in the Dragons' Den for inspiration. "I've watched the show many times, so I knew I needed to have my numbers in place and know them all off by heart – which I did," she says. "It was an exhilarating experience and very useful for future pitches – Richard Farleigh gave me some feedback that will definitely inform how I approach similar situations in the future."
A real insight
Charlotte's background as a BA (Hons) Arts Management student also helped her in preparing for her pitch, as well as with the general challenge of running her own business. "We were taught to be professional managers, and made to understand that every last detail counts," she says.
I learned how to market and finance a business while staying within budget, and how companies in my sector operate. My dissertation was based on the field I now work in, so my degree gave me a real insight and understanding of the work I now get paid to do.
Business contacts
Charlotte's reward was £500 for her business, which will fund uniforms for the first 75 SaintClinX students. She feels that the exposure and experience of being part of the process was just as important, however. "We have made lots of business contacts since we won, and we have been featured in some local newspapers and magazine, which has been excellent publicity," she says.
Enthusiastic people
Charlotte is grateful for the help and support that LSBU has provided as SaintClinX has grown, and particularly enjoys the fact that her offices are based at LSBU. "I studied here for six years on and off, and I'm surrounded by enthusiastic people," she says. "It's my second home, and it is helping take my business from strength to strength."
Top of page