Section Menu
MArch: Master of Architecture postgraduate studio: Studio 21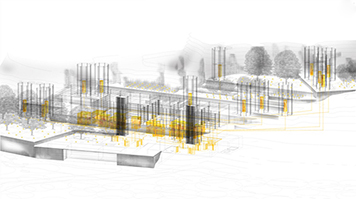 The studio structure is central to postgraduate architectural education at LSBU and contributes to the academic rigour and sense of enquiry of the programme
Design studio projects provide a framework for a range of relevant intellectual and practical specialisms to inform design work at postgraduate level. Studio 21 is interested in the building as a cultural product, developed as a result of the complex causal relationships and dynamic processes shaping and determining architectural context.
Here, the leaders of Architecture Studio 21 explain their focuses for 2016.
Our theme for 2016: "poroCity"
"Studio 21 views buildings as cultural products and as such, as results of the constant interplay between form and programme-giving forces. We believe that architecture lies at the bottom of appropriate development, and conversely, the deep understanding of systemic context at the root of good architecture.
Through qualitative and quantitative analysis, as well as physical and conceptual modelling, we investigate context, and seek to describe a systemically defined environment in which our projects interfere measurably, significantly, and beneficially.

Studio 21
"Our students' projects come in all shapes and sizes, but always look to respond to a specific programmatic demand, and consciously utilise complex sets of programme and form-giving parameters.
"We consider our role as teachers to be centred on the translation and conveyance of ideas through the complex and technically advanced medium of architectural design. No concept or idea is too complex, vague, or ambitious to be expressed through building, although we recognize and utilise the power and analytical potential of other cultural disciplines. With that in mind, we encourage to experiment conceptually and physically, both in a programmatic and formal/tectonic sense.
"Traditionally, the studio describes a journey between analysis, modelling, experiment, and building design. Set in a specific urban typological context, this journey is rarely linear, and its stages often interchangeable. This year, we will again attempt to mine what are highly complex conditions for their programmatic and formal structural potential, this time to create living accommodation in London."
While high-density housing will be the programmatic anchor and central theme of the year, the idea of porosity will provide its conceptual crutch. A potential distribution of varying densities throughout the city, and speculation on accommodating diverse programmes in dense proximity of each other, will undoubtedly raise questions about individuality, community, privacy, and the malleability of personal and public space.

Studio 21
Visit the Studio 21 blog for more information and examples of student work.
Top of page