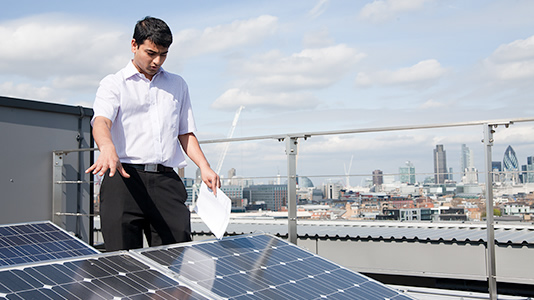 This debate took place on Tuesday 19 April 2016.
Comment piece
Read a post-debate summary and commentary (PDF File 293 KB), discussed by Chloe Hampton, formerly of the Sustainable Communities Institute. You can also read Chloe's pre-debate accompanying article (PDF File 321 KB) about the main factors influencing the debate.
About the debate
Some influential voices in the building sector are concerned that without a government commitment to legislation for sustainable development the industry will fall to minimum standards, no longer investing in the kind of innovation that supports sustainability.
However, many proactive companies see themselves as standard setters and argue that they are best placed to lead the sustainability agenda in building from within.
The debate was rooted in the following questions:
Does the industry need government regulation to achieve a sustainable built environment?
Can the industry self-regulate for sustainability, or is legislation imperative?
Who is responsible for leading the sustainability agenda?
How does influence really work - who has the authority, potential and willingness to drive positive change?
The panel debate drew on the opinions and expertise of a cross-section of professionals in the building industry.
Panellists
Chair

Paul King, Managing Director, Sustainability & External Affairs - Europe, LendLease. Paul became MD of LendLease in February 2015. Paul is Chairman of the Zero Carbon Hub and is a member of the Zero Carbon Homes 2016 Task Force. He is Chair of the Green Construction Board Buildings Working Group. On an international level he is a Board member of the World Green Building Council and Chair of the WorldGBC Europe Network.

Pro-regulation

Paul Everall, Chief Executive, Local Authority Building Control (LABC). Paul has been CE of LABC, the representative and promotional body for local authority building control, since its formation in 2005. Prior to that he was a senior civil servant, including being principle policy advisor to the Government on building regulations for 14 years.

Nicole Lazarus, Bicester Eco-town Programme Manager, Bioregional. With clients at both the district council and private developers, Nicole coordinates and delivers Bioregional's Sustainability Integrator function by advising on all environmental aspects of the eco town. A Civil Engineer (by background) Nicole is listed in Building Magazine's Top 50 rising stars of sustainability for 2012 and was a finalist in the Outstanding Women in Construction Awards 2014.

Pro-self-regulation

Martin Townsend, Director of Sustainability, Building Research Establishment (BRE). Martin has a diverse professional background ranging from advising UK Ministers, as a Regulator in his time at the Environment agency, to working on many construction sites. Martin joined BRE (Global) as Director of Building Research Establishment Environmental Assessment Methodology (BREEAM) in 2008 to drive BREEAM forward nationally and internationally. Martin works closely with the construction industry bringing sustainability issues alive for companies' right across Social, Economic and Environmental agenda.

Mat Colmer, freelance/independent. Mat is an expert in built and urban environments, specialising in building performance assessment research. On a freelance basis, Mat works with a diverse set of clients, who operate at the forefront of knowledge and expertise in the built environment, including the Zero Carbon Hub, Digital Catapult and Innovate UK. Prior to this, Mat worked with the Energy Saving Trust.
Top of page