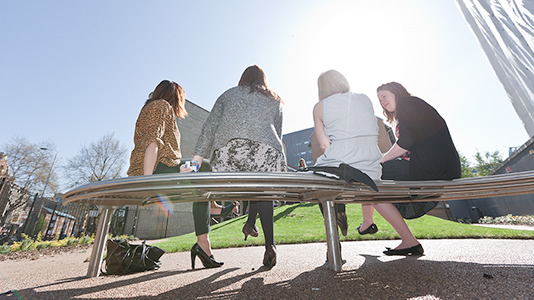 Event type: Free public debate
Date: Thursday 30 June 2016
Location: London South Bank University
Video
Watch the video through a live stream created on the evening.
Comment piece
Read a post-debate summary and commentary (PDF File 501 KB), discussed by Chloe Hampton of the Sustainable Communities Institute. You can also read Chloe's pre-debate accompanying article (PDF File 174 KB) about the main factors influencing the debate.
About the debate
Many professionals working in the building industry perceive sustainability as meaning energy efficiency.
Efficient low carbon buildings have been the focus of the sustainability agenda for some time - and progress here is vital in reducing the systematic effects of climate change.
However, a more holistic interpretation of sustainability is gaining focus: one that considers wellbeing and the effective measurement of the workability or liveability of spaces and places.
Although the Well Building Standard (a recent US export) has practical limitations it is evidence of a growing global focus on the human and social elements of design and the built environment.
The debate is rooted in the following questions:
Should the industry aim for energy efficiency or holistic sustainability?
Is the building industry working with a shared, standardised, unambiguous and industry-wide key terminology?
If definitions of sustainability and sustainable have shifted (or are shifting), are the right building standards, assessment measures and tools in place?
How well do our definitions and approaches scale - do we need to better define a criteria for a sustainable building as different from a sustainable built environment?
The panel debate will draw on the opinions and expertise of a cross-section of professionals in the building industry.
Panellists
Chair

Jon Bootland, Director, The Sustainable Development Foundation. Jon is an ethical entrepreneur with a track record of successful company management, strategy and business development in the non-profit and sustainability sectors. Jon runs the Passivhaus Trust and Sustainable Development Foundation (SDF), helped set up the Good Homes Alliance and is a strategic advisor to the Alliance for Sustainable Building Products and the Sustainable Traditional Buildings Alliance.

Pro-energy efficiency

Prof. Andy Ford, London South Bank University. Andy is passionate about low energy design and innovation. Having run his own successful Consulting Engineering practice for many years he is now focused on the next generation. He was awarded the IMechE Built Environment Prize in 2008 and an honorary doctorate by Herriot Watt University in 2012. See Andy's LSBU profile.

Tom Taylor, Principal Consultant, BRE Global. Tom is a chartered engineer and environmentalist, energy and sustainability consultant with over 10 years' experience working in sustainable building design, construction and operation.

Pro-well-being

Prof. Derek Clements-Croome, Emeritus Professor, Reading University. Derek Clements-Croome worked in the building design and contracting industry before entering university life. He has founded and directed many courses within the sustainable building topic. Derek founded and edits the Intelligent Buildings International Journal, and is a Commissioner on air quality for Hammersmith and for the Zerofifty Commission for Haringey.

Carine Guenand, Assistant Design Manager, Skanska. Carine has been working in the construction industry for over 15 years. She has mainly worked for main contractors, on hospitals, schools, leisure and commercial offices. Carine currently works for Skanska. She is the Head of Sustainability for the London and South East Chair for the National Association of Women in Construction.
Top of page