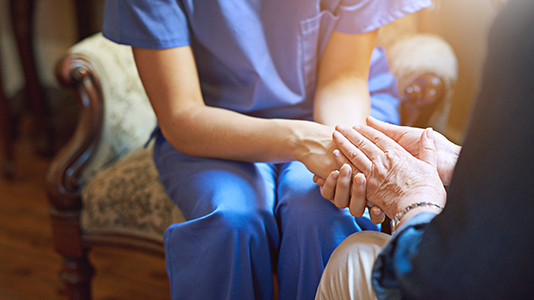 The People's Academy was launched in 2015. Here's a round-up of some of its major achievements to date.
This project was led by professional Life Coach and mental health service user, Humphrey Greaves. The sessions were based around his book 'Recovery? Goal On!' and explored novel ideas around how applying the principals of life coaching can aid mental ill health recovery.
The work of the Academy's first Artist in Residence, Xavier White, is exploring ideas of compassion and caring. As a survivor of a near fatal head injury, White uses his personal experiences and creativity to help shape teaching and learning for NHS workers and LSBU students and staff. His first art installation at the University was reviewed as 'stunning and meaningful' and for his current project he's running a range of creative workshops intriguingly called, the 'Dance of caring persons and the Shields of Compassion'.

Recruiting the next generation

Members of The Academy have been involved in recruiting over 1,000 new health and social care students for the University. Attending various recruitment events, members interact with potential students, exploring their values, attributes, and finally assessing whether they are right for a career in the sector.
On being awarded the Darzi Fellowship Programme, the University was given responsibility for delivering a range of training, in partnership with the London Leadership Academy. The programme offers bespoke leadership development to Darzi Fellows who come from multi-professional backgrounds as doctors; nurses and midwives; allied health professionals; paramedics; dentists; healthcare scientists; and pharmacists. The People's Academy is taking a major role in establishing the training on offer.

Shaping the University's curriculum

The People's Academy was involved with the in-depth process of reviewing all undergraduate and pre-registration health and social care courses at LSBU and received a commendation at the University's validation event in 2016. Acknowledging the Academy's commitment to the University, they are now contributing to the Continuous Professional Development and postgraduate review of courses for our School of Health and Social Care.
If you or your organisation would like access to the resources of The People's Academy, or you're interested in becoming a member, email us at hscpa@lsbu.ac.uk or call 020 7815 8043.
Top of page