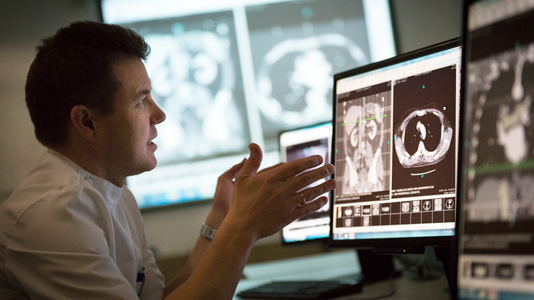 LSBU has hosted a range of debates to discuss important issues in healthcare.
Nursing Associates: an asset to the healthcare workforce?
May 2016
In December 2015, Health Minister Ben Gummer announced a plan to create a new nursing support role.
The role comes from a recommendation from the Shape of Caring review, commissioned by Health Education England and is intended to 'bridge the gap'. Nursing Associates will learn on the job via an apprenticeship leading to a foundation degree. The government will also look at what opportunities there are for staff in this role to progress to become a registered nurse through either a degree level nurse apprenticeship or a shortened nursing degree at university.
The Nursing Associate is expected to work alongside healthcare support workers and fully qualified nurses to deliver hands on care, ensuring patients continue to get the compassionate care they deserve, allowing Registered Nurses to spend more time using their specialist training to focus on clinical duties.
It will be up to individual NHS employers to decide how many nursing associates they need in their organisation. However, it is anticipated that up to 1,000 nursing associates could be trained from 2016.
This is a contentious addition to the healthcare landscape. On the 10th of May, two leading academics went head-to-head about the pros and cons of the new scheme.
The motion was: "Nursing Associates will improve the quality of care".
For the motion:
Professor Lesley Baillie, Florence Nightingale Foundation Chair of Clinical Nursing Practice, School of Health and Social Care, London South Bank University, and University College London Hospitals NHS Foundation Trust and Director, Centre for Nurse and Midwife-led Research/Honorary Professor, University College London
Against the motion:
Dr Elaine Maxwell, Associate Professor in Leadership, School of Health and Social Care, London South Bank University
Nursing places and funding
January 2016
The Department of Health published its intention to stop paying University fees and remove bursaries for nursing students in England from 2017 and stated that this will remove the cap on the number of student places and therefore the supply of Registered Nurses. Nursing students would be able to apply for student loans to cover University fees and subsistence as students of other subjects do. Following an e-petition, the Parliamentary Petitions Committee scheduled a debate to be led by Paul Scully MP on January 11th 2016.
LSBU held its own debate to help explore the issues and inform the Parliamentary debate on 6th January 2016.
The topic was: Will removing the restrictions on nursing student places and NHS funded nursing bursaries and fees increase the supply of registered nurses in the UK?
For the motion:
Elisabeth Jelfs, Director, Council of Deans
Charlotte Johnson, Newly Qualified Nurse, Papworth Hospital NHSFT
Against the motion:
Robert Waterson, Newly Qualified Staff Nurse, Guy's and St Thomas' NHS Foundation Trust
Serena Ruffoni, Nursing Student, London South Bank University
Compassion and safety
October 2015
England's strategy 'Compassion in Practice' was coming to an end and the Chief Nursing Officer was exploring what the follow-on action should be. NHS England consulted widely over the following three months and the LBSU School of Health and Social Care contributed to the conversation with a debate on what the impact of a follow strategy could be.
Four speakers debated the motion, "A follow-on Nursing and Midwifery strategy to Compassion in Practice will have an impact on the service", and the audience were invited to question the speakers.
For the motion:
Jane Cummings, Chief Nursing Officer, NHS England
Janet Davies, Chief Executive and General Secretary, Royal College of Nursing
Against the motion:
Dr Elaine Maxwell, Associate Professor, London South Bank University
Dr Pete Thomond, Managing Director, Clever Together
Is health and social care person centred?
July 2015
Person-centred care sees patients as equal partners in planning, developing and assessing care to make sure it is most appropriate for their needs. It involves putting patients and their families at the heart of all decisions.
The White Paper, Equity and Excellence: Liberating the NHS (2012) set out the Government's vision of an NHS that puts patients and the public first, where "no decision about me, without me" is the norm - but is that really achievable as demand for services exceeds resources available? This lively debate explored the issue.
Prof. Sally Hardy, the Professor of Mental Health Nursing and Practice Innovation at LSBU, wrote a fascinating paper exploring the debate topic (PDF File 109 KB) which was published in the Journal of Research in Nursing.
For the motion:
Kath Evans, Head of Patient Experience, NHS England
John Walsh, Manager, York Street Practice, Leeds
Against the motion:
Professor Andrée le May, University of Southampton
Shaun Lintern, Health Service Journal
We need to talk about the 6Cs
March 2015
The 6Cs are part of the Chief Nursing Officer at NHS England's strategy for Nursing, Compassion in Practice. Often seen as a response to the Francis report, the 6Cs seek to reaffirm the values of nursing and therefore improve compassion in care.
Since their introduction in 2012 the 6Cs received mixed responses in the healthcare community. Many commentators challenged the focus on individual nurses rather than the environments and constraints within which they work. There had been numerous informal discussions, particularly on social media, but until this event there had never been a formal debate.
At this debate some of the most influential people in healthcare argued for and against the motion that the 6Cs will increase compassion in care.
For the motion:
Professor Juliet Beal, Director of Nursing Quality Improvement and Care NHS England and Visiting Professor of Nursing, London South Bank University
Sue Hartley – Director of Nursing, Birmingham and Solihull Mental Health NHS Foundation Trust
Against the motion:
Emeritus Professor Tony Butterworth CBE
Chair:
Professor Judith Ellis MBE, Chief Executive Royal College of Paediatrics and Child Health
Top of page