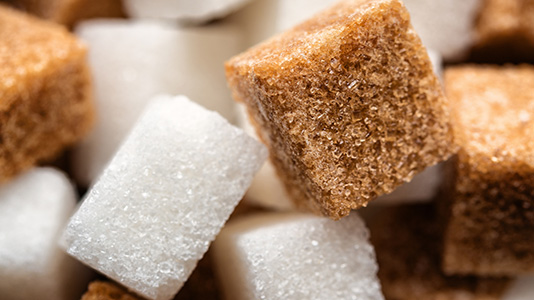 Event type: Free public debate
Date: Thursday 15 September
Location: London South Bank University
Comment piece
Read Dr Alexander Marchant's pre-debate accompanying article (PDF File 119 KB) about the main factors influencing the debate.
About the debate
Sugar was once known simply as a cause of rotting teeth and overly excited children. It now stands accused of leading to the obesity epidemic, the rise in diabetes, and being an addictive substance.
In recent years, pressure has begun to mount to reduce the 34kg of sugar that Britons consume each year. Campaigners such as Jamie Oliver were finally given a victory in the most recent budget, where a tax was proposed on sugary drinks.
But is sugar really addictive? Will a sugar tax actually lead to better health? How would it change behaviour? How can we best tackle the chronic health problems associated with consuming too many calories?
To answer these questions, we hosted a panel debate with leading experts on both sides of the sugar divide: "Are we addicted to sugar? Waistlines, wallets and sugar taxes."
Panellists
For the motion that we are addicted to sugar

Malcolm Clark, Sustain. Malcolm is co-ordinator of the Children's Food Campaign, a project of Sustain: the alliance for better food and farming. Malcolm is also a councillor in the London Borough of Lambeth. He has a Masters in British Parliamentary Politics and is an alumni of the British Council's Interaction Leadership programme.

Dr Mick Armstrong, British Dental Association. Mick is Chair of the British Dental Association Principal Executive Committee. He qualified in 1985 from Newcastle and has spent all of his practising life in General Practice. For the last 20 years he has been a partner in Armstrong & Haire Ltd, a six surgery, mostly NHS practice in Castleford, West Yorkshire.

Against the motion that we are addicted to sugar

Dominic Watkins, DWF. Dominic is head of DWF's internationally renowned food sector group as well as being Head of Regulatory in London. His focus is on regulatory compliance and defence for the food, retail and hospitality sectors.

Emily Barley, People against Sugar Tax. Emily is a content and communications strategy consultant. She is passionate about the power of free markets to improve the living conditions of people on all levels of society, and is a board member of People against Sugar Tax.
Top of page