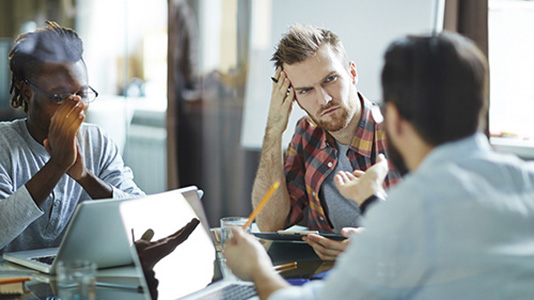 The Health Innovation Lab is all about collaboration and sharing. We are eager to share information on our field, furthering knowledge and participation.
Blog
Prof. Becky Malby, Professor of Health Systems Innovation, maintains a personal blog. Posts include:
Research
In late 2016, 44 geographical areas of England published Sustainability and Transformation Plans (STPs) setting out how health and care will be delivered within their local areas by 2021, to achieve the aims of the Five Year Forward View, to restore and maintain financial balance, and to deliver core access and quality standards for patients.

The report is not a commentary on whether there should be STPs but on how they are set up to deliver the level, pace and scale of change required.

This report critically reviews each of the 44 STPs in terms of how they stand as serious, coherent and achievable plans. Each was subject to the levels of rigorous appraisal you would expect for a set of NHS planning documents. The researchers were looking for clear expert evidence, how the plans matched population needs, the resources required, the key assumptions in the overall approach, and how local accountability operates across the footprint. Overall the report finds that the STPs are not ready for implementation, with the plans lacking a secure grounding in the current situation, and a robust evidence base to the changes proposed. Significant developments in the relationship between the NHS and Local Government are required and this will take time. The emphasis on reducing acute beds and A&E attendance will require local consultation. Legislative change is also required to free health and care from the constraints of the market to provide integrated quality care for local populations. Finally there is a significant funding shortfall, and a need for clear and robust workforce plans.
The aims of this study are to:
Generate clarity within the finance community of what constitutes innovation, and determine a language that participants can comfortably engage with
Understand the nature of innovation in finance, and how it differs from other professional groups
Identify what it takes for finance leaders to innovate individually as well as organisationally - particularly, what cultural issues are a feature across the NHS and what issues are particular to finance
Identify what is needed in order for NHS finance teams to become more innovative, and whether the need varies depending on the nature and size of the organisation

Read the full paper (PDF File 770 KB)
This joint position paper between the National Institute for Health Research and LSBU summarises the results of an inquiry workshop with research, clinical and managerial leaders in June 2016. The inquiry focused on how to create a culture of innovation and research in complex systems.

For the purposes of this paper, 'systems' relate to health and social care systems organised around populations and places. For these systems it is not clear who leads the system, or how they differ in terms of capacity and culture, or how they address the issues of generating an innovation and research culture.

Innovation is a situated practice, balancing individual and collective capacities, best realised through network and collaborative relationships. There are significant challenges with moving from local innovation, where there is more tacit knowledge, to systems-wide innovation.

We considered the role of disruptive and incremental innovation in systems, and the underlying cultures that create readiness at policy, system and team levels.

Read the full paper (PDF File 139 KB).
Healthcare networks
Prof. Malby discusses the context for networks in health in the UK.
Equality and managing inequalities
Watch Prof. Malby talk on managing inequality through coproduction.
Pinterest
The Lab maintains a Pinterest board, collecting interesting and relevant posts.
You can also explore our Pinterest board on Leading Networks.
Inaugural lecture
Watch Prof. Becky Malby's inaugural lecture, The Next Generation NHS.
You can also see a live drawing of the lecture: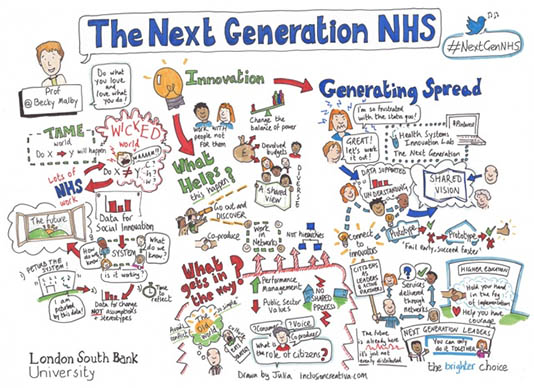 Top of page