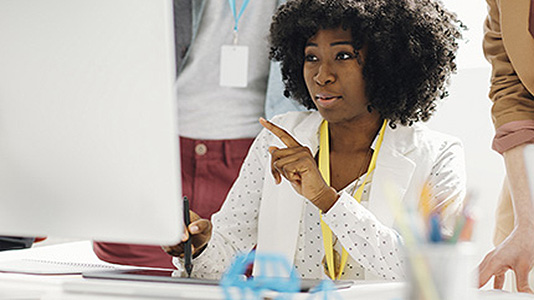 We provide programmes to develop emerging leaders' confidence and capability to lead complex change.
Darzi Fellowship Challenge Sept 2019-20 - recruiting now!
We are recruiting for the 2019 Darzi Fellowship Challenge. Find out more about the programme.
I had an energising year during the Darzi Fellowship. I learnt so much about the practicalities and realities of leading change as a clinician. I developed new skills, and awakened skills I had not used in some time, and had the opportunity to apply them. We have lots of new projects and ideas underway now, none of which would have happened were it not for the Darzi Fellowship!

- Emma McGibbon, Darzi 8
The Darzi Fellowship Programmes - London, Kent, Surrey and Sussex
The Darzi Fellowship in Clinical Leadership, run by the London Leadership Academy and the KSS AHSN (Kent, Surrey and Sussex) who commission on behalf of Health Education England in London, was launched in 2008 to help transform London's healthcare through system redesign.The Fellowship programme was spread to KSS in 2017.
It has evolved into a prestigious, high profile programme designed to develop leaders from multi-professional background, developing their ability to undertake complex change initiatives that have a profound impact on them and the organisations they work for.
Over the past seven years, Darzis have led major service improvements, implemented numerous safety and quality initiatives, and made substantial financial savings for trusts.

London Leadership Academy
LSBU's School of Health and Social Care has an excellent reputation for its first class training and for research that changes lives, making us the ideal institution to support Darzi Fellows through the delivery of our bespoke leadership development programme.
Our programme takes Fellows on a journey learning the foundations of change, developing an understanding of methodologies for change as well as personal strategies and skills for leadership including working with peers and with diversity. A major strand throughout the programme is developing the ability to work effectively and productively with peers from diverse backgrounds including service users.
This programme supports the Fellows in leading real systems change projects that secure better services with and for citizens.
By the end of the programme, Fellows have:
The knowledge, attitude, skills and change practices to lead the NHS of the future
A wide network of critical friends and alliances to learn from (peer-2-peer learning)
A deep understanding of new models of care, their benefits, challenges and application
Made an impact on healthcare through the delivery of real change
Confidence, resilience and the ability to lead in times of uncertainty
Thanks so much. It was the best course I've ever done.

- Kim Nurse, Darzi 9
Read detailed information about our Darzi programmes:
Darzi launch
Click the image below, created at our Darzi launch event, to magnify it.
NHS Future Finance
This programme is aimed at finance leaders committed to generating value, beyond organisational boundaries. Participants are likely to be engaged with NHS Future Focused Finance as a value-maker or educator, in a delivery team or at the heart of the Future Focused Finance programme.
Finance leaders must be:
Network leaders: Single organisational entities cannot adapt quickly, or secure the capacity required for complex needs; networks are known for their ability to generate creative solutions
Data savvy: As we move into and beyond the information age, using data is a key tool in generating value
Able to lead as peers: The interdependency of professional intelligence requires collective leadership models, and the ability to work with wider professional groups as peers
The programme takes the form of five one-day workshops, with leaders applying the insights and some key network tools within their networks between the workshops. The workshops draw from the latest thinking, theory and case examples from networks, peer leadership and innovation adoption and spread.
We will support participants in taking the ideas and intelligence from the workshops directly into practice.
By the end of the programme, participants will:
Understand the variety of forms and functions that networks take
Appreciate differences between organisational and network leadership, and the different role for finance leaders in each
Understand the role of finance leaders in networks specifically in relation to generating value
Have devised strategies to develop your network
Have developed key skills required to work effectively in networks, and as peers across professional boundaries
Understand how to measure and present the impact of network activities
Have reflected on how to sustain and renew your network
Read more detailed information about our programme (PDF File 410 KB).
Read the Future Focused Finance National Inquiry into Innovation led by LSBU's Prof. Becky Malby.
Top of page