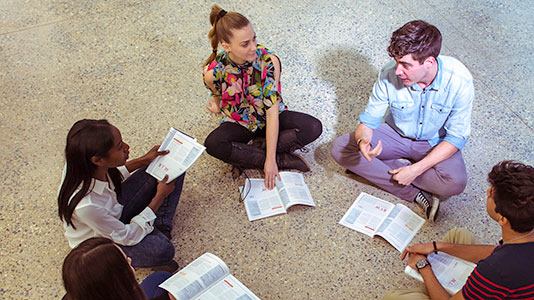 The Business Solutions Centre team are eager and well-equipped to provide you with business solutions. Their areas of interest and expertise span a huge range of today's key business concerns.
Advisors
Paolina is studying BSc Economics.

Her particular areas of interest include marketing, macroeconomics, microeconomics, behavioural economics and human behaviour.

Paolina was first inspired to study Economics by her uncle.

Paolina believes the key to a successful business is a mixture of personal qualities, skills, knowledge, self-belief and ambition to achieve your goals.

After graduating, Paolina hopes to do Masters in a business-related subject.

Daniele is studying a BA (Hons) Accounting and Finance.

His particular areas of interest include Managerial Finance, Investment Appraisal, Management Accounting, Cost-budgeting, Budgeting and Financial Auditing.

Daniele was first inspired to study Accounting and Finance by a friend, who told him about the prospect of working with numbers to help growing businesses.

Daniele believes the key to a successful business is commitment, hard work and keeping customer needs first when making any business decision.

After graduating, Daniele hopes to land a graduate job in the finance division of the NHS, where he will be able to use his skills and knowledge to improve the services provided by the organisation and, therefore, help people. Daniele will also keep studying towards the Chartered Institution of Management Accounting (CIMA) qualification.

Salma is studying MSc International Finance.

Her particular areas of interest include investment finance, funds management and financial markets.

The choice of specialising in Finance was mainly driven by her interest in the financial world, the way it works, the challenges it presents and the risks that have to be taken every day.

Salma believes the key to a successful business is commitment, but also, and more importantly, setting clear and realistic objectives and working hard towards their achievement.

After graduating, Salma hopes to embark on a professional journey that will allow her to put into practice all the knowledge she has acquired during her time at university.
Supervisor
Martina is an MSc Marketing graduate and the owner and director of 3P Translation, a business that helps UK-based SMEs in the food, hospitality, tourism and travel industries communicate with their customers and partners abroad through bespoke linguistic consultancy, translation and interpreting services.

Her particular areas of interest include marketing strategy, personal branding, consumer behaviour, social media and digital marketing, business development and planning, and small business management.

Martina feels the key to a successful business is passion - and, of course, the right business mind-set and hard work.

Martina is very passionate about using her personal experience as a small business owner and combining it with what she learned at University to help local SMEs achieve their objectives and grow in their respective markets.

As the Supervisor at the Business Solutions Centre, Martina supports the personal, professional and academic growth of advisors through daily operational support, report checking, and training.

Find out more about Martina's business, 3P Translation.

You can also read more about Martina's experiences and achievements, including being a finalist for an Institute of Directors award.
Top of page