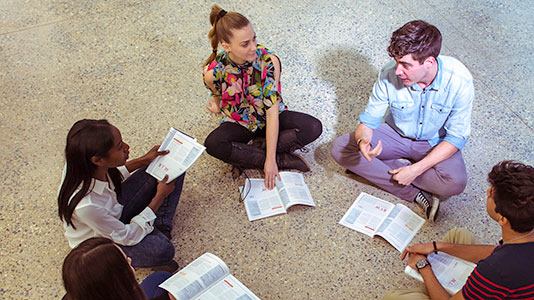 The Business Solutions Centre team are eager and well-equipped to provide you with business solutions. Their areas of interest and expertise span a huge range of today's key business concerns.
Awa is in her final year studying a Doctorate in Business Administration (DBA).

Her particular interests are financial modelling, research analysis, business case analysis, and Islamic financial instruments such Sukuk Investment and Issuance.

After graduating with an MBA from Heriot-Watt University, Awa was inspired to progress her studies to doctoral level by her husband, who is a keen advocate for women in cross-border leadership roles in banking and business.

Awa believes good consistent communication at all levels is vital to a thriving business. She also stresses the importance of robust financial structure and a strong marketing campaign.

After graduating, Awa hopes to be an international consultant in business for governments and companies across the world.

Azmat is studying BA (Hons) Accounting and Entrepreneurship. His particular areas of interest include but are not limited to media editing and design, bookkeeping, self-improvement, art, and mindfulness.

Azmat was actually first truly inspired to study Accounting halfway through his Accounting course. He hadn't been sure of where he wanted to go in life so he followed the wind, and to his delight he's done well and is still going strong.

Azmat believes the key to a successful business is patience, willingness and an optimistic outlook.

After graduating, Azmat hopes to become a Chartered Accountant, master all his hobbies and live a satisfying life.

Feel free to pop down to the Business Solutions Centre to meet Azmat and find out more.

Catalina is studying BA (Hons) Business Administration. She is especially interested in business contracts, employment law and human resources.

After completing a National Diploma in Fashion at college, Catalina decided to gain an insight into how fashion organisations run their businesses from a management perspective.

Catalina believes a successful business consists of various factors, including: being able to understand and work with other individuals involved in the business (including colleagues as well as clients), a well organised financial plan, the ability to keep up to date with key marketing strategies such as social media, and the ability to adapt to change.

After graduating, Catalina hopes to either do a Masters in one of the Business modules covered in the degree or secure a graduate placement.

Farah's particular interests in her BA (Hons) Accounting and Entrepreneurship course are management accounting (including budgeting) and financial reporting.

Farah's family friend owns an accounting firm, which inspired Farah to study the field, spurred on by the thought of being able to work in any industry in the future.

Through the drive and passion to succeed, as well as being open and compassionate, Farah believes any business has the potential to develop and grow.

After graduating, Farah hopes to… complete a graduate scheme at one of the big four accounting firms, as well as completing her professional exams (ACCA).

Kirstie is studying for a BA (Hons) in Accounting and Entrepreneurship. Her particular areas of interest include budgeting, bookkeeping and management accounting.

Kirstie was inspired to study accounting and entrepreneurship after being brought up as part of a family business, and experiencing first-hand some of the issues associated with running a small business.

Surrounding yourself with the right people can make a world of difference for a business, Kirstie believes. If you can motivate those around you, and are willing to reach out when there are areas you need help with, you are more likely to succeed.

Upon completing her degree, Kirstie hopes to become a chartered account and work for/with a not for profit organisation.

Martina is studying MSc Marketing, which allows her to examine her favoured areas of marketing, branding, and social media in great depth.

Keen to bring her own translation and interpreting business to the next level, Martina felt her course would be an immense help in achieving her ambitions.

Martina feels the key to a successful business is passion - and, of course, the right business mind-set and hard work.

Martina hopes to incorporate what she's learned at university in her business, and transform it into a threefold hub that provides translation and interpreting services to international firms, helps young freelance translators and interpreters find their place in the industry through a coaching programme, and helps small businesses fine-tune their marketing strategy to tap into the global market.

Find out more about Martina's business, 3P Translation.

You can also read more about Martina's experiences and achievements, including being a finalist for an Institute of Directors award.

Mudassar is studying for an MSc in Accounting and Finance. He has chosen to focus especially on the areas of research design and methods, theories and issues in accounting and finance, corporate financial management, business analysis, governance, risk and ethics, and strategic management.

Mudassar found inspiration in his uncle, who is also an accountant. His uncle's career not only enabled him to advise other people about their financial problems, but also gave him complete control over his own financial affairs.

To ensure a business is operating well, Mudassar champions the importance of networking and good communication with people. People make a business, he believes, so the best businesses are those who do business for the betterment of people.

With a desire to create opportunities not only for himself but also for the people around him, Mudassar is eager to begin his own business after graduating.

Mudassar is really excited to work with the Business Solutions Centre team, and hopes that working here will not be only beneficial for him, but also for the success of the organisations he supports through the Centre.

Osman is in his final year studying BA Business Administration. His particular areas of interest include Research and Strategic Management, Employment Law and Marketing Communications and Human Resource Development.

Osman was first inspired to study Business Administration by his aspiration to run his own creative business. He wanted to gain a broad understanding of all business segments and believed that Business Administration was the most suitable academic choice.

Osman believes the key to a successful business stems from the type of people working within that business. For any business to grow, it must have a culture encompassing values of integrity, inclusivity and professionalism that its employees must possess and display.

Osman has a strong commitment for personal development and has taken part in an array of skills-based programmes and scholarship opportunities whilst at LSBU in order to make himself stand out and develop self-confidence. These include the LSBU Certificate of Enterprise, the LSBU Employability Award, the Summer in China programme and the Hutong School Scholarship programme. Through these brilliant opportunities, Osman developed a deep passion for learning languages and completed the HSK Level 1 and 2 language courses in Mandarin Chinese through the Confucius Institute, as well as completing an extra-curricular language module in Italian offered through the newly reopened Language Centre within the School of Business.

After graduating, Osman hopes to do an ERASMUS work programme for 12 months in a role relevant to his degree studies, whilst setting up his creative enterprise as a side venture. Followed by a Master's degree in the fields of International Relations, Human Rights and Diplomacy.

Sarah is studying Ba (Hons) Accounting and Finance, which permits her to explore her chosen areas of interest - bookkeeping, finance and also financial accounting - in detail.

Sarah was first inspired to study accounting by her father

Sarah believes the key to developing a successful business is diversity, good communication skills, and building a high level of trust between clients and workers.

After graduating, Sarah hopes to work for one of the the big four accounting firms, then work abroad.
Top of page