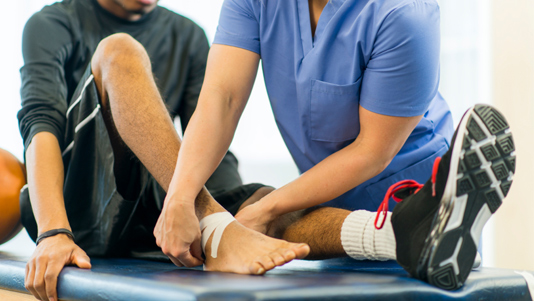 If you have an injury or you just want to relax, take a look at some of our therapy treatments.
Sports therapy

The Academy of Sport offers sports therapy services in partnership with Pulse Sports Therapy.
Pulse Sports Therapy provides a range of services from initial assessment through to discharge, to suit your needs and get you back to playing sport in the safest and shortest possible time.
The therapy clinic is based in the Academy of Sport building on London Road (entrance on the corner of London Road and Thomas Doyle Street).
Services
Full injury examination and assessment
General advice on injury management
Exercises from the early to late stage of the rehabilitation process
Rehabilitation targets and goals
Late stage rehabilitation in the Fitness Suite
Taping and strappings
Pre-match and pre-event fitness testing
Sports massage
Manual therapy
Electrotherapy
Referrals to specialists where necessary
For further information about our services at the Academy visit Pulse Therapy.
Prices
Pulse Sports Therapy offers discounted rates for LSBU students, staff and Academy of Sport members.
Appointments
Appointments are available on a one-to-one basis and all information you share with us is dealt with in the strictest confidence. If you require an urgent appointment, we will do our best to accommodate you as soon as possible, which could be on the same or following day. However, we can't guarantee this and it is best to book at least a week in advance.
Initial injury assessments will last up to an hour and follow up appointments approximately 45 minutes, depending on the nature of the injury.
To book an appointment, please complete the Patient Medical Form (PDF File 838 KB) and email it as an attachment to info@pulsesportstherapy.com along with the times you may be available for an appointment.
Contact
For more information contact: Fisnik Baliqi, Sports Therapist on telephone: 020 7815 6985, Urgent telephone: 07773 454 707 or email: info@pulsesportstherapy.com.
Osteopathy

This service is provided by osteopaths at the University College of Osteopathy (UCO). They will investigate and treat the underlying causes as well as the symptoms of your condition.
At the first consultation, a case history along with a thorough examination is carried out. The main tool for diagnosis and treatment is touch and if you wish, you may have your treatment carried out by a person of the same sex.
It can also help to relieve ongoing and minor problems offering relief from pain and helping to promote the management of long-term complaints.
Osteopathy prices
We offer reduced rate treatments at the UCO to all LSBU staff and students.
First consultation lasts 1 hour 20 minutes. Follow-up treatments last 40 minutes. Prices are £12 per appointment for LSBU students and £18 per appointment for LSBU staff.
You do not need a GP referral and can normally expect to have an appointment within 24 hours.
Contact
For more information telephone: +44 (0) 20 7089 5360 or visit the UCO website.
---
Top of page