Vijay Lee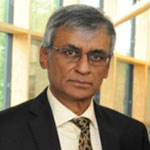 Associate Professor; Head of Accounting and Finance
Business / Accounting, Finance and Economics
A subject specialist in corporate finance and financial management, Vijay is currently Head of the Accounting, Finance and Economics Division in the School of Business. He previously worked for over 20 years in managerial positions in India's biggest commercial bank, specialising in corporate finance and small business finance, and holding senior line management positions as well as policy-making and controlling positions in the bank's head office.
After attaining the rank of Assistant General Manager at the bank, Vijay switched to an academic career in London South Bank University, where he has held many positions of responsibility in the areas of staff management, subject leadership and course administration and development. He has lent his expertise as an educational consultant to three different UK professional bodies and also to other UK universities.
Vijay has engaged in action research on the sociological and psychological aspects of learning, presented papers on the subject at various conferences, had his work published, and draws on his research to improve student learning in the classroom. His other research interests are in the areas of small enterprise finance, and the application of agency theory in the public sector.
Vijay teaches financial management, corporate finance, small enterprise finance and personal finance at both undergraduate and postgraduate levels.
Vijay's conference papers and publications have been in the area of pedagogic research, specifically models for facilitating learning in diversity. He has also researched the small business lending criteria of UK banks on behalf of Her Majesty's Treasury. His current research interests are in the areas of small business finance and the application of agency theory in the university sector.
Associate Member of the Indian Institute of Bankers
Fellow of the Higher Education Academy
Chief Examiner for the "Corporate Finance & Funding" paper of the Association of Corporate Treasurers (ACT) professional examinations from 1997 to date. As a member of the ACT's examining board for the last 18 years, Vijay has been directly involved in standard-setting and quality control within this professional body, a responsibility of some significance to the business community.
External Examiner for Middlesex University's MBA programme from 2006 to 2009.
External Examiner for the MBA programme at Swansea Institute of Higher Education (University of Wales) from 2001 to 2005.
The Association of Chartered Certified Accountants (ACCA)'s Examiner for the ACCA Level 1 Programme at Northbrook College, Sussex, for 2004-05.
Chief Examiner for the "Finance" paper of the Chartered Institute of Management Accountants (CIMA) professional examinations for 2004.
Chief Examiner for the "Corporate Finance" paper of the Institute of Chartered Secretaries and Administrators professional examinations from 2001 to 2002.
Top of page