Prof. Lesley Haig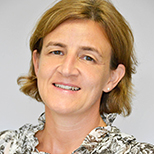 Head of Allied Health Sciences
Health and Social Care / Allied Health Sciences
Professor Lesley Haig joined London South Bank University in autumn 2014 following her time at St Mary's University Twickenham, where she had been Director of Academic Affairs since 2010. In this role she was responsible for the preparation and implementation of the University's strategies for Teaching and Learning, and for Research and Enterprise. She was Institutional Lead for the St Mary's REF2014 submission.
Lesley trained originally as a physiotherapist at St Thomas' Hospital School of Physiotherapy, qualifying in 1990. She is a member of the Chartered Society of Physiotherapy and an HCPC Registrant. She has worked in a variety of roles as a physiotherapy researcher, practitioner and Clinical Lead in the NHS, a Clinic Director in private practice, and as Senior Lecturer, Programme Director and Academic Director in Higher Education.
Lesley led the development of an on-site Clinical Service at Middlesex University, and a specialist Centre for Health, Applied Sport and Exercise Science (CHASES) at St Mary's University, incorporating research and knowledge exchange activities across clinical and sport science disciplines. She led the first MSc in Sport and Exercise Rehabilitation in the UK, which provided extended scope training for musculoskeletal practitioners from a range of professional groups.
Lesley's research interests are the management of chronic low back pain, movement dysfunction, and rehabilitation of active individuals. She has contributed significantly to the professional and pedagogical development of sport, exercise rehabilitation and athletic training, in the UK and internationally.
Lesley also acts as a technical expert and consultant for the development of professional health-related training for the fitness industry. She was conferred Professor of Sport and Exercise Rehabilitation in January 2011 for her outstanding leadership in this field.
Top of page