Prof Simon Philbin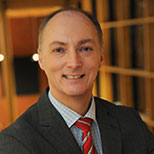 Director of Engineering and Enterprise
Professor Simon P Philbin is Director of the Nathu Puri Institute for Engineering and Enterprise at London South Bank University. The Institute is focused on driving enterprise into engineering education and industrial practice. Simon joined LSBU in 2018 and previously worked as Director of Programme Management at Imperial College London and Executive Chairman of Imperial College Projects Limited. While at Imperial and over 15 years he held a number of senior roles associated with both pre-award and post-award management of a range of multidisciplinary research areas and programmes.
Prior to joining Imperial in 2003, he was at the UK Ministry of Defence (DERA) and originally worked in the field of energetic materials. Simon is published across several areas including project management, research & technology management, and chemistry. He has presented at conferences across North America and Asia, and given lectures and seminars at several different universities. Simon holds a BSc (University of Birmingham) and PhD (Brunel University) in chemistry as well as an MBA (Open University Business School). He has experience of working with different industrial sectors, especially defence but also oil and gas, nuclear power, healthcare and pharmaceutical. Plus, he has worked as a commercial consultant for major oil and gas companies.
Simon currently serves as a Board Member of the American Society for Engineering Management and has been elected as the President of ASEM for 2019/20. Previous academic roles include Visiting Fellow at Imperial College Business School and Visiting Research Fellow at Birkbeck, University of London. He has won several academic and best paper awards, served on journal editorial boards and as an external examiner as well as other academic and professional assignments.
Simon is currently developing educational activities related to Engineering and Enterprise.
Simon's current research includes supervision of PhD projects in areas related to developing an improved understanding of how enterprise can be embedded in technology-driven organisations and applications. The purpose of this research is to generate deeper insights and knowledge on how enterprise capabilities can be integrated in organisations concerned with the development of science and technology as well as engineering systems in order to create economic and societal value.
Simon has previously undertaken research across a range of areas associated with engineering management. This includes investigating the management processes and structures to support effective university-industry research collaboration, such as the development of process methodologies, management frameworks and performance measurement systems. Design and structuring of research institutes, research partnership development and academic strategy development.
Simon has also carried out research on the project management of research, technology and engineering projects. This includes the application of systems engineering principles to project management through employing systems techniques, such as requirements management and systems diagramming. Research studies of infrastructure development, safety engineering and bid management applications. Other work included research on agile project management, PMO (project management office) and engineering projects.
Fellow and Chartered Chemist, Royal Society of Chemistry (FRSC CChem)
Certified Professional Engineering Manager (CPEM), American Society of Engineering Management (ASEM)
Member, Society of Research Administrators (SRA) International
Certified Practitioner, PRINCE2 Project Management Standard
Certified Practitioner, MSP Programme Management Standard
Board Member, American Society of Engineering Management (ASEM) – elected President for 2019/20
Associate Editor, Engineering Management Journal (EMJ)
Editorial Board Member, Journal of Research Administration (JRA)
Governor, St. Columba's Catholic Boys' School, Bexleyheath
Top of page