Prof. Robert Xiao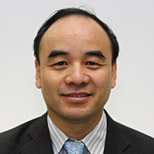 Professor of Structural Civil Engineering
Built Environment and Architecture / Civil and Building Services Engineering
Prior to joining LSBU, Robert researched and lectured at the China Academy of Building Research, and the Universities of Birmingham, Nottingham, Southampton and Swansea in UK. He has also worked as a structural engineer at Gifford & Partners, Consulting Engineers.
Robert has been the recipient of a Royal Research Fellowship from the Royal Society and an Industry Fellowship from the Royal Academy of Engineering. His research interests include computational modelling with finite element analysis on structures and structural materials; steel and composite steel structures; fibrous concrete material and structures. He is the author of one patent, three books, four book chapters and over 140 referred journal and international conference papers.
He has already supervised to completion 40 research projects and contracts of which 30 are research degree students' projects (13 PhD, 3 MPhil and 13 MRes) with additional of 5 postdoctoral research fellows and 15 MSc theses as the first supervisor. He is currently leading a strong research team with a range of research projects being conducted on structural analysis and computation simulation.
Top of page