Prof. Rao Bhamidimarri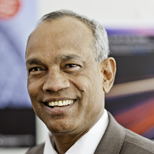 Vice President (Development)
Prof. Rao Bhamidimarri's specialist areas include:
Energy from waste
Wastewater engineering
Entrepreneurship in science and engineering
Toxic chemicals and the environment
He has previously held the roles of Dean of Engineering, Computing and Creative Industries at Edinburgh Napier University, and Principal of Massey University at Palmerston North, New Zealand from 1999 to 2003. He has over 25 years of international experience in teaching and research, and strategic management in higher education.
Rao is an environmental engineer with extensive research and industrial experience. He has published over 120 peer-reviewed scientific and technical papers and developed and implemented several large scale environmental technology processes and systems. He was a Governing Board Member of the International Water Association for 18 years, having initiated or contributed to a range of environmental initiatives internationally.
The professor has worked extensively in the international higher education market, in particular in China, India Japan and South East Asia. He is currently an Academic Council member of Beijing Institute of Business and Technology, an Honorary Professor of Harbin Institute of Technology and Chongqing University of Post and Telecommunications.
At Napier University, he brought engineering, design and music together to foster entrepreneurship in these disciplines. While he was the Principal of Massey University at Palmerston North in New Zealand, he worked closely with primary and secondary schools, and the further education sector to build links between primary, secondary, further and higher education in order to create pathways for higher level skills. This is another area that continues to be of interest to him.
Top of page