Prof. Philip Hammond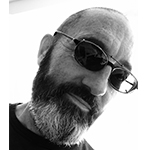 Professor of Media & Communications
Arts and Creative Industries
Prof. Philip Hammond has published widely on representations of war and conflict in news, film and video games; post-Cold War international relations; and the politics of environmentalism.
Most of Professor Hammond's research and writing has been focused on the role of the news media in post-Cold War conflicts and international interventions. More recently he has extended this to encompass the representation of war and terror in film and TV drama, a theme on which he organised a conference, Screens of Terror, in 2010. He has also been working on the question of how to rethink the role of journalism in the absence of contestation and engagement in the public sphere; and on how to understand the tensions and contradictions in contemporary environmentalist discourse.
Philip is the author / editor of a number of books about journalism and the news media's role in war and conflict, as well as several journal articles and chapters in edited collections.
Top of page