Prof. Hari Reehal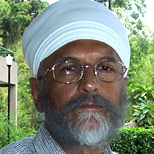 Acting Director of Research and Enterprise, School of Engineering; Head of the Advanced Materials research group
Engineering / Electrical and Electronic Engineering
Professor Hari Reehal joined LSBU from BP Research (Sunbury) where he led research groups working in the areas of photovoltaics, novel thin film materials, coatings and surface science. Prior to this he was a Lecturer in Applied Physics at the University of Bradford.

At LSBU he has held various positions, including Director of Research in the former Faculty of Engineering, Science and the Built Environment and the Department of Engineering and Design. He was also Head of the Centre for Advanced Materials.

Hari is currently an Emeritus Professor in the School of Engineering and a member of the Centre for Advanced Materials.
Hari teaches the following modules:
Engineering Applications 2 (Module Leader)
Design Engineering 2
Digital Techniques
Renewable Energy Technologies
Final year projects (BEng Electrical and Electronic Engineering)
Current research is focused on (i) novel electronic and functional materials for renewable energy generation using PV devices or solar cells and (ii) the application of PV.
Solar cell research targets the growth, processing and characterisation of:
Thin film crystalline silicon cells on cheap substrates as a lower cost replacement for conventional silicon wafer technology which currently dominates the PV market.
Plasmonic solar cells. The aim here is to incorporate nanoscale metal particles into thin crystalline silicon solar cells to increase light absorption and improve cell efficiency.
Nano- and micro-wire silicon solar cells. In these the device junctions are radial. This and the excellent light trapping properties of these structures are promising for increased cell efficiencies and reduced material use.
Thin film transparent conducting oxides and new low cost materials for PV.
Research in PV applications includes modelling and experimentally studying the performance of different PV modules and systems.
The research is supported by a comprehensive range of experimental facilities for thin film growth, device processing and characterisation including a class 10,000 clean room.
Funding has been attracted from the EPSRC (including the PV 21 SUPERGEN consortium), the Leverhulme Trust and industry.
Most recent publications
Hasnath, A and Reehal, HS and Ball, J The Effect of Process Parameters of Plasma Sulphurisation on the Morphology of CZT Precursors. In: 14th Photovoltaic Science, Applications and Technology, 18 April 2018 - 19 April 2018, Imperial College, London.
Reehal, HS and Oates, A Effect of diffusion parameters on emitter formation in silicon solar cells by proximity rapid thermal diffusion. Materials Science in Semiconductor Processing, DOI https://doi.org/10.1016/j.mssp.2017.12.006
Ball, J and Lane, DW and Reehal, HS The synthesis of CuxS from Cu layers by low pressure plasma processing. Journal of Alloys and Compounds, 708. 1124-1130. DOI 10.1016/j.jallcom.2017.03.011
Cabrera Espana, FJ and Agrawal, A and Reehal, HS and Oates, A Hut-Like Pillar Si Solar Cells. In: Conference on Lasers and Electro-Optics, 05 Jun 2016 - 10 Jun 2016, San Jose, CA, USA.
Oates, A and Reehal, HS Proximity rapid thermal diffusion for emitter formation in silicon solar cells. In: 12th Photovoltaic Science, Applications and Technology Conference C98, 6-8 April 2016, Liverpool.
Ball, J and Reehal, HS Controlling nanowire nucleation and growth with a negative substrate bias. CrystEngComm, 2913-2920. DOI 10.1039/C6CE00403B
More publications at LSBU Research Open
Fellow,Institute of Physics
Senior Member,Institute of Electrical and Electronic Engineers (USA)
Chartered Physicist
Chartered Engineer
EPSRC member, Peer Review College and Peer Review Panels. Invited UK representative, Grand Challenges in Solar Energy, UK-India collaborative research workshop, New Delhi, 2010
Organiser, organising committee member and session chair of national and international conferences in photovoltaics
Institute of Physics committee member, Ion and Plasma Surface Interactions Group (1999-2002); Materials and Characterisation Group (2005 onwards)
Reviewer for various international organisations in the fields of PV and electronic materials including in Canada and India
Editorial Board member, Journal of Solar Energy (2012 onwards)
External examiner of 18 PhD and 2 MPhil these sat UK and overseas universities
External examiner for the BEng (Honours) course in Electrical and Electronic Engineering, Nottingham Trent University (1999-2003)
Top of page