Prof. Dilip Patel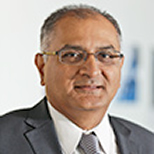 Visiting Professor
Engineering / Computer Science and Informatics
Dilip's specialist areas include:
Information system
Information assurance
Knowledge transfer
Higher education policy
He has a wide range of research, teaching and consultancy experience in the areas of information management and modelling, data mining, knowledge management, ontologies, social aspects of computing and key performance indicators.
Dilip has published extensively in journals, book chapters and conference proceedings. In addition he has edited special issues of journals and conference proceedings.
He was an editorial advisory board member for the book Model-Driven Domain Analysis and Software Development: Architectures and Functions published by IGI Global in 2010.
Dilip is also an international associate editor for the International Journal of Information Technology and Web Engineering and an editorial board member for The International Journal of Cognitive Informatics and Natural Intelligence.
As a subject specialist reviewer in computing, he has undertaken subject reviews for the UK Quality Assurance Agency in HE and United Nations (UN) funded Quality Assurance initiatives in the Middle East. He has secured funding for and worked on many research projects funded by the European Union, DTI and industry.
Dilip has successfully supervised and examined PhD Students nationally and internationally and has served on numerous programme committees and organised various international conferences.
Most recent publications
Nazir, S and Patel, S and Patel, D Autonomic computing meets SCADA security. In: 16th International Conference on Cognitive Informatics and Cognitive Computing, ICCI*CC 2017, 26 July 2017 - 28 July 2017, Oxford.
Patel, S and Nazir, S and Patel, D Assessing and Augmenting SCADA Cyber Security-A Survey of Techniques. Computers & Security, 70. 436-454. DOI 10.1016/j.cose.2017.06.010
Ghezel-Ayagh, H and Jolly, S and Patel, D and Steen, W Electrochemical Membrane Technology for Carbon Dioxide Capture from Flue Gas. Energy Procedia, 108. 2-9. DOI 10.1016/j.egypro.2016.12.183
Vargas, A and Boza, A and Patel, S and Patel, D and Cuenca, L and Ortiz, A Inter-enterprise architecture as a tool to empower decision-making in hierarchical collaborative production planning. Data and Knowledge Engineering, 105. 5-22. DOI 10.1016/j.datak.2015.10.002
Vargas, A and Boza, A and Patel, S and Patel, D and Cuenca, L and Ortiz, A Risk Management in hierarchical production planning using inter-enterprise architecture. In: 16th IFIP Working Conference on Virtual Enterprise (PRO-VE 15), 05 October 2015 - 07 October 2015, Albi, France.
Patel, D and Kellici, S and Saha, B Green Process Engineering as the Key to Future Processes. Processes, 2. 311-332.
More publications at LSBU Research Open
Top of page