Nicole Louis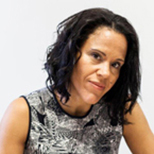 Nicole Louis is Chief Marketing Officer (CMO) and a member of the University's Executive group. Within her role as CMO, Nicole heads up the Marketing, Admissions and Communications (MAC) function which is a division with both strategic and operational responsibilities covering a wide of programmes.
Specific MAC departmental responsibilities include:
Positioning the University's brand and managing its reputation;
Identifying the markets and audience segments relevant to new student enrolments;
Identifying trends, opportunities and risks relating to student demand and course provision;
Through insight, influencing portfolio development for implementing cross channel marketing; and programmes, which create demand from future applicants and for converting applicants into enrolled students through the admissions process.
A key focus of the MAC department is to constantly champion the voice of the student to ensure that our schools and professional service groups are equipped with the insight needed to deliver the very best student experience. The MAC department is also responsible for managing relationships with LSBU alumni and for leading the University's approach to development (fundraising).
Nicole joined LSBU in 2017, building on her professional knowledge and passion for education gained whilst working in the UK and international private education sector as a senior executive for a leading international schools group. Prior to her career in education, Nicole built her marketing career working for a number of leading consumer brands across multiple sectors, including large scale consumer services, telecoms, lottery and fine art – working in both UK-based and international roles.
Nicole is the LSBU Executive Sponsor for overseeing the creation of engagement programmes and activities between LSBU and its schools within the Multi Academy Trust.
Nicole continues to actively participate in the internal private schools sector by serving as a Trustee on the board of a UK based internal private schools group.
Top of page