Neil Adams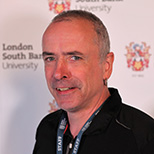 Course Director - BA Urban & Environmental Planning
Law and Social Sciences / Urban, Environment and Leisure Studies
Neil Adams is currently Senior Lecturer in Spatial Planning and Course Director of the BA Urban and Environmental Planning Course. After studying at Cardiff University Neil worked for local authorities in Walsall and Bradford in the field of urban regeneration before moving to Belgium. In Belgium he worked initially as a freelance planner before starting work for a Brussels based consultancy working on projects for Flemish authorities. Between 1999 and 2005 he worked as project leader exclusively on international projects primarily in Central and Eastern Europe in the field of regional development.
Neil has worked at LSBU since September 2005 during which time he has combined teaching with extensive research and consultancy activities. Research interests include European Spatial Planning, regional and rural development, the territorial cohesion agenda, processes of Europeanisation and the interplay between knowledge and policy development. Alongside research activities in relation to EU funded programmes such as ESPON, Neil has developed extensive experience in recent years providing consultancy for organisations such as the World Bank in the field of regional development and spatial planning. This work has involved assisting with the preparation and the assessment of development strategies for various national and regional bodies primarily in Central and Eastern Europe.
Neil has published two edited books, contributed chapters to various books, authored several articles for academic journals and presents papers regularly at international conferences.
His current teaching includes:
Level 4 (Year 1)
Planning for sustainability
Society space and planning
Level 5 (Year 2)
Policy evaluation and research
Level 6 (Year 3)
Undergraduate dissertation
Planning specialism project (regeneration specialism)
Strategic spatial planning
Level 7 (Postgraduate)
Sustainable places
Regeneration strategies and projects
Global planning: challenges and responses
Postgraduate dissertation
Neil's most recent research projects include:
ESPON (2012-2013), Key Indicators for Territorial Cohesion (KITCASP), Leader of UK team in Transnational Project Group
ESPON (2010-2011), Potential of Rural Regions (PURR), Leader of UK team in Transnational Project Group
Member of Royal Town Planning Institute
Neil's most recent consultancy activities include:
January -June 2013 Expert Adviser to World Bank in relation to assessment of development strategies for Eastern Poland and Slaskie Region, Poland
February 2012-September 2012 Expert Adviser to World Bank on regional and local development strategies in the Swietokrzyskie Region and the Kujawsko-Pomorskie Region of Poland
March-January 2012 Expert Adviser to World Bank on the assessment of the Lubelskie Regional Development Strategy for the Lubelskie Region of Poland, including writing report Healthy Lubelskie, Lubelskie Regional Development Strategy: review, assessment and recommendations for improvement, November 2011
Top of page