Michelle Evans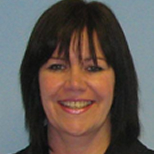 MA Recruitment Lead; Senior Lecturer - Social Work
Health and Social Care / Primary and Social Care
Michelle has a special interest in sensory awareness/need and communication. She has more than 15 years of experience of working with people with sensory requirements (British Sign Language qualifications to Level 3 and deaf-blind communication to Level 2).
Prior to joining the London South Bank University (LSBU) academic team in 2010, where she had originally studied for her undergraduate qualification in BA (Hons) Social Work, she worked with adults and children with sensory needs and disabilities, including child/adult protection. Michelle has an interest in qualitative social research especially from a phenomenological perspective and especially in relation to sensory needs/requirements, particularly deafness, deafblindness, Usher syndrome (a form of congenital deafblindness), visual impairment and disability.
Michelle studied for her postgraduate qualification in Methods of Social Research at the University of Kent and is currently undertaking a PhD at LSBU.
Michelle is currently module lead on the BA (Hons) Research Proposal, BA (Hons) Values and Ethics and co-module lead on MA Professional Capabilities in social work modules. Michelle also teaches sensory awareness on the MA communication module and is a seminar lead on BA advocacy. She contributes to fellowship achievement workshops and claim panel and is also the MA social work admissions tutor, as well as an MA dissertation supervisor.
Michelle has been involved in teaching pre-registration joint nursing and social work education. She has used Moodle to develop VLE online educational tools.
Her special interests are: ethics and law; research methods incorporating supporting students to understand the research process, especially students who experience dyslexia; the concept of vocational learning and the value of placement provision; and virtual learning environments learning, especially in relation to child protection. Michelle is also personal tutor and link lecturer for students when on placement. She has achieved the status of Senior Fellow of the HEA and contributes to fellowship achievement workshops and claim panels.
Michelle has co-published two books and is currently undertaking a PhD entitled Usher Syndrome: A phenomenological Study of Lived Experiences of Individuals aged 18-82. She has recently submitted a manuscript to an international journal as a result of findings from the PhD project (awaiting decision).
Dissertations
Factors that affect student engagement in the classroom: A study of final year student experiences on the intellectual/developmental disability social work/nursing joint program (2012) London South Bank University
Developmental journey from student social worker and beyond: A study of the lived experiences of student and qualified social workers/care managers (2011) University of Kent
To what extent are older people's services aware of the meaning of dual sensory loss, the effect of it on a person's quality of life and equipped to address dual sensory needs when they arise? : A study of dual sensory loss in older people's services (2008) London South Bank University
Most recent publications
Evans, MD Empowering People Experiencing Usher Syndrome as Participants in Research. British Journal of Social Work, 01-18. DOI 10.1093/bjsw/bcw147
Newham, R and Terry, LM and Atherley, S and Hahessy, S and Babenko-Mould, Y and Evans, MD and Ferguson, K and Carr, G and Cedar, SH Nursing as a moral profession: insight from nurse educators' elected narratives of care and compassion. Nursing Ethics, DOI 10.1177/0969733016687163
Newham, R and Terry, L and Atherley, S and Hahessy, S and Babenko-Mould, Y and Evans, MD and Ferguson, K and Carr, G and Cedar, SH A moral profession: Nurse educators' selected narratives of care and compassion. Nursing ethics, 969733016687163-969733016687163. DOI 10.1177/0969733016687163
More publications at LSBU Research Open
The Higher Education Academy – Status of Senior Fellow Recognition
Health Care Professions Council (HCPC) Status of Registered Social Worker
Top of page